6 White Wine Food Pairings You'll Crave
Discover some of our favorite white wine pairings.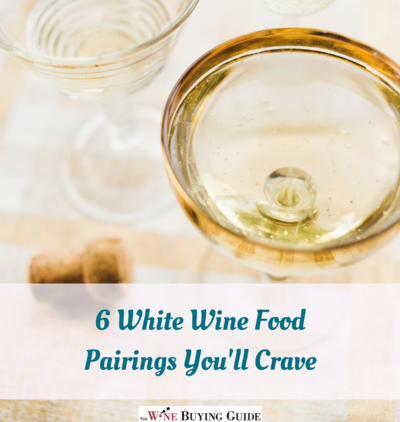 White Wine Food Pairings
If you love white wine, then eventually you're going to want something delicious to eat with it. We are all about sipping wine on its own, but there is something about a fabulous food and wine pairing that feels like the height of luxury.

There are many different types of white wine, and so it's easy to find a wine pairing that will suit your taste. Whether you like a creamy Chardonnay or a sweet Riesling, you can find a delicious recipe to make a perfect white wine pairing.

Here are some great ideas for white wine and food pairing, from scrumptious dinner menus to delightful appetizers.

We even have suggestions for snacks that go with white wine, because every party (including a party for one) needs the perfect snack.

Pair Chardonnay with Poached Salmon in Butter Sauce
A rich, full-bodied white wine like this Landmark Overlook Chardonnay will pair well with dishes that have some degree of richness. Think of light proteins cooked with creamy or buttery sauces or sweet summer vegetables roasted to a golden brown.

Other foods to pair with Chardonnay include pasta in a creamy sauce, roasted chicken, lobster, other seafood, and trout.
Pair Sauvignon Blanc with Goat Cheese Salad
Sauvignon Blanc is bright, herbaceous, and citrusy. It is a perfect white wine pairing for herbs and almost any big green salad you can imagine. Goat cheese is a classic Sauvignon Blanc wine pairing.

Other matches for this white wine include raw or lightly cooked seafood, lemon-herb chicken, or asparagus quiche. Consider trying these foods with the Geyser Peak Sauvignon Blanc.
Pair Off-Dry Riesling with Spicy Thai Takeout
"Off-dry" Rieslings are slightly sweet, making them the perfect match for spicy foods. The sweetness of the wine balances spicy flavors in Thai, Japanese, Indian, and other cuisines. The wine's fruit flavors are also great with the aromatic spices in these foods. If you're running low on wine pairing dinner menu ideas, Riesling can be a great wine to try out!

Other foods to pair with Riesling include honey-roasted vegetables and crab cakes.
Pair Pinot Grigio with Italian Seafood Salad
Try pairing wine with food that is from the same region as the wine. In this case, Italian Pinot Grigio is a fantastic match for Italian seafood salad. Seafood's light and fresh flavor is a great complement to the crisp, dry qualities of Pinot Grigio.

Other foods to pair with Pinot Grigio include light pasta dishes with seafood, vegetable risotto, or grilled white fish.

Looking for a Pinot Gris food pairing? Anything that goes with Pinot Grigio is a good bet for Pinot Gris, because they're the same grape. However, Pinot Gris can take a little more richness and spice.
Pair White Bordeaux with Pea Pesto Pasta
Young white Bordeaux wines are fruity, floral, and perfect for light dishes like pesto pasta. The wine isn't so acidic that it will clash with the slightly bitter vegetable flavors, and the aromatic basil is a great complement to the floral wine.  

Other matches for this wine include garlic Parmesan halibut, grilled chicken with lime, or lean roast pork.
Pair Sauvignon Blanc with Guacamole
When it comes to snacking, white wine is a great beverage choice. In this case, the herbal flavors in Sauvignon Blanc bring out the fresh, herbal flavors in the Guacamole. Sauvignon Blanc is also a great match for corn tortilla chips. Try the pairing with this elegant Trinity Hill Sauvignon Blanc 2014.

Other great snacks that go with white wine include unoaked Chardonnay and pretzels, potato chips and sparkling white wine, and Chardonnay and peanuts.
 
These tips for pairing white wine should give you some great ideas for your next meal. No matter what combination you choose, be sure to pick a wine and a food that you love!
"I'll have a glass of white wine," you say to the bartender at a party. Do you wonder what type of wine you're going to get?" Learn to make your best guess here. Types of White Wine
What are your favorite foods to pair with white wine?
RECENTLY VIEWED
Free wine recommendations, giveaways, exclusive partner offers, and more straight to your inbox!