Best Champagne Under $30
Luxuriate in the taste of France even when you're on a budget with this collection of the best inexpensive Champagne.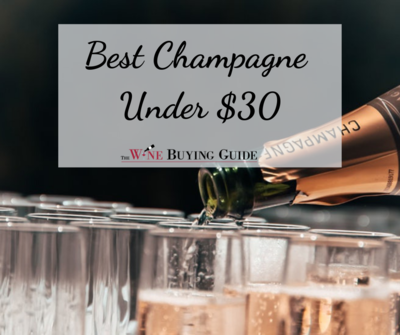 Best Champagne Under 30
Whether you're toasting the New Year, celebrating a promotion, or simply treating yourself to an upscale drink at home, champagne is your go-to treat. This elegant drink has something that everyone can fall in love with, from bright citrus notes to the full flavor of toasted brioche to nutty undertones.

Champagne refers to sparkling wine that is made in the Champagne region of France, so it comes as no surprise that this international delicacy can be tough on your wallet. Don't despair, Champagne lovers! We've found the most exquisite, delicious, and irresistible sparkling wines that will taste like they're imported directly from France for a fraction of the price.

From Spanish Cava to a tropical blend made in New Mexico, this collection of delectable sparkling wines has the perfect style for any wine lover. You can find a bottle here for every flavor profile: floral bouquets, crisp apple notes, and earthy hazelnut finishes are all featured on this list. Brilliant or creamy, citrusy or nutty, toasty or clean, this collection boasts the best budget champagne you can get!

Don't spend more than you have to to get a golden flute of champagne in your hand. Whether you want to spend $10 or $29.99, this list has a bottle for every budget, all guaranteed to make your mouth water.
Bubbly, bright, zesty, and sweet, mimosas are a must-have drink at brunch. When you treat yourself to a glass, make sure every sip is stellar with this guide to The Best Champagne for Mimosas
12 Best Affordable Champagnes
Mercat Brut Nature Cava NV
Price: $13.99
This bright sparkling wine is a budget-friendly way to refresh yourself in style. This sparkling wine boasts a complex mix of fruity flavors, like ripe pear, apricots, and nectarines. However, it also has a mature taste of chalky soil and limestone. Playful, acidic, and crisp, this Spanish wine is something you'll buy again and again.
 

Veuve Clicquot Yellow Label Brut Champagne
Price: $29.99 from drizly.com
You'll feel like royalty with a glass of this golden-yellow sparkling wine in hand. The best part of this Champagne is its complexity, boasting flavors that are both smooth and powerful. Wake up your taste buds with the bright notes of peach and nectarines and savor the smoky undercurrents of brioche and vanilla.
 

Roederer Estate Brut
Price: $21.99 from wine.com
Though this sparkling wine originates in California, you'll feel like you're sitting in Paris with a glass of this silky, medium-bodied drink. Each sip features a mouthwatering balance of brilliant pear, apple, and citrus grounded by an elegant and earthy hazelnut finish.


Codorniu Anna Brut Nature NV
Price: $13.99
You don't need to spend a fortune to luxuriate in fine wine. While most sparkling white wines are bright and crisp, this blend is creamy, smooth, and rich. Notes of almond and honey will envelop your mouth in sweetness, punctuated by the fresh tones of apple and citrus. Treat yourself to the lush bouquet of this creamy champagne on any budget.


Argyle Brut 2011
Price: $23.99 from wine.com
This sparkling wine from Willamette Valley is one of the most delectable drinks you'll have for such a phenomenal price. In every sip of this energetic blend, you'll taste the delicate notes of red berry spice, lemon, toasted brioche, and brine. A bright, acidic undertone makes for a long finish you'll savor.


Gruet Brut NV
Price: $15
You can't go wrong with a classic, especially at this price! It's impossible not to love the bright taste of crisp green apples and citrus in this refreshing Champagne. This mix balances its clear fruity notes with a touch of yeast flavor and mineral tones for the full, dry finish that Champagne is known for.


Gruet Blanc de Blancs
Price: $18.99 from wine.com
When you're looking for a delectable Champagne on a budget, why not try out this elegant sparkling wine from New Mexico? Dry, crisp, and rich, this scrumptious lemon-colored blend has a tropical aroma you can't resist. The fruity flavors of apples and pineapples mixed with honeysuckle combine for a smooth aftertaste that will have you coming back for more.
 

Baron-Fuenté "Grande Réserve" Brut Champagne
Price: $24.99 from klwines.com
If you like Champagnes that are bouncy, fresh, and zesty, then this dry Champagne is what you've been looking for. Your mouth will lighten up at the vibrant tastes of melon, orange, and peach. The zing of lemon zest will give each white-gold glass a clear, clean finish. Toasted brioche anchors these lighter flavors in an irresistible mix.


Mumm Napa Brut Prestige
Price: $17.99 on wine.com
Made from Pinot Noir and Chardonnay, this medium-bodied sparkling wine will have any Champagne lover asking for a refill! Treat yourself to the complex white blossom bouquet of this refreshing drink. This sparkling wine has the bright taste of lemon peel and grapefruit, the zing of fresh ginger, and creamy notes of vanilla.
 

Taittinger Brut La Francaise
Price: $27.99 from wine.com (375ML half-bottle)
Do you love sparkling wine from around the world but still long for authentic French Champagne? Embrace your inner Parisian with this elegant pick from the third oldest wine producing house of Champagne. Zesty lemon, luscious apple blossom, and mature mineral flavors make this elegant treat something you'll want to drink at every celebration.


Gloria Ferrer Sonoma Brut NV
Price: $22
You don't need a reason to celebrate to have a glass of this floral, creamy, and toasty Champagne! Delight in the crisp apple and fresh pear notes of this sparkling wine, and be swept away by its spring floral bouquet. It even boasts a toasted almond finish that perfectly balances the brighter citrus palate.


Segura Viudas Cava Brut
Price: $10 from wine.com
Spain is known for its irresistible sparkling wine, Cava. Now you, too, can indulge in this mouthwatering drink straight from Penedes, Spain. Delicate yet rich, this sparkling wine lights up with the clean taste of crisp cider apples and a fresh floral bouquet. However, the smooth flavors of brioche and toasted nuts add a creaminess to this bottle that will have your mouth watering after each sip.

RECENTLY VIEWED
Free wine recommendations, giveaways, exclusive partner offers, and more straight to your inbox!