Italian Chardonnay: Tasting Notes and Buying Guide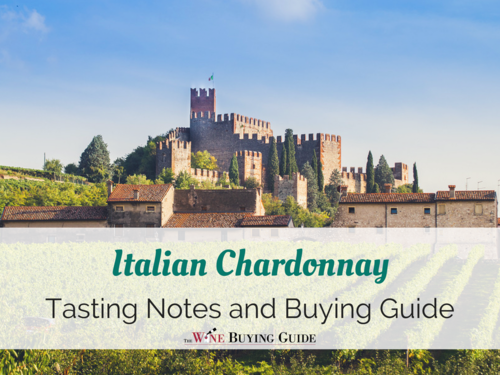 Italian Chardonnay might not be the first thing that comes to mind when you think of either the country or the grape. But, as is often the case with wine, it's important to look (and taste) beyond what you think you know! Chardonnay has actually been grown in Italy for decades, and it's become the fourth most-planted white wine grape in the country. It's found in both blends and single-varietal wines. Read on to learn a little more and see some of our best Italian Chardonnay recommendations.
History of Chardonnay in Italy (it's interesting!)
If you're familiar with the similarities between Pinot Grigio and Pinot Gris, then you already know one grape that's grown in both France and Italy. To recap: These white wines are made from the same grape, but the wine that's made in France is called Pinot Gris, and the wine that's made in Italy is called Pinot Grigio. The styles are different, but both countries make fantastic wines out of the same grape.

The story is actually similar with Chardonnay! The key difference is that Italian Chardonnay is less famous than French Chardonnay (White Burgundy). However, both countries are able to grow the grape and produce quality bottles of wine from it. The northern Piedmont region of Italy is similar in climate to the climate of Burgundy, France, so it makes sense that both areas would be able to successfully grow the grape.

According to Luigi Coppo, Chardonnay has been grown in Italy since the second half of the 19th century. It's not exactly a newcomer! It started gaining more traction in the 1970s, although there was a small hiccup in it rising popularity. Some winemakers confused the grape with Pinot Blanc, leading to a little confusion as to what grapes were actually in some of those wine blends. However, winemakers soon began cultivating the grape in its own right and producing exceptional wines. In 1994 the DOC Langhe was created, giving an official designation to Italian Chardonnay.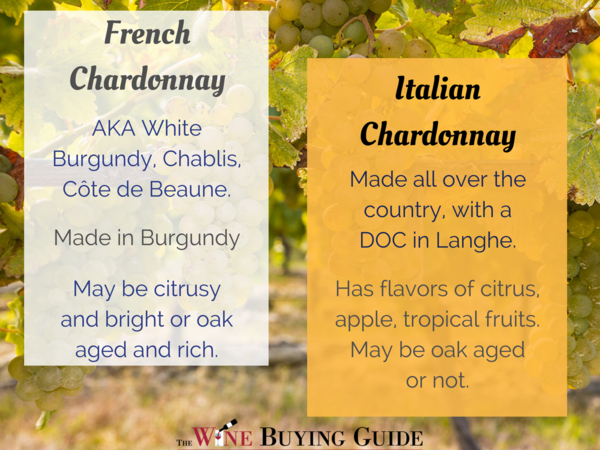 Best Italian Chardonnay Brands
Much of the best Italian Chardonnay is found in the northern part of the country - the Piedmont - where the climate is similar to regions in France. However, if you know Chardonnay, you know that this versatile grape can be grown almost anwhere. Good Chardonnay can be found in places as diverse as Umbria, Sicily, Asti, and Tuscany.

Here are some of our favorite Italian Chardonnay brands from all over the country. Each produces distinctive wines that have been praised by the wine community.

Luigi Coppo
They currently produce three Chardonnays at varying price points: Riserva della Famiglia, Monteriolo, and Costebianche. The Costebianche is the most affordable of these, available for around $17 per bottle.

Antonio Gaja
Any discussion of Chardonnay in the Piedmont would be remiss to not mention Antonio Gaja, who was among the first to actively cultivate international varietals in the area. The Antonio Gaja Gaia & Rey is a rich, age-worthy Chardonnay, while the Rossj-Bass is a lighter, crisper style.

Pio Cesare
This winery is another of the first to cultivate the varietal in the region. Their L'Altro Chardonnay is crisp and fruity, aged in stainless steel. Meanwhile, their Chardonnay Piodelei, has a touch of oak that lends the wine elegant notes of spice and cream.
Best Rated Italian Chardonnay
All of the producers above make great Italian Chardonnay, but we have some picks here for single bottles that are also terrific. As usual, we've chosen wines that are affordable. They show a variety of flavors and styles, so you can find a Chardonnay that's to your taste. You'll notice that a lot of these wines are more crisp and citrusy, which is a typical style for Chardonnays from Italy.

Tellus Chardonnay 2015 - Umbria, Italy - $15
This wine is aged in stainless steel, so it is bright and crisp. Flavors include lemon, citrus, and apple.

Tenuta di Nozzole Le Bruniche Chardonnay 2016 - Tuscany, Italy - $15
According to the winemaker, this wine shows flavors of citrus, apple, and banana. It isn't oak aged.

Gradis'ciutta Chardonnay 2015 - Collio, Italy - $16
This wine received an 89 point score from Wine Enthusiast, making it a great bargain!

Tiefenbrunner Chardonnay 2015 - Alto Adige, Italy - $15
This wine is crisp, with notes of citrus and pears. Pair it with fish or creamy risotto.

Cavit Chardonnay - Trentino, Italy - $8
This super affordable wine is a good choice if you're looking for a simple, fruity Chardonnay. It's also easy to find at most grocery stores and is vegan and gluten free!

Caparzo Chardonnay Toscana - Tuscany, Italy - $12
This crisp Chardonnay shows flavors of apricot and ripe pear. It is also not aged in oak, for refreshing, fruity experience.
 
RECENTLY VIEWED
Free wine recommendations, giveaways, exclusive partner offers, and more straight to your inbox!