Mount Eden Vineyards Edna Valley Chardonnay 2013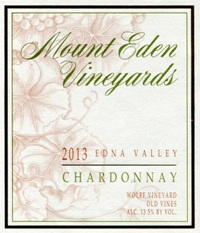 Mount Eden Vineyards Edna Valley Chardonnay 2013
DesignationWolff Vineyard
AppellationCentral Coast, California
Aging ProgramMix of French & American Oak-new to 5 years; 100% Barrel Fermented; 50% Malolactic; 100% sur-lie
This complex Mount Eden Vineyards Edna Valley Chardonnay 2013 is a fruity, floral white wine with enchanting notes of lime zest and earth. These complex flavors are due to the barrel fermentation and aging process and also the record drought of the 2013 growing season. On the palate, look for vivid flavors of guava, mint, passion fruit, and earth. The finish is long, giving you plenty of time to savor all of these seaside flavors. This Chardonnay is perfect for enjoying at the beach (or for wishing you were at the beach).
Taste SummaryCitrus, Honeysuckle, Mint
Wine QualitiesEarthy, Oaked
RECENTLY VIEWED
Free wine recommendations, giveaways, exclusive partner offers, and more straight to your inbox!