15 Fall Wine Cocktails to Celebrate the Season
Autumn is already great. Make it delicious, too.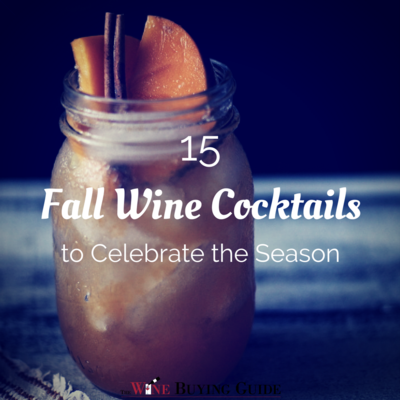 Apple picking and getting cozy around the fire are among the simple pleasures of the fall season. Everything is crisp and full of harvest flavor, including the wine cocktail recipes. These fall drinks have flavors ranging from honey and cinnamon to apples and thyme. They are perfect for sharing with your favorite people throughout the fall season.

Are you getting ready to mingle around a fireplace or fire pit in your back yard? Some sweet and spicy wine cocktails are the perfect pairing. How about apple picking? Although you may not be able to sip on Caramel Apple Sangria while picking apples, you can make a batch beforehand. It will be waiting for you to enjoy at home.

Finally, fall entertaining can be so much fun. We have great wine cocktail recipes for serving at all of your autumn parties. They are a little bubbly, a little spicy, and full of delicious harvest flavor.

Enjoy the autumn season with these fantastic drink recipes!
Table of Contents
Fireside Wine Cocktails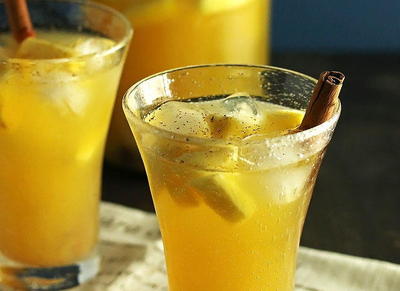 One of my favorite fall activities is gathering around a fire pit with friends and family. There's something special about pulling on a sweater and enjoying the warmth of a fire on a chilly fall evening. Of course, it's even more fun with a delicious fall drink in hand! These wine cocktails are perfect for enjoying by the fire side. They have harvest flavors and warm spice, guaranteeing that you'll feel cozy all evening.

Many of these sangria recipes need to be made ahead in order for them to reach their full flavor. Plan ahead to ensure that you have the perfect beverage for your fireside gathering!
Thanksgiving is about celebrating family, friends, and the good things in life. Choose some great wines (at every budget) to celebrate the season and show your gratitude. 19 Festive Wines for Thanksgiving
At the Apple Orchard Wine Cocktails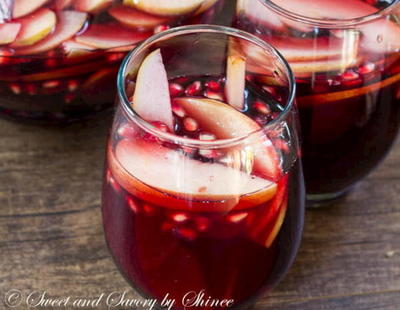 A trip to the apple orchard is a perfect fall tradition. Everyone gets a chance to enjoy the crisp outdoor weather, and you get to enjoy so many delicious apples and treats. These fall drinks are inspired by the apple orchard, and we think they'll inspire you too. Fresh apples are delicious in wine drinks, and so we have plenty of great choices for apple lovers.

We even have selections of red and white sangria. Although red wine may seem like the obvious choice for fall sangria, white wine is also perfect for setting off seasonal fruit flavors. Its light and crisp flavor is perfect for the crisp weather.
The holidays can be so busy, from decking the halls to buying gifts and making travel plans. Why not slow down and enjoy a delicious holiday drink (or two)? These warm and inviting wine cocktail recipes are easy to make and will relax away all the cares of this busy season. 14 Wine Cocktails for the Holidays
Life of the Party Autumn Cocktails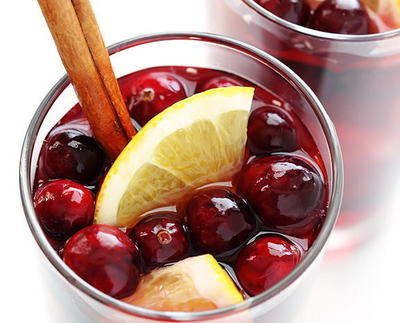 Autumn is the perfect time of year to throw some parties! The food is delicious, the weather is great, and sports lovers have lots of reasons to gather. These wine cocktail recipes are perfect for serving at your next fall party. They are festive and easy to make and enjoy. They even have a great diversity of fruit flavor, so everyone will be able to find something that they love. Be sure to check the yield of each recipe so that you have enough drinks for everyone. These recipes are so delicious that they are sure to be popular!

Have a wonderful fall season, and enjoy these recipes. If you make any of them, please feel free to share a note and a photo in the comments below! We'd love to see you enjoying some great wine cocktails and the lovely weather.
What are your favorite fall wine recipes? Let us know in the comments below!
RECENTLY VIEWED
Free wine recommendations, giveaways, exclusive partner offers, and more straight to your inbox!