10 Classic Summer White Wine Cocktails
Cool off with these white wine spritzers and other classic drinks.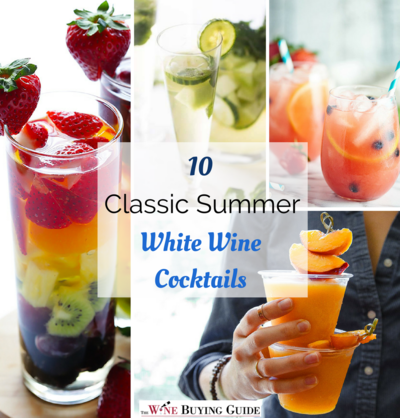 When the weather gets warm, skip the trip to the beach and instead enjoy one of these refreshing white wine cocktails. These drinks are delicious and relaxing, and let's face it: you don't want to vacuum up all that sand, anyway.

The timeless style of these classic cocktail recipes will appeal to everyone. We have a great selection of white wine spritzers, which are always a favorite. There's something special about crisp and refreshing white wine that's mixed with something a little bit fizzy and sweet. These recipes incorporate all of the flavors you know and love in white wine spritzers. They also have some fun new ingredients that you might not expect.

White wine sangria is another perfect summertime drink, with its light flavors and irresistible fresh fruit. These recipes are full of fun colors and charming character. You're certain to find a new favorite white wine sangria recipe to make again and again.

Enjoy these 10 Classic Summer White Wine Cocktails, and enjoy relaxing throughout the long days of summer.
Table of Contents
White Wine Sangria Recipes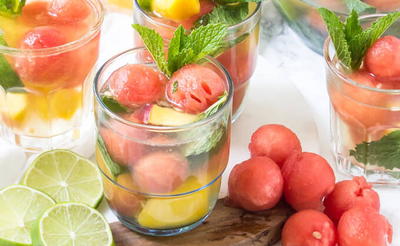 There's something about sunshine and warm weather that calls for crisp, refreshing white wine sangria. This classic Spanish beverage can include so many different fruit and wine flavors. The possibilities are endless, as you'll see in some of our more creative recipes.

Fresh Watermelon Sangria is a recipe that everyone will adore, with its gorgeous pink color and sweet fruit flavor. But, if you're looking for something a little different, be sure to try the Summer Sangria with Tequila. This fruity sangria recipe is a little unexpected and a totally delicious wine cocktail for summer.
White Wine Spritzers and More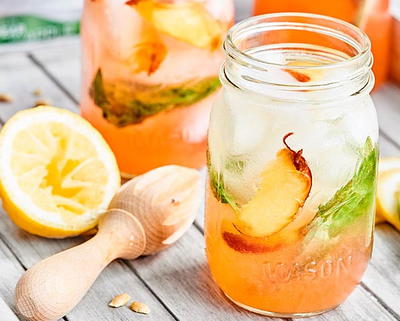 White wine spritzers are a classic summer drink for so many reasons. They're delicious and refreshing. Plus, they're easy to make. If you're not sure what to mix with white wine, just check out these recipes for lots of great options.

These white wine spritzer recipes will bring back great summer memories, and they're also perfect for starting new traditions. With all of these great recipes, you're certain to find a new drink that you'll love to make again and again.

Enjoy these classic summer white wine cocktails, and enjoy relaxing this summer!
How to Make White Wine Cocktails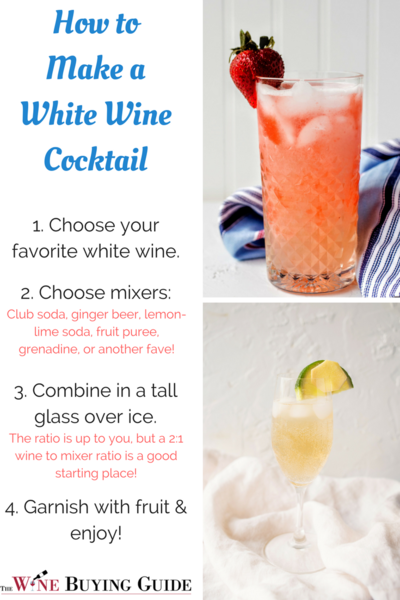 Do you sometimes wonder how you can whip up a simple white wine cocktail from memory?

We have some tips to help!

Start with your favorite white wine. Crisp, dry white wines like Pinot Grigio, unoaked Chardonnay, or white blends often make the best base for a cocktail.

For an easy wine cocktail without liquor, add seltzer or lemon-lime soda to the wine. Then finish the drink with a squeeze of lemon or lime.

Other tasty additions to a wine cocktail include: peach or pear nectar; pomegranate or raspberry simple syrup; or fresh fruit puree. Top with seltzer or lemon-lime soda, and you have a delicious and refreshing wine cocktail for summer.

Enjoy, and get some inspiration from this Easy White Wine Spritzer recipe!
What are your favorite summer drink recipes? Let us know in the comments!
RECENTLY VIEWED
Free wine recommendations, giveaways, exclusive partner offers, and more straight to your inbox!