How to Make Mulled Wine
Impress your family and friends with this mulled wine recipe.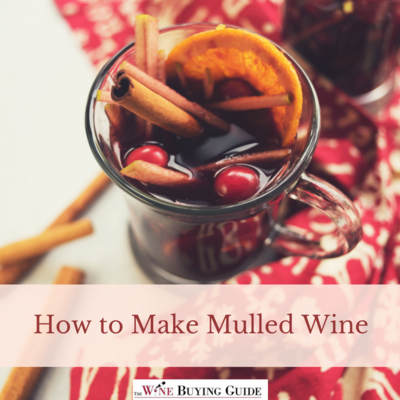 How to Make Mulled Wine
Stepping out of the winter cold into a cozy house is a wonderful feeling. Taking off your coat, unwrapping your scarf, and getting ready to relax makes any bad weather outside seem miles away. The only thing that can make this scene better? A warm mug of sweet and spicy mulled wine.

Mulled wine is a great holiday tradition. It's popular at winter festivals and events, but it's easy to learn how to make mulled wine at home. You've probably already figured out the best part about preparing this recipe at home (other than drinking it). The simmering wine and spices will make your house smell amazing!

Recipes for mulled wine can be updated to suit your own tastes. Love cinnamon, but hate cloves? No problem! Simply choose a selection of mulling spices that you like. You can choose your favorite type of wine or add some brandy (or not). The possibilities are endless.

Here is a basic recipe for mulled wine. Use this to create something that is perfect for you and your guests. Once you know how to make mulled wine, you can whip up something new and unique every winter.
Mulled Wine Recipe
2 bottles of red wine (inexpensive is fine!)

Mulling spices
2 star anise pieces
2 cinnamon sticks
5-8 whole cloves
2 tsp or 1-2 pieces fresh nutmeg
2" pieces of fresh ginger

Citrus slices and peel
1 sliced orange or orange peel
1 sliced lemon or lemon peel

½ cup superfine sugar (optional)

3 oz liquor, like brandy, spiced rum, or Cointreau (optional)
Some recipes add orange juice or apple cider. Other spices might include cardamom, vanilla bean, or bay leaves.

You can also mull white wine! Try matching it with different mulling spices, like rosemary, vanilla, and thyme.

The process for making mulled wine is very simple. The key is to warm the wine gently so that the alcohol doesn't burn off while the spice flavors infuse. Never let the wine boil!

Instructions
Combine wine, spices, citrus, and sugar in a large nonreactive saucepan.

Heat wine over low heat for about 20 minutes. Don't let it boil.

The wine should be ready to enjoy now, but you can take it off of the heat and let the spices infuse for another 20 minutes or so, if desired. Reheat gently before serving, if needed.

Stir in brandy or liquor, if using.

Strain the spices out of the wine by pouring through a sieve into a bowl.

Ladle into glasses and garnish with orange slices or cinnamon sticks.
More Easy Mulled Wine Recipes
Serve this mulled wine to your friends and family this holiday season. They will love the warm gesture and the delicious wine!

Need some creative inspiration? Here are some of our favorite mulled wine recipes and winter cocktails.
The holidays can be so busy, from decking the halls to buying gifts and making travel plans. Why not slow down and enjoy a delicious holiday drink (or two)? These warm and inviting wine cocktail recipes are easy to make and will relax away all the cares of this busy season. 14 Wine Cocktails for the Holidays
Have you ever made your own mulled wine? Tell us your tips in the comments below.
RECENTLY VIEWED
Free wine recommendations, giveaways, exclusive partner offers, and more straight to your inbox!