Williamsburg Winery Wessex Hundred Merlot 2013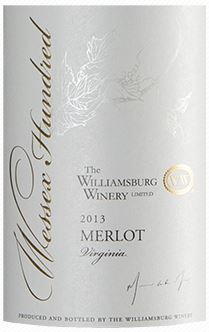 Williamsburg Winery Wessex Hundred Merlot 2013
AppellationThe Williamsburg Winery Vineyards at Wessex Hundred
WineryThe Williamsburg Winery
Aging ProgramThe wine was aged in 34% New American Oak, 30% 4 year old American Oak, 8% New Hungarian Oak, 8% 3 year French Oak, 8% 3 year American Oak, 4% New French Oak, 4% 4 year Hungarian Oak and 4% 4 year French Oak
Oak OriginFrench, American, and Hungarian
Blend91% Merlot, 9% Petit Verdot
The Williamsburg Winery Wessex Hundred Merlot 2013 is a balanced Merlot that has old world character and a dark berry flavor. The grapes were grown in the summer of 2013, where a wet June and a dry end-of-season produced balanced and intensely flavored grapes. Expect aromas and flavors of dark cherry, strawberry, raspberry, and blackberry. Hints of earthiness including truffle, sage, and fresh cut herbs add depth and complexity of flavor. A balance of fruit and oak tannins mingle beautifully and lead to a long finish.
Taste SummaryBlack Cherry, Blackberry, Chocolate, Hazelnut, Raspberry, Strawberry, Vanilla
Wine QualitiesEarthy, Fruity, Herbal
RECENTLY VIEWED
Free wine recommendations, giveaways, exclusive partner offers, and more straight to your inbox!