Black Star Farms Arcturos Pinot Noir Rose 2014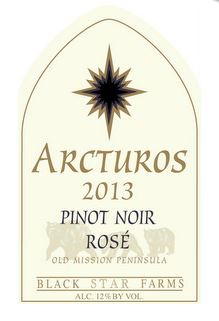 Black Star Farms Arcturos Pinot Noir Rose 2014
VarietalRosés (Blush Wines)
BlendPinot Noir, Pinot Meunier, Chardonnay
Black Star Farms Arcturos Pinot Noir Rosé 2014 is a crisp, dry rosé with enchanting fruit and floral aromas. This wine is made from Pinot Noir grapes, and their delicate berry flavor shines through. The palate is a myriad of fruit and mineral flavors, with a taste of fresh strawberries. The finish is bright and refreshing. Try pairing this summery rosé wine with salads, light pasta, or seafood dishes. It's the perfect glass for relaxing over a delicious light dinner (or even a weekend lunch).
Wine QualitiesBright, Crisp, Dry
RECENTLY VIEWED
Free wine recommendations, giveaways, exclusive partner offers, and more straight to your inbox!