Microplane Ultimate Bar Tool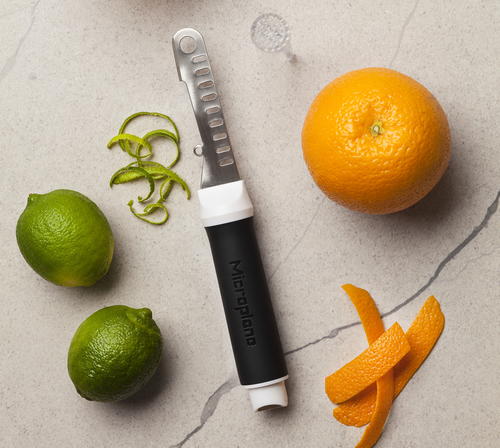 Microplane Ultimate Bar Tool
us.microplane.com
Reviewed by , Editor, TheWineBuyingGuide.com

Make the perfect sangria or other pro-level cocktails with the Ultimate Bar Tool, which allows you to muddle, stir, cut, score, strain, and create garnishing twists and peels from citrus fruit. When you're making cocktails or mocktails at home, sometimes you want to make the drinks extra-special. Hosting a party or just putting together something special are great reasons to put some added effort into your drinks. However, if you're not a professional mixologist, you probably don't have the tools you need to stir, muddle, and strain.



The Ultimate Bar Tool has all the features you need to make expert cocktails without filling up your kitchen drawers with gadgets. For wine drinkers, the best part of this tool is probably the sharp edge peeler blade which allows you to strip citrus peel. You can also twist the fruit using this tool. This creates a great garnish for sangria or red blends.



This tool is about the same size as a spatula or other kitchen tool, so it will fit in your drawer or utensil container. It's easy to grip, and the tools themselves are small, sharp, and effective. You could make a mojito easily by puncturing the lime, and twisting the peel as garnish.



There are six features on this bar tool. On the peeler blade, there's a serrated cover that can blend ingredients. The top features a hole for stirring and a small knife for trimming herbs. There's also a scorer for piercing fruits, and a twisting tool to make the peels into pretty garnishes. Finally, there's a strainer across the flat edge to keep small fruit bits out of your drinks.



If you really want to impress your guests (or a date, wink wink), use this tool while you're making drinks to seem like a seasoned mixologist. This is an easy way to make restaurant-worthy drinks without the price tag.
RECENTLY VIEWED
Free wine recommendations, giveaways, exclusive partner offers, and more straight to your inbox!