Peugeot Baltaz Ultimate Wine Opener Review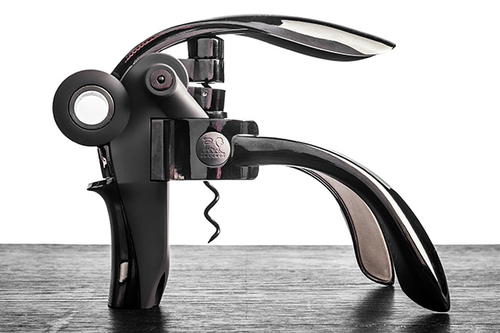 Peugeot Baltaz Ultimate Wine Opener Review
www.peugeot-saveurs.com
Reviewed by Emily Artinian, Editor, TheWineBuyingGuide.com
This magnificent Peugeot Baltaz Ultimate Wine Opener from Peugeot is just what you need to open your wine bottles with ease. This wine opener was built to perform well and ease your way into enjoying a delectable glass of wine. The dark color gives this wine opener a sleek and sophisticated look. You will never have trouble opening a bottle of delicious wine with this ultimate wine opener.

First off, the look alone is just so beyond attractive. The packaging is even beautiful and gives you a nice way to store this impeccable wine opener. We decided to try this wine opener on a bottle or two of red wine we were using for Bolognese sauce.

While most wine openers cause a struggle when pulling the cork out, the Peugeot Baltaz Ultimate Wine Opener opened our bottles with great ease. The corkscrew dug into the cork a lot easier than most openers and did not break the cork at all. At first, it is tough to pull the lever to release the cork. However, once we opened the second bottle of wine, we were able to open with such ease.
This is such a unique wine opener because of the technology used to enhance a user's experience opening wine bottles. The lever allows you to open the bottle yourself with ease rather than looking for a partner to help you separate the bottle from the cork with a weaker wine opener.

This wine opener is perfect to use while cooking or entertaining. It's such a treat to not fuss over stubborn wine corks. You'll want to add this to your bar station; you won't regret it!

RECENTLY VIEWED
Free wine recommendations, giveaways, exclusive partner offers, and more straight to your inbox!