Black Star Farms Sirius Cherry Dessert Wine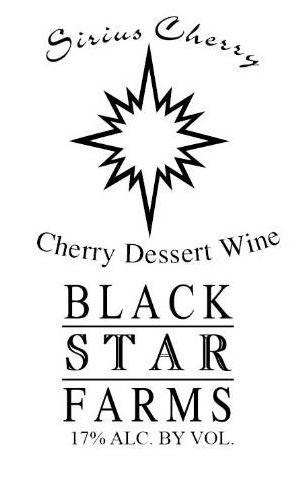 Black Star Farms Sirius Cherry Dessert Wine
BlendBalaton & Black Sweet Cherries
Black Star Farms Sirius Cherry Dessert Wine is a port-style dessert wine made from estate grown black sweet cherries. This enchantingly fragrant, sweet wine is fortified with vineyard-made cherry brandy and sweetened with tart cherry juice. The wine is barrel aged for nine months in American oak. Aromas and flavors of black cherry fruit, mild toasty oak, and brandy combine for an appealing dessert wine. Pair this wine with rich chocolate desserts or sharp cheeses like Bleu and Romano. This wine is also excellent for cooking – it will take your barbecue sauce or marinade to the next level.
Taste SummaryBlack Cherry
Wine QualitiesFortified, Oaked, Sweet
RECENTLY VIEWED
Free wine recommendations, giveaways, exclusive partner offers, and more straight to your inbox!