Types of White Wine
Easily learn the basics of white wine!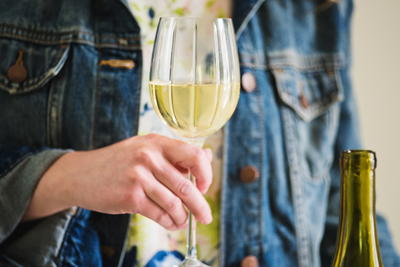 Types of White Wine
"I'll have a glass of white wine," you say to the bartender at a party. Do you wonder what type of wine you're going to get? They could bring you anything from a sweet and aromatic Moscato to a rich and buttery Chardonnay. Okay, it's probably going to be Pinot Grigio. The point is that white wines are a diverse category of wine. By learning about different types of white wine, you can make sure that you'll get exactly what you want from your wine order.

Although white wines are all different, they also have some traits in common. White wines tend to have almost no tannins, lighter body, and crisper flavor than red wines. The flavor profile is typically floral or citrusy and the alcohol content is often lower than in reds. White wines may be unoaked or oaked (oaked wines will have some tannins).

Chardonnay, Pinot Grigio, Sauvignon Blanc, and Riesling are four popular types of white wine. They all have different flavors and textures, and you may enjoy them all. Read on to learn more about white wine and to get recommendations for some great bottles from our wine catalog!
What is your favorite type of white wine? Share in the comments below!
RECENTLY VIEWED
Free wine recommendations, giveaways, exclusive partner offers, and more straight to your inbox!