Sherry vs. Port Wine: Spot the Difference
Do you know the difference between Port and Sherry?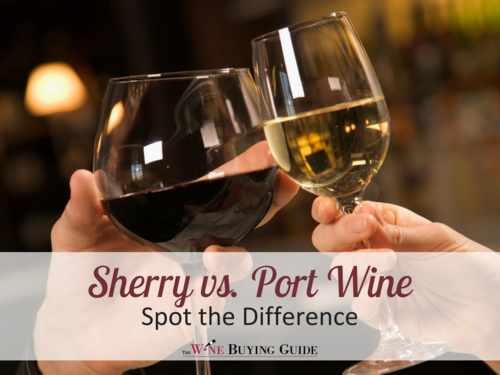 Port and Sherry? These wines are basically the same, right? Well, not quite. 

As dessert wines, you'd think that Sherry and Port wine share a lot of similarities. After all, both wines taste delicious with a slice of pecan tart (or even without one!). However, while these wines are somewhat similar, they're a lot more different than they are alike. 

The main difference between Sherry and Port is that Sherry is from Spain and Port is from Portugal. They are also different in appearance and taste. Learn more about all of the differences below. 

By sight, you can easily distinguish Port and Sherry by their color. While Port is a red wine, Sherry is white. Yet, Port isn't always fermented from red grapes, and you could easily mistake it for Sherry if you didn't know the difference. In regards to Port and Sherry, you should know their differences in texture, flavor, and more to truly understand their distinct personalities.

Although researching everything about Port and Sherry might seem a little alarming, don't fret! In this article, you'll learn everything that you need to know about these two wines. So, next time that you're faced with the decision between Port or Sherry, you'll know which glass to reach for. Plus, you can impress your friends with all of your wine wisdom!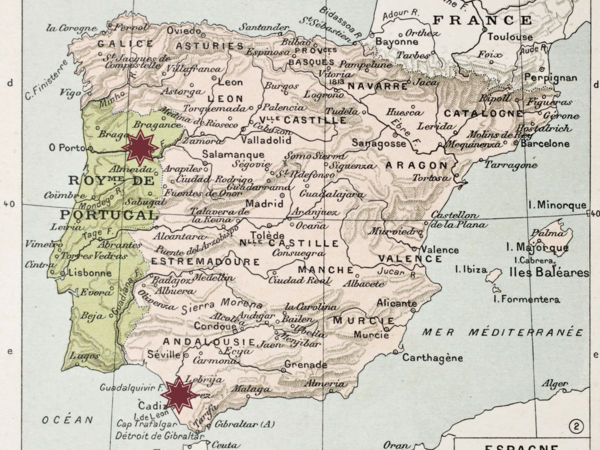 Port vs. Sherry Wine: It's Time for a History Lesson
We've been drinking wine for a very, very long time, but can you blame us? Wine is just that delicious! 

Sherry wine is one of the world's oldest wines, dating back to 1100 BC. Its production began in Jerez de la Frontera in southern Spain, which is today known as the "Sherry Triangle." Although this wine was popular among the Spaniards, others didn't know about Sherry until Christopher Columbus introduced it to the rest of the world. By 1587, Sherry became popular in other countries, especially among the English who invested in the production of Sherry. 

Port wine, on the other hand, relatively younger than Sherry. Although the Portuguese had been producing wine for centuries, Port, as we know it today, wasn't established until the end of the 17th century. In fact, the Port wine-producing Douro Valley wasn't established until 1756. 

Like Sherry, Port became very popular among the British. During the war with France, the British boycotted French wine and turned to the Portuguese to fulfill their wine needs. As a result of the Methuen Treaty, taxation on Portuguese wines was minimal. So, Port quickly became popular among the British and, eventually, the rest of Europe.

What are the similarities between Sherry and Port?
Besides being dessert wines, Sherry and Port share a few similarities that could cause confusion among our wine-drinkers. Both wines are classified as fortified wines. If you're unfamiliar with fortification, it's essentially a step in the production process where a distilled spirit is added to an existing wine.

For Port and Sherry wine, this spirit is usually brandy, and it's poured into the wine mid or post-fermentation depending on the type of wine. 

They are stored the same way. Moreover, if you buy a bottle of Sherry and Port, you're expected to store these bottles in the same manner. If your wine bottles haven't been opened, place them in a cool and dry place. Unless you've bought a bottle of vintage Port or a delicate Sherry, you can store these wines for up to 6 months. Otherwise, you should drink the wine immediately after it's been opened. 

What is the difference between Port and Sherry?
You can't talk about Port without talking about Sherry and vice versa.

Often times, people consider these wines as cousins because they originate from the fortification family. Yet, by looking at their differences, you can easily set Sherry and Port apart.

So, what is the difference between these two wines?

Well, for starters, Port and Sherry are produced in two different locations in distinct ways. Sherry wine is a Spanish wine made from the white grapes grown in the Jerez area of Andalusia while Port is produced in the Douro Valley of Northern Portugal. Like Sherry, the Portuguese can make Port from white grapes. Yet, it's often developed with the red grapes that are native to the area.

Sherry contains an alcohol content of 11-12% while Port's is much higher. Usually, this wine ranges from 19.5-22%, so you better be careful! 

The fortification process is different. As mentioned before, the wine-producing companies add brandy to the white or red wine during the production process. However, for each wine, it's added at different times. In Sherry production, brandy is poured in at the end of fermentation, but for Port, it occurs mid-fermentation. As a result, these wines are different in taste and texture.

Depending on the style, Sherry can range from dry to sweet. When you taste a dry Sherry wine, you'll notice that it's crisp and refreshing with a strong hint of salt. Sweet Sherry, on the other hand, is nutty and rich. These Sherry wines are classified from dry to sweet as follows:
Fino
Manzanilla
Amontillado
Oloroso
Pedro Ximenez
Moscatel
Yet,
Port wine is a lot sweeter than Sherry.
Because Port is fortified during the fermentation process, the distilled spirit kills any yeast present in the wine, leaving behind residual sugar.
For the most part, this wine can be classified in two ways: Tawny or Ruby. While Tawny Port has a nutty and caramel flavor due to aging, Ruby Port is syrupy sweet because it's younger.
Are you still interested in learning more about Port wine? Check out our article on What is Port Wine?
Who wins this dessert wine battle? Port or Sherry?
Let us know in the comments below!
RECENTLY VIEWED
Free wine recommendations, giveaways, exclusive partner offers, and more straight to your inbox!