Types of Spanish Wine: A Beginner's Guide to Flavors and Regions
Learn which Spanish wine varietals to try, and start savoring.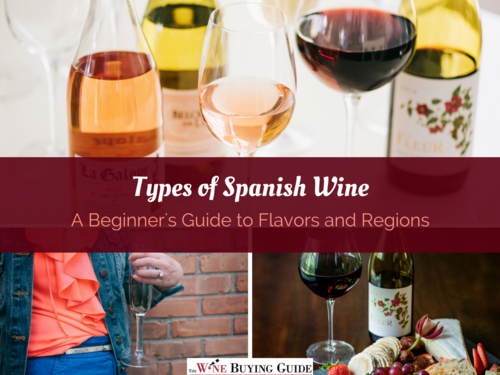 Spain is well known for its passion for food and wine. When you think of Spain, images come to mind of sun-drenched countryside (perhaps grape vines) and family homes, where traditional meals and excellent wine abound. You might also think of a social scene in Spain, where tapas bars serve plump olives, salty Serrano ham, and almost more wine than you can drink.

While these hallmarks of Spanish culture (including many more, varying by region) go hand-in-hand with the wine that's produced, Spanish wine is an art that is worth studying in its own right. And by "studying," I mean "tasting," so you'll find that your research is pretty easy to manage.

There is a lot to learn about Spanish wine, from its history to Spanish wine varietals to how it pairs with food. You can spend a lifetime "studying" Spanish wine, but fortunately it only takes a few minutes to begin your discovery. Types of Spanish Wine: A Beginner's Guide to Flavors and Regions will help you begin enjoying wines from this acclaimed region.
What's your favorite Spanish wine? Let us know in the comments below!
RECENTLY VIEWED
Free wine recommendations, giveaways, exclusive partner offers, and more straight to your inbox!