Guide to Santa Barbara's Urban Wineries
Enjoy the urban winery experience in Santa Barbara.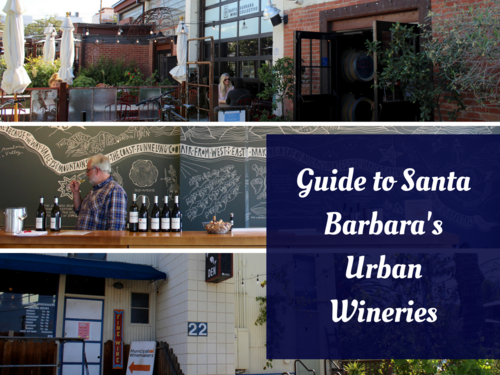 Visiting wineries situated amongst vineyards is always a romantic notion, but there's something to be said about urban tasting experiences. Eclectic and often unique, urban wineries are a great way to experience the wines of a region without having to drive long distances. In Santa Barbara, there are over 20 tasting rooms clustered throughout the downtown area – most of which are within walking distance of each other – known as the Santa Barbara Urban Wine Trail. To help you sip and stroll through this city by the sea, check out our guide to some of Santa Barbara's Urban Wineries:
Area 5.1
Area 5.1 is one of the more unique tasting rooms in Santa Barbara. A play on Area 51 in Nevada, the tasting room's alien theme extends from the ambiance to the names of the wines, such as the Conspiracy Red and White Light.
Cebada
Winemaker Sandra Newman produces Chardonnay and Pinot Noir from the grapes she grows on her farm. Her spacious tasting room is a place to sample her wines and organic blueberries – and don't miss the blueberry dessert wine made with blueberries and brandy.
Deep Sea Winery
Deep Sea Winery has one thing that no other tasting room has: a view of Santa Barbara from the water. Located on Stearns Wharf over the ocean, it's a fantastic place to enjoy a glass of wine while admiring the coastal view.
Municipal Winemakers
Winemaker Dave Potter has cornered the market on funky with his hip tasting room, decorated with vintage trophies and an eclectic photo gallery wall. Grab a seat on the patio to enjoy prime people-watching in the Funk Zone.
Grassini Vineyards
This family-owned tasting room is set amongst the historic Spanish-style walkways and courtyards of Santa Barbara's El Paseo. Stop by to taste Sauvignon Blanc and Cabernet-based wines produced from their Happy Canyon vineyards.
Happy Canyon Winery
Producing Bordeaux blends from their Happy Canyon ranch, this equestrian-inspired tasting room in the Wine Collection of El Paseo is decorated with polo mallets and equestrian gear – a tribute to the two polo fields located at their winery.
Kunin Wines
Located in the Funk Zone, Kunin Wines is what you picture when you think of a California coastal tasting room, with a bright and airy ambiance and casual vibe. Take a seat at one of the stools around the U-shaped tasting bar and sip on some delicious Rhône varieties from winemaker Seth Kunin.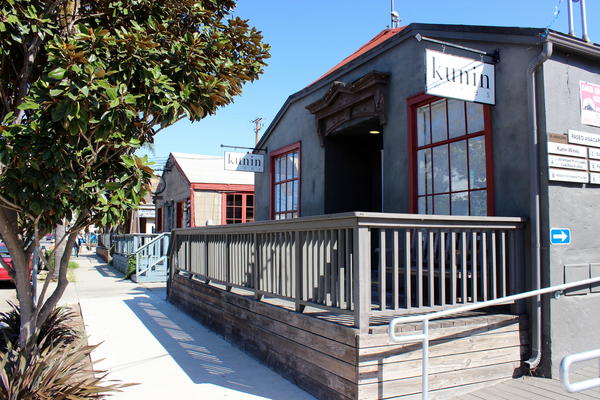 Santa Barbara Wine Collective
For those who just don't like having to choose… the SB Wine Collective offers wine from 5 different SB wineries. Try wines from one producer or all five – you'll find everything from Chenin Blanc and Chardonnay to Syrah from producers Babcock, The Hilt, Fess Parker, Ca del Grevino and Notary Public.
Whitcraft Winery
Winemaker Drake Whitcraft carries on his father's legacy with his hand-crafted wines produced in small quantities with minimal intervention. The tasting area, located adjacent to the actual production facility, is a casual place to taste his pure expressions of Chardonnay and Pinot Noir.
The Valley Project
Step inside this minimalist space in the Funk Zone, and you won't be able to focus on anything besides the impressive floor-to-ceiling chalk art mural displaying the different wine growing regions of Santa Barbara. It's a great way to learn the lay of the land while you sip on small-lot wines from Seth Kunin.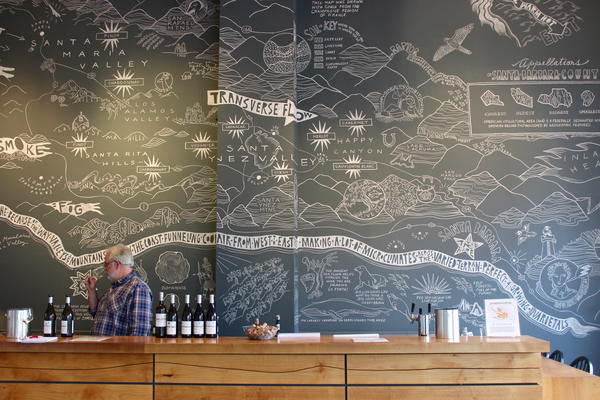 Photos by Hana-Lee Sedgwick
Do you have a favorite urban winery experience? Tell us about it in the comments below!
RECENTLY VIEWED
Free wine recommendations, giveaways, exclusive partner offers, and more straight to your inbox!