Best White Wine for Cooking
Discover the best white wine for making risotto, shrimp scampi, chicken, and more.
By:
Kristin Anderson, Editor, TheWineBuyingGuide.com

Updated August 07, 2017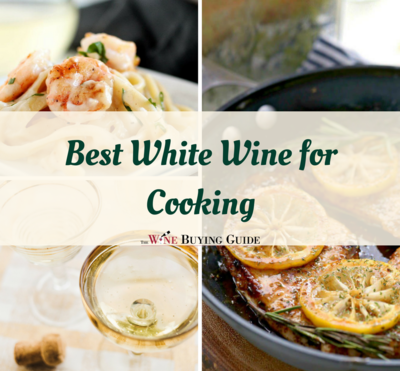 Best White Wine for Cooking
Cooking with white wine can add delicious flavor to your dishes. Who doesn't love seafood pasta with a white wine sauce or a mouthwatering helping of risotto? Unfortunately, a recipe that calls for "white wine" may be annoyingly vague. There are so many types of white wine. Can't we have more guidance on which one to use?

Yes! We can help.

It's easy to choose the best white wine for cooking once you have a little knowledge. We have easy tips for cooking with wine, including recommendations for the best white wine for risotto, for cooking seafood pasta, for making easy white wine sauces, and more.

Be sure to look at the end of this article for recommendations on specific white wines from our wine catalog. You can pick up a bottle (or two) of one of these white wines to keep on hand. That way, you'll always have a stash of white wine for cooking.
How to Choose the Best White Wine for Cooking
Quick Tips for Cooking With White Wine
Don't choose "cooking wine." This is usually a blend of poor quality wines and added salt.

If a recipe calls for a "dry white wine," then use a dry white. Pinot Grigio, Sauvignon Blanc, and unoaked Chardonnay are all good choices.

Pinot Grigio is your friend. Almost any recipe will turn out well with this dry white wine.

Sherry, Madeira, Marsala, and Port will probably not substitute well for white wine in a recipe.

You can cook with white wine that has been opened and properly stored in the refrigerator. A bottle of white wine is usually fine to cook with for up to two weeks after opening.
With those tips, you can easily start cooking with white wine. However, you can take your recipes to the next level by learning more. Different types of white wine taste different when cooked. By pairing the right wine flavors in your dishes, you can make your favorite recipes shine.

Most wines become more concentrated in flavor, but lose nuance, when they are cooked.

Acidity is concentrated, and so a wine like Sauvignon Blanc will become very tart. The individual tasting notes will be cooked out and indistinguishable, which is why cooking with expensive wine is unnecessary. Because different varietals of wine have different levels of acidity, we can recommend the best white wine for cooking different recipes.
The Best White Wines for Cooking
Cream Sauces, White Meat, and other Rich Dishes
The best white wine for cooking cream sauces is a medium-bodied dry white, like a Chardonnay. This type of wine adds richness to a dish and isn't too tart. Try it in this delicious recipe for Spinach and Chicken Crepes with White Wine Sauce!

For a cream sauce, some cooks suggest reducing the wine in a separate saucepan, then adding it to the cream. This gives you more control over the wine reduction.

Note: Some readers find oaked Chardonnay to become unpleasantly bitter when reduced.

Seafood
To cook seafood, choose a crisp, dry white wine like a Pinot Grigio, Muscadet, or Sauvignon Blanc. Pinot Grigio is the most versatile of these. Expect Sauvignon Blanc to be more acidic and add a lemony flavor to your dish.

Vegetables
Choose a light, dry white wine. Sauvignon Blanc is an excellent choice, because it is bright and herbaceous in flavor.

Best White Wines for Cooking Your Favorite Meals
A great dry white wine for risotto is Pinot Grigio or another dry Italian white wine. The nutty, salty Italian cheese in most risotto recipes will pair perfectly with these bright Italian wines.

The best dry white wine for cooking shrimp scampi is also Pinot Grigio. Dry vermouth is another great choice.

For cooking chicken piccata, most of the above white wines would work well. You could also enjoy Chenin Blanc, Sauvignon Blanc, or unoaked Chardonnay.

If you want to cook another dish with chicken, try this delicious Lemon Chicken with White Wine.

The best white wine for cooking seafood pasta is Pinot Grigio. This bright, citrusy wine will match the seafood and the pasta.

Try it out with this luxurious recipe for Creamy White Wine Shrimp Alfredo!
The Best Dry White Wines for Cooking
Try using one of these dry white wines in a recipe.
Know your Pinot from your Moscato. Easily learn about the different types of white wine. Types of White Wine
Have you ever cooked with white wine? Tell us about it in the comments below!
Tags / Related Topics
RECENTLY VIEWED