Spanish Wine Grapes: A List from Albariño to Xarel-lo
Discover the grapes behind your favorite Spanish wine varietals.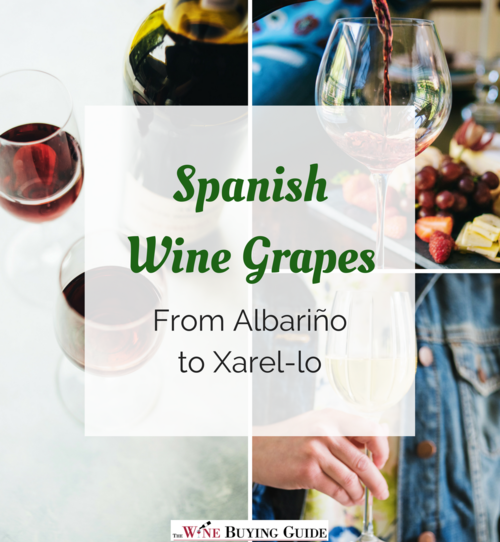 Spanish wine is diverse, full of tradition, and brimming with flavors that you won't find anywhere else in the world. The country boasts an impressive list of native grape varietals, from popular Tempranillo to hidden gem Bobal. In addition, several international varieties are grown and thrive in Spain. Cabernet Sauvignon and Merlot are just two examples, and the Spanish take on both of these grapes has become very popular.

This exciting variety of Spanish wine grapes is well worth exploring, and the rewards become greater with the more wines you try.

Anatoli Levine, from wine blog Talk-A-Vino, has fantastic advice for expanding your horizon on Spanish wine:

"Spanish wine is so much more than three of its stars - Tempranillo, Garnacha and Albariño. To fully appreciate what Spain is capable of, look for racy Viura, round and delicious Godello, classic international varietals Cabernet Sauvignon, Merlot and Syrah, or unique and different Bobal, Trepat, and Alicante Bouschet."

If you've never heard of some of these Spanish wine varietals, there's no need to worry. We've organized them into a handy list that you can refer to again and again. This list covers Spanish red wine names as well as Spanish white wines and rosés, so you can truly learn about everything that this region has to offer. You can even go "from A to Z" if you want to!
Spanish White Wine Grapes
Don't make the mistake of confusing Spanish wine grapes with Spanish wine regions, or even the names of Spanish wines.

It's easy to be confused, because many Spanish wines are named after the region (and not the grape!). Some Spanish wines, like Txakoli, also simply have their own name that is independent of region and grape varietal.

This is a list of Spanish wine grapes, with notes indicating how you might see each one labelled in a wine shop.

Albariño
This is one of Spain's most famous white wines, grown in the Rías Baixas DO.

Wines From Spain has this to say about this popular Spanish wine grape:

"Albariño is primarily found in "Green Spain," located in northwest Spain. It can be rich and expressive with peach and apricot notes or tart and bracing like green apples or lemon peels."

Albariño is usually made into a single Spanish wine varietal wine, labelled Albariño. It's an easy one to recognize and enjoy.

Godello
This grape produces a wine that has a rounded texture, with juicy fruit flavors and vivid aromas. It is also made in northwest Spain, in the Ribeiro and Valdeorras regions.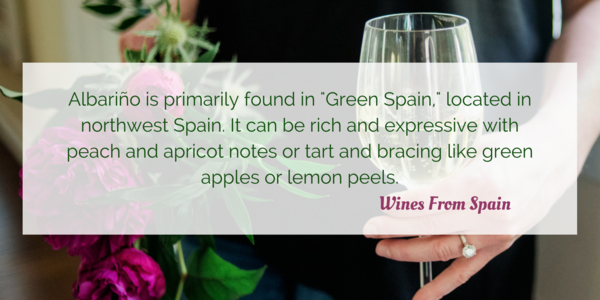 Hondarrabi Zuri
This white wine grape is grown in Basque Country, in northern Spain, where it is made into Txakoli wine. Txakoli is bright, crisp, and mineral-driven, with a slight effervescence.

Palomino
This grape is used to make Sherry in Southern Spain. There are several styles of Sherry, including light and salty Fino, nutty Amontillado, dark and rich Oloroso, and more.

Xarel-lo
This grape is used in Cava, Spain's sparkling wine, in a blend with Macabeo and Parellada grapes. Cava is dry, crisp, and fruity. It's primarily made in the Penedes region of Spain.

Verdejo
This grape is used to make a Spanish wine varietal of the same name. It is bright, acidic, and somewhat reminiscent of Sauvignon Blanc. It's largely grown in Rueda, Spain (and you might see it labelled that way), and it is perfect for serving outdoors with seafood.

Viura
This white wine grape is also known as Macabeo. In addition to being used in Cava, this grape makes delicious white Rioja wine. Expect Viura to have irresistible bright fruit and citrus flavors.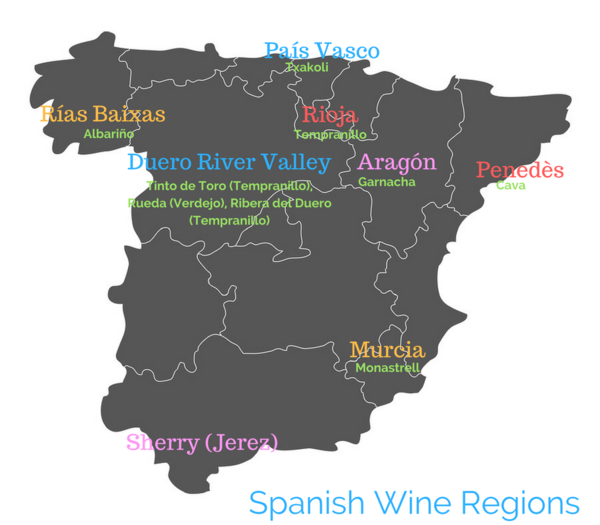 Spanish Red Wine Grapes
If you're familiar with any one of the Spanish red wine names, it's probably Tempranillo.

"The mighty Tempranillo reigns king in Spain, and no one does it better than Rioja. Tempranillo is indigenous to Spain and has three levels of aging classification - Crianza, Reserva, and Gran Reserva." -Wines From Spain

In spite of Tempranillo's "royal" status, this red wine is actually approachable and delicious with a wide variety of foods. If you're new to Spanish red wine, Tempranillo is a fantastic place to start.

But don't stop there! There are many other excellent varietals to explore, and many more Spanish red wine names and grapes to know.

Garnacha
Garnacha is the other Spanish red wine name you might recognize; it's called Grenache in France. Garnacha is the name of the grape and the wine, which is light-bodied and fruity.

Monastrell
Speaking of Spanish wine grapes that have another name in France, the French moniker for this grape is Mourvèdre. It produces a dark, full-bodied red wine with strong tannin and fruit flavor. Be sure to decant before serving.

Mencía
This grape produces a medium-bodied red wine that has tart tannins and strong floral and berry aromas. It's usually made in Bierzo or Ribeira Sacra, which might help you when reading a wine label.

Bobal
This grape produces a red wine that is inky dark and high in tannins, with vivid dark fruit flavors. This wine is produced mostly in the DO (Denominación de Origen) of Utiel-Requena and Manchuela, so be sure to look for that on the wine label, if it doesn't say "Bobal."

Tempranillo
We know you know this Spanish red wine name, but you should also know that it goes by a few other aliases!

Since this grape hails foremost from Rioja, look for labels with that region on it. You may see it labelled as Crianza, Reserva, or Gran Reserva. These are labels that indicate how long the wine has been aged, usually indicating quality and price. Crianza has been aged the least, while Gran Reserva has been aged the most.
What Spanish wine grape would you like to know more about? Comment and let us know!
RECENTLY VIEWED
Free wine recommendations, giveaways, exclusive partner offers, and more straight to your inbox!