Red Wine Sweetness Chart
Discover what wines are sweet (and which ones you might like!) using this handy chart.
By:
Kristin Anderson, Editor, TheWineBuyingGuide.com

Updated August 18, 2017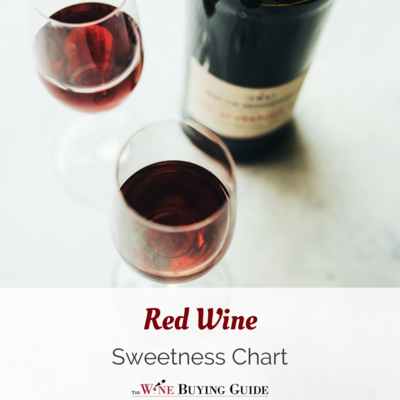 Is this wine sweet?

It's one of the most common questions people have about different types of red wine.

It's an understandable question, since sweetness is one of the biggest components to a beverage's flavor. You don't want to be surprised by drinking a sweet wine that you thought was dry (or vice versa!).

So, we've made a handy red wine sweetness chart that makes it easy to tell what kind of red wine is sweet. You'll find that most well-known types of red wine are dry: Merlot, Pinot Noir, Cabernet Sauvignon, Malbec, and more.

However, we have options available for everyone! If you're new to red wine and just want something a little sweet that you'll enjoy, jump down to Sweet Red Wine Recommendations. There we have sweet red wines for beginners that you can easily find in any grocery store.
Table of Contents
Red Wine Sweetness Chart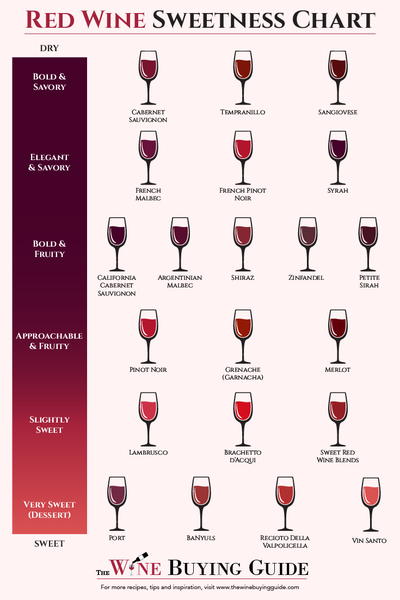 We've organized this wine chart from dry to sweet. You'll notice that most of these red wines are dry, with a few sweet selections appearing at the bottom.

However, there are some variations in red wine flavor that might interest you!

Merlot and Pinot Noir are not sweet red wines, but they are lighter and fruitier than other wines like Cabernet Sauvignon or Sangiovese. Here is an overview of how different dry red wines taste, so you can pick the ones that most closely align with your preferences.

Bold, savory red wines will taste the least sweet of all. They have less fruit flavor and strong tannins, which have a bitter flavor.

Elegant, savory wines have less bitter tannin. However, they are still not very fruity and will tend more toward earthy, peppery, or vegetable flavors (not very sweet!).

Bold and fruity red wines may contain almost no sugar, but their aromas of cherries, raspberries, plums, and more may seem slightly more sweet than other dry red wines.

Finally, we have approachable and fruity red wines. Although they are still dry, they may taste the most approachable and fruity. You may have asked yourself, "Is Pinot Noir sweet?" The answer is, "no," but it is lighter and fruitier than many other dry red wines.

If you love fruity red wines, also try Grenache!

Click here to download the Red Wine Sweetness Chart!
Whether you're new to wine or have enjoyed it for years, knowing how to serve wine can raise a lot of questions. That's why we've created our new free eBook, The Complete Guide to Serving Wine. Full of easy tips for serving and enjoying wine at home, it has everything you need to open your favorite bottle with confidence.  The Complete Guide to Serving Wine
Sweet Red Wine Recommendations
Dessert Wine Recommendations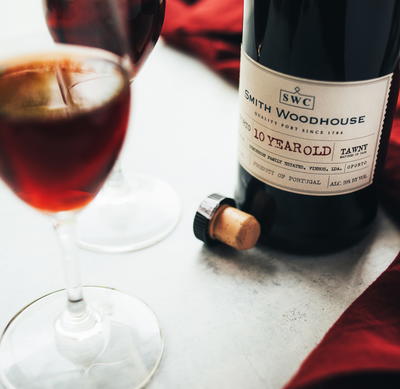 "No dessert, please. I'd like a glass of Port."

Maybe you've heard this at a restaurant and been a little confused. What is Port wine? Why does someone think it's a good substitute for dessert? Can it really compare with, say, a slice of flourless chocolate cake with a black cherry sauce? What is Port Wine?
What sweet red wines do you recommend? Let us know in the comments below!
Tags / Related Topics
RECENTLY VIEWED