Everything You Need to Know About Serving Red Wine
Get tips on the best red wine serving temperature, decanting, and more.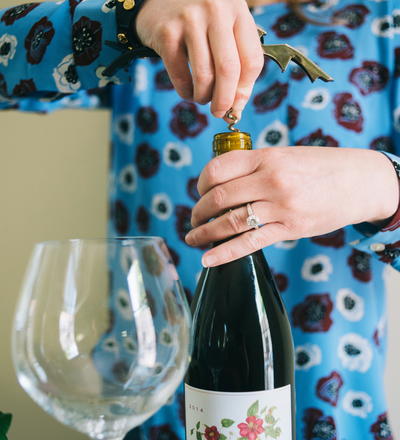 Everything You Need to Know About Serving Red Wine
If you and your guests are having fun, then there's really no wrong way to serve red wine. Open a bottle and enjoy spending time with your favorite people.

However, you can improve your experience by serving red wine like the pros do. Did you know that your wine will taste better if you serve it at the correct temperature? It's true!

Decanting red wine can improve flavor, too. These things are especially important if you are enjoying an expensive bottle of wine. Serving it correctly will help you get the best bang for your buck.

On the other hand, if you are drinking something inexpensive, then these tricks can also help. Serving a red wine correctly helps mask any odd flavors from that bargain bottle.

We know. It seemed like a good idea in the store.

Read on to find out everything you need to know about red wine.
Want to learn more about red wine? Discover the differences between Pinot Noir, Cabernet Sauvignon, and more.
Do you chill red wine?
Serve red wine slightly cooler than room temperature, not fridge cold. Most red wines should be served between 55 and 65 degrees Fahrenheit.
What is the correct temperature for red wine?
The correct temperature for red wine depends on the type of wine. It also depends on the quality of the bottle.

The quality of wine plays a role because low quality wine often has funky odors or tastes. Serving wine cooler can mask these flavors.

Here is a list of red wine serving temperatures, based on the wine varietal.
Pinot Noir, Beaujolais (Gamay)   55 degrees F / 13 degrees C

Côtes du Rhône, Sangiovese, Merlot   60 degrees F / 16 degrees C

Cabernet Sauvignon, Syrah, Malbec, Petite Sirah   65 degrees F / 18 degrees C
Do you aerate red wine? Do you decant red wine?
Yes, most red wines taste better after decanting. This process exposes the red wine to oxygen, which brings the wine's flavors to life. It also mellows harsh tannin and alcohol. The list below shows which wines need to be decanted.

When you decant an older wine, be sure that no sediment from the bottle ends up in your decanter. Pour slowly and stop when you see dark red bits beginning to mix with the wine. Hold the bottle over a light while you pour to make this easier to see.

You can "speed decant" red wine by aerating it. You can purchase a wine aerator or you can pour the wine back and forth from bottle to decanter a few times.
Young, inexpensive red wine
Decant for about 30 minutes to let any funky flavors dissipate.

Young, full-bodied red wine
Decant for 1 hour and taste. If tannins and alcohol still seem harsh, let it sit for 30 more minutes. Repeat as needed.

Young, light-bodied or medium-bodied red wine of good quality
Decant for 30 minutes to bring out the best fruity, savory, and earthy flavors of the wine.

Aged red wine, like an old Bordeaux, Cabernet Sauvignon, or similar
Decant to remove sediment only. Exposing this wine to air for even a short period of time will diminish its carefully aged flavors.
What is the best glass for red wine?
The best glass for red wine is a glass with a wide and tall bowl, like the one shown below. The large bowl allows the wine to get more air. It also keeps the strong alcohol smell of red wine farther from the nose.
What foods go well with red wine?
Red wine is great with almost any dinner menu. Light-bodied red wines like Pinot Noir and Gamay are delicious with dark meat poultry or pork. Zinfandel and Malbec pair well with spicy foods like barbecue. Cabernet Sauvignon is an excellent choice for beef steaks or other rich red meat foods. Finally, Merlot and Pinot Noir pair well with almost anything.
Red wine tastes great with pork, and we have some great ideas for serving both. Find some great wine pairings for different pork dishes. Delicious Wine Pairings with Pork
What is your favorite way to serve red wine?
RECENTLY VIEWED
Free wine recommendations, giveaways, exclusive partner offers, and more straight to your inbox!