Answers to Every Question About Serving White Wine
Learn everything about serving white wine, from the perfect serving temp to the best glassware.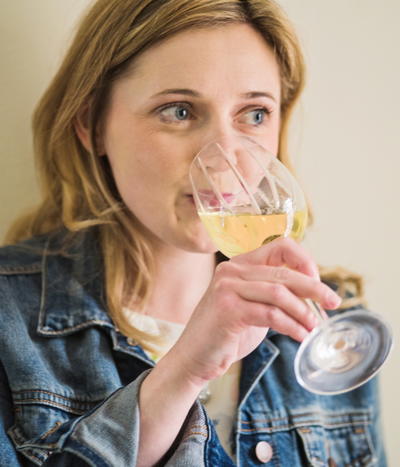 Answers to Every Question About Serving White Wine
It seems like serving white wine would be simple: open bottle, drink wine. However, as you start preparing for guests to arrive, you might discover that you do have some questions, after all.

Should this wine be chilled?

Do I need to decant it?

Will it taste good with the appetizers I made?

We're not passing any judgement about how anyone enjoys white wine, but we would like to offer some suggestions to make your experience the best that it can be. Even though a great event can outshine poorly served white wine, there's no reason to not do things right. It's easy to serve white wine, and it's easy to give your guests a wonderful experience.

Here we have answers to every question about serving white wine, to ensure that you can host like a pro. You'll be on your way to enjoying a perfect evening with white wine in no time.

For even more wine tips, subscribe to The Wine Buying Guide free e-mail newsletter!
Do you chill white wine?
Yes, you do chill white wine!
What is the ideal temperature for white wine?
The ideal temperature for white wine depends on the type of wine. Here is a list of ideal temperatures for white wine, based on varietal.

Also be sure to follow these pro tips on storing and serving wine.

If your wine is lower quality, it should be served colder. The chill will help hide funky flavors.

Do not store your white wine in the refrigerator. All wine should be stored at 53-57 degrees F.
Vinho Verde, Soave, Moscato  43 degrees F / 5 degrees C

Sauvignon Blanc, Pinot Grigio   45 degrees F / 7 degrees C

Riesling, Gewürztraminer   48 degrees F / 9 degrees C

Chardonnay, Viognier, White Burgundy   52 degrees F / 11 degrees C
Do you aerate white wine? Or do you decant white wine?
You do not need to aerate or decant white wine, except for two reasons. First, decanting will improve a white wine that is too cold and needs to warm up. Sitting in a decanter for 20 minutes will help bring it to the correct temperature and improve its flavor.

Second, some rich white wines benefit from decanting. High quality oak aged Chardonnay or White Burgundy may gain some flavor by being decanted. Try pouring your white wine into a decanter and then tasting it after 20 minutes. Drink if it tastes great, and try leaving it for another 10-20 minutes if it's not yet complex and delicious.
What is the best glass for white wine?
The best glass for white wine is a glass with a smaller bowl and a medium-sized mouth, like the glass shown below.

The small bowl helps keep the chilled white wine cold. It also brings the surface of the wine closer to your nose, so it is easier to enjoy the delicate fruit and floral aromas of white wine.
What foods go well with white wine?
White wine is delicious with many different dishes, but some food pairings really make it shine. Serve white wine with appetizers and small plates like tangy salads and fresh seafood. Off-dry Riesling or Gewürztraminer is delicious with spicy foods or Asian cuisine.

Many white wines are also great with chicken or pasta in cream sauce. Try a rich Chardonnay with creamy butternut squash ravioli.

You can even serve white wine with dessert. Sweet and floral Moscato is fantastic with fruity desserts like peach pie or apple galette.
What's the difference between Pinot Grigio and Chardonnay? Learn this and more white wine basics with this handy guide. Types of White Wine
What is your favorite white wine? How do you serve it?
RECENTLY VIEWED
Free wine recommendations, giveaways, exclusive partner offers, and more straight to your inbox!