3 Ways to Save Money on Wine
Find wine values with these shopping tips.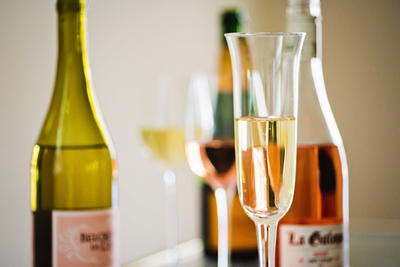 3 Ways to Save Money on Wine
Purchasing a lot of wine can be hard on your wallet, especially if you have expensive taste. However, with some careful shopping it is possible to find great wine on a budget. You might even find some extra benefits to saving money on wine, such as discovering new varietals and wine regions.

As with any bargain hunting, there are a variety of tricks to finding great wine values. You can buy in bulk, look for sales, and look for wines that are steals because they're not very trendy. We all know the small fortune that you can spend on Bordeaux blends, so why not try something from an emerging wine region? Modifying the wines that you buy will probably save you the most money the most often, because the price of alcohol is regulated in many areas. However, all of these tips are great to keep in mind, especially if you have one winery or varietal that you just have to have.
Emerging wine regions are parts of the world that are relatively new to wine making. Purchasing wine from an emerging region is a great way to find something unique, delicious, and affordable. 6 Emerging Wine Regions
How to Find Great Value Wines
Buy in Bulk
If you find a wine that you love, then consider buying a case of it. Many stores and wineries offer a discount on purchase of 12 bottles or more, and there's a good chance of free home delivery at a certain price point. Supermarkets may offer similar discounts while allowing you to purchase several different bottles of wine. Many warehouse clubs, like Costco, also offer good selections of wine at reasonable prices.

You can also get good deals on wine by purchasing boxed wine. You may think that boxed wine is always low quality or tastes bad, but that's no longer true! Plenty of companies make good boxed wine that is delicious, budget-friendly, and good for the environment. As a bonus, you don't have to worry about wasting wine when you can't finish a bottle right away. The design of boxed wine keeps wine fresh for weeks after opening, making sure that you get your money's worth out of each glass.
Look for Sales
Many brick-and-mortar store and online retailers will offer deals on wine. If there's a particular wine that you enjoy and would like to buy for less, try doing an online search to uncover deals. Google Shopping will gather results from all over the internet and you can sort by price in order to find the best wine value. Make sure that the price is for a full 750ml bottle of wine (if that's what you're shopping for), and beware of high shipping costs. Sometimes the sticker price on a wine is low, but the shipping costs make the deal less attractive.
Look for Less Trendy Wines
The best way to save money on wine is to buy from value regions or emerging wine regions. Wines from France, Italy, or California have a certain cachet, which means they go for a lot of cash. Countries like South Africa, Portugal, and Chile produce a lot of excellent wine. However, because they are less trendy wine regions, you can usually purchase these bottles for a lot less. Shop online to find specific recommendations, or you can browse these regions in your local wine shop and ask for picks from the staff.

In addition to trying new wine regions, flexibility in type of wine can help you save money. White wines, rosé wines, and sweet wines are often cheaper than red wines. By drinking more of these types of wine, you will probably spend less.

You can also reduce your wine spending by choosing red wines and white wines that are less trendy. Cabernet Sauvignon is the most popular red wine in the world, and so good quality bottles can come at a hefty price. Here are some red grape varietals which are less popular and so offer a good value.
Nero d'Avola
If you like Cabernet Sauvignon, then try this varietal. This Sicilian grape produces a delicious full-bodied red wine.

Bobal
This varietal produces a dark, full-bodied red wine with chewy tannins. It pairs well with paella, roasted rabbit, and steak.

Tannat
This is also a dark, full-bodied red wine with a notes of warm raspberry jam. Tannat wines from France are more structured, while Uruguayan bottles have a lighter body.

Tempranillo
This Spanish wine is a medium to full-bodied red. It is very food-friendly and has plum, tomato, and other savory flavors. You may also see it called Rioja or Crianza. Tempranillo is becoming more popular, which means it may also be the easiest of these recommendations to find at a store near you.
This Boeger Tempranillo is a great value wine! It is fruity and fresh, with flavors of blueberry, plum, and sweet pipe smoke. It is a terrific match for paella. Boeger Tempranillo 2013
How do you find wine values? Let us know in the comments below!
RECENTLY VIEWED
Free wine recommendations, giveaways, exclusive partner offers, and more straight to your inbox!