A Beginner's Guide to Italian Wine
Discover this famous wine region.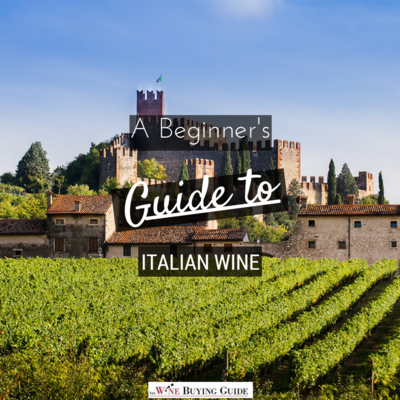 Guide to Italian Wine
The history of wine in Italy is legendary. Just hearing "Tuscany" conjures images of sunlit vineyards, historic family homes, and outdoor tables where the food abounds and the wine flows. Learning about Italian wine is a great way to experience some of this idyllic country, whether you plan to be in Italy soon or not. At home or abroad, you'll be able to better choose a bottle of wine that you will love.

Learning the major winemaking regions in Italy is a good way to build your knowledge of Italian wines. Italy is a long country, and the climate varies as you travel north to south.
Northern Italy
Near the mountains, Northern Italy experiences cold winters, hot summers, and great variation between daytime and nighttime temperatures. This produces grapes that have high acidity and freshness. Here are some notable regions and the wines they produce.
Piedmont (Piemonte)
Barolo, Barbaresco, Moscato di'Asti, Dolcetto, Barbera

Veneto
Valpolicella Ripasso, Valpolicella Superior, Amarone della Valpolicella, Soave

Friuli
Friulano, Friuli Colli Orientali, Collio
Central Italy
Central Italy is home to delicious food and the famed wine regions Tuscany and Emilia-Romagna. Here the Mediterranean Sea is an influence in the climate and soil at the vineyards. Look for these wines from central Italy.
Tuscany (Toscana)
Chianti, Brunello di Montalcino, Vernaccia di San Gimignano, Bolgheri, Maremma Toscana

Abruzzo
Montepulciano d'Abruzzo, Trebbiano d'Abruzzo
Southern Italy and Islands
Southern Italy, and its islands, are producing intriguing and unexpected wines. Compared to the rest of the country, these vineyards, with their volcanic-rich soil, are relative wild cards. Look for these varieties from the southern regions.
Campania
Fiano di Avellino, Greco di Tufo, Taurasi

Sicily
Nero d'Avola, Cerasuolo di Vittoria, Grillo

Sardinia
Grenache grapes are used to make a rich, flavorful red wine called Cannonau di Sardinia. Cannonau wine health benefits have been praised and are thought to contribute to the longevity of the people who live on the island.
Italian Wine Classifications
Now that you have a list of prominent Italian wines and regions, let's talk about how to decide which wines you might like to try.

There's a hierarchy of Italian wine classifications. With each step up, the rules about where grapes are grown and how the wine is produced become stricter. Here are the classifications you will see on Italian wine bottles.
Vino
Simple table wine; fewest restrictions

IGT
Indicazione Geografica Tipica; follows broad rules about production

DOC
Denominazione di Origine Controllata; follows stricter rules about production

DOCG
Denominazione di Origine Controllata e Garantita; very strictly controlled production, is meant to represent the best Italian wines
With all of this in mind, you still may be wondering how to choose something from an Italian wine list. You'd like to be able to get a wine that you like the next time you go out to an Italian restaurant! Here are some suggestions and tips on selecting Italian wines.
White Wine (Vino Bianco) Recommendations
Soave
If you like Chardonnay, then chances are good that you'll like Soave. A couple of good producers are Inama and Pieropan.

Trebbiano Toscano, Trebbiano d'Abruzzo
These wines are typically crisp and citrusy. Trebbiano d'Abruzzo from winemaker Valentini leans more toward peach, honey, and white flower flavors. This Valle Reale Trebbiano d'Abruzzo DOC 2013 is another great choice.

Vermentino
This salty, citrusy wine is a great everyday drinking choice. You may also see it called Pigato, from Liguria.

Verdicchio
This drinkable white wine has citrusy, stone fruit, and almond flavors.

Gavi
This white wine has a bright, lemon-citrus flavor and a vibrant acidity. It might also be called by the grape name, Cortese.

Friuli
This is a region that contains different wines, such as Collio and Friulano. The flavors in these wines vary, but if you love white wine then you should find some interesting, tasty, and unforgettable flavors from this region.

This Venica & Venica Friulano 2015 is fresh and bright, with notes of almond.
Red Wine (Vino Rosso) Recommendations
Barolo or Barbaresco
These highly prized red wines are from the Piedmont region. Both of these red wines have aromas of rose and cherry sauce and have a long finish. They are made from Nebbiolo grapes.

Try less expensive wines from the same region, too. These include Roero, Nebbiolo d'Alba, or Langhe Nebbiolo, like this Sottimano Langhe Nebbiolo 2014.

Barbera
This inky dark red wine, with soft tannins, is grown all over Italy. The highest quality bottles are from Tuscany.

Sangiovese
This is Italy's most popular wine grape, and it goes by a number of names: Brunello di Montalcino, Vino Nobile di Montepulciano, Chianti, Rosso di Toscana, Montefalco Rosso, and others. Although taste will vary by where the wine was produced, Sangiovese is typically high in acid, high in tannin, and has cherry and subtle tomato flavors.

Consider trying this Caparzo Brunello di Montalcino 2011.

Nero d'Avola
This is a full-bodied, dry red wine with bold fruit flavor. If you like Cabernet Sauvignon or Syrah, consider a Nero d'Avola wine.
These suggestions may get you started on an Italian wine list, but know that these are just a few of Italy's many wine varieties.

Italy has 20 winemaking regions and uses over 350 native types of grapes to make wine. On an Italian wine list, the wine may be listed by grape variety, region, or the name of the wine blend. Because of this, you may see a large variety of wines with unfamiliar names on an Italian wine list. Don't worry! Always feel free to ask the sommelier for help, and don't be afraid to try a wine that you haven't heard of before. Salute!
Even for people who enjoy drinking wine regularly, knowing how to order wine at a restaurant can be daunting. The good news is that a few simple tricks can make your experience stress-free. How to Order Wine at a Restaurant
What is your best story about Italian wine? Tell us in the comments below!
RECENTLY VIEWED
Free wine recommendations, giveaways, exclusive partner offers, and more straight to your inbox!