What is Syrah?
You say Syrah, I say Shiraz.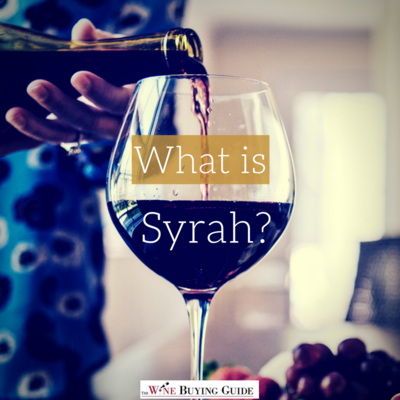 Learn about Syrah wine
When you think of Syrah, think dark, elegant, and peppery. Imagine sipping a glass of this wine on your porch after dark, with smells of earth and berries wafting toward you on a breeze.

Syrah is a singular treat as its own varietal. Inky dark in color, full-bodied, and full of flavor, Syrah is a treat for anyone who loves bold wine. It is also a major player in red wine blends, adding rich body and a burst of flavor to wines like Côtes du Rhône. Whether on its own or in a group, Syrah is always a red you want to have around.
Quick, what is Syrah?
Syrah is a very dark, full-bodied red wine. It has high amounts of tannin and shows intriguing flavors of pepper and berry. Syrah and Shiraz are the same wine. European wineries use the name Syrah, while Australian wineries (and non-European wineries) use Shiraz.
Where does Syrah come from?
Syrah grapes are from France, where they have reportedly been grown since Roman times. The grape is blended into the classic Côtes du Rhône red blend, along with Grenache and Mourvedre. It is also produced as its own varietal.

The same Syrah grapes are grown in Australia, where the wine is called Shiraz. Australian Shiraz, and other New World varieties of the wine, usually have a fruitier flavor than Old World Shiraz.

Syrah is also produced in other parts of the world, including Spain, the United States, and South Africa.
What does Syrah taste like?
All Syrah wine is very dark and full-bodied, with high tannins. The flavors of the wines differ depending on where the grapes were grown.

French Syrah, and other Old World Syrahs, show pepper as the primary flavor, with accents of fruits and other savory flavors such as earth, herbs, and leather.

Australian Shiraz, and other New World Syrah and Shiraz wines, tend to be fruitier, with flavors of blackberry, blueberry, spices, and chocolate.
How do I buy Syrah?
You can get a good bottle of Syrah for around $15, with some great deals to be found for even less. Look for Syrah from Spain or Chile for some good values, as well as some Syrah wines from California. Good Australian Shiraz wines will be usually be priced from about $15-$25 per bottle. Look for specific appellations on the bottle, such as Barossa or McLaren Vale, to increase your odds of getting great flavor from the terroir. French Syrah wines and Rhône blends will cost $15 and up, with truly exceptional blends to be found for commensurate price.

Here are some recommendations for great Syrah wine at any price point. You'll love these selections, and hopefully they will introduce you to a new favorite type of red wine.
What foods go with Syrah?
Bold Syrah pairs well with flavorful, spiced foods. Syrah will pair nicely with everything from a grilled burger to peppery barbecue. Cool-climate Syrah wines, like those from France or Sonoma, pair very well with the delicate flavor and spice of lamb or marinated roasted vegetables.
There are so many types of red wine to enjoy. Learn about these popular varietals, and find a red wine that you will love!
Have you tried Syrah? Do you have a favorite bottle? Let us know in the comments below!
RECENTLY VIEWED
Free wine recommendations, giveaways, exclusive partner offers, and more straight to your inbox!