What is Chardonnay? 5 Things to Know
Learn what Chardonnay wine tastes like, plus other essential facts about this white wine.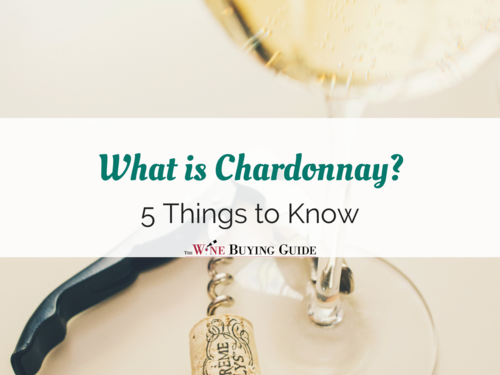 Chardonnay is one of the most popular types of white wine. You can walk into any supermarket and pick up a bottle (or several bottles). Chardonnay grapes are also used in a variety of popular white wine blends, such as white Burgundy. However, don't let the accessibility and popularity of Chardonnay wine fool you! This grape has a personality all its own, and that's part of what makes it so versatile. Learn more below, with our 5 essential facts about Chardonnay.
1. What is Chardonnay? It's actually a grape and a type of wine
When you buy a bottle of Chardonnay, you're getting a bottle of wine that's made from all (or almost all) Chardonnay grapes. You can see below that these grapes are green-skinned white wine grapes. What you can't tell from the photo is that the grapes grow very well all over the world. They also develop different flavors depending on where they are grown, which makes them great for making wine! Chardonnay grapes grown in France will taste different from Chardonnay grapes grown in California or Italy. As such, Italian Chardonnay will taste different from California Chardonnay, and so on. This is part of what made the grape so popular and why Chardonnay is so widely available today.

Chardonnay grapes are also used in white Burgundy and Champagne.

Chardonnay grapes aren't only used in Chardonnay wine! White Burgundy, a French wine, is made from 100% Chardonnay grapes. Because French wine is named after the region where the grapes are grown, the wine is called Burgundy instead of Chardonnay (Chablis is a type of white Burgundy, so you may have also heard it called by that name). Champagne is also made using a blend of grapes, one of which is Chardonnay.
2. Chardonnay may be "oaked" or "unoaked"
Chardonnay is a crisp, usually dry (not sweet) white wine that's made from Chardonnay grapes. Beyond that, many factors affect the taste of a bottle of Chardonnay. Whether the wine is "oaked" or "unoaked" is one of the most important.

Unoaked Chardonnays, like most other white wines, have not been aged in oak barrels. They are bright, crisp, citrusy, and don't have any tannins.

If you like light-bodied white wines like Pinot Grigio, then you will probably prefer unoaked Chardonnay's taste.

Oaked Chardonnay is aged in an oak barrel, which gives the white wine a distinct flavor and texture. Expect a medium or full-bodied wine with caramel, butterscotch, vanilla, or toast flavor mingling with the fruitiness of the wine.

Chardonnay may be lightly oaked (kept in the barrels for a short period of time), or left to mature in the barrels a little longer, leading to a richer and more full-bodied wine.

While Chardonnay is aged in oak barrels, it usually undergoes a process called malolactic fermentation. This fermentation changes the texture of the wine from bright and tangy (imagine the texture of apple juice) to creamy (the texture of milk).

This is because malolactic fermentation changes malic acid, found in fruit, to lactic acid, found in dairy. This process contributes to the famous "buttery" Chardonnay.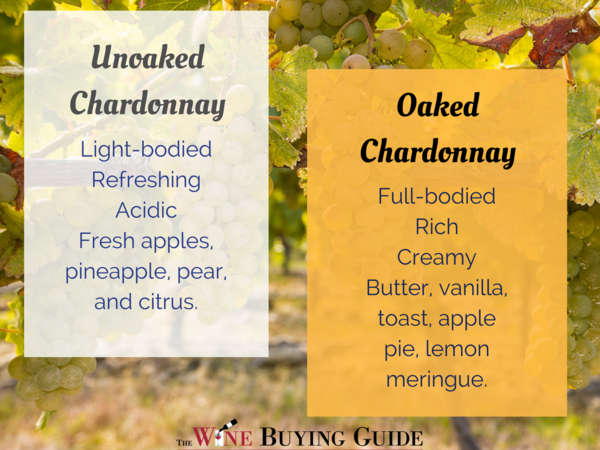 3. Some people HATE oaked Chardonnay
A little bit of oak in Chardonnay is a very good thing. But a lot can be... unappetizing. And the U.S. wine market learned that the hard way. During the 1980s and 1990s, winemakers in California responded to oaked Chardonnay's popularity by producing heavily oaked versions of the wine.These were so rich that they were called "butter bombs," and they actually diminished the popularity of Chardonnay in general for a period of time.

Luckily, this "overoaking" is now much less common! But if you hear someone complaining about Chardonnay - maybe using the phrase "ABC... anything but Chardonnay" - this is the reason why.
4. Chardonnay vs. Sauvignon Blanc: It's a thing.
These two common white wines are often talked about together. Both are dry white wines that can have incredible aromas and flavors. They also each have a history of production in France.

What are the differences between the wines? Chardonnay usually has riper fruit flavors, ranging from crisp apples to pineapple and mango. Chardonnay is also sometimes oak aged, leading to a full-bodied texture and secondary flavors of toast, cream, vanilla, and butter.

Sauvignon Blanc, on the other hand, is known for its electric acidity and tart, herbal flavors. You might find flavors of grass, lemon, herbs, and minerals in this white wine. It's also much rarer to oak age a Sauvignon Blanc.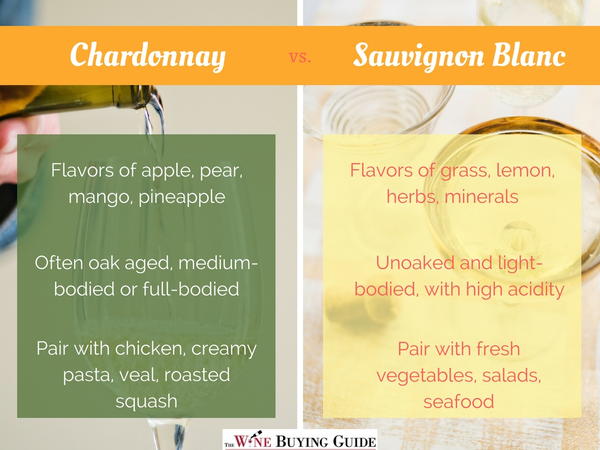 5. What is Chardonnay like with food? It's a perfect match!
Oaked Chardonnays are a great choice if you like to drink white wine with red meat.

The more structured wine stands up better to hearty food choices like veal chops with mushroom, roasted squash, and cheddar cheese. It's also delicious with creamy pasta dishes or roasted chicken.

Unoaked Chardonnay pairs well with lighter dishes like lightly cooked shellfish, creamy vegetable soups, chicken breast, white fish, seafood, and vegetables. Chardonnay food pairings are pretty much endless, which is one more reason to love this white wine.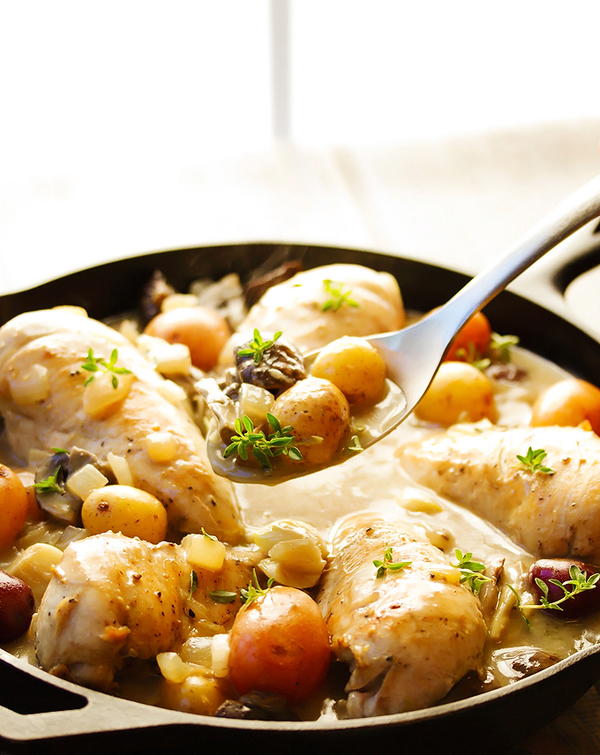 What else do you want to know about Chardonnay?
RECENTLY VIEWED
Free wine recommendations, giveaways, exclusive partner offers, and more straight to your inbox!