Red Wine Sweetness Chart
Discover what wines are sweet (and which ones you might like!) using this handy chart.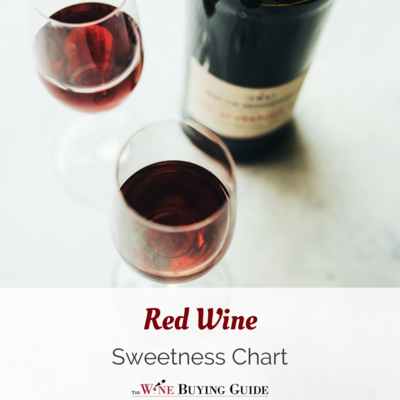 Is this wine sweet?

It's one of the most common questions people have about different types of red wine.

Most popular red wines, like Merlot, Cabernet Sauvignon, and Pinot Noir, are dry, which means that they aren't sweet. They may taste light and fruity, but they are dry because they don't have any residual sugar left in the finished wine.

In the red wine sweetness chart below, you can see many popular red wine types arranged by how fruity they taste, and by how sweet they are. If you love sweet red wines, check out the bottom of the chart! If you like sweet red wines, but want to find a few dry red wines that you'll like, then consider choosing some of the fruitier red wines from the middle of the chart.

Learn more below about what the different red wine flavors can mean for you.

Click here to browse sweet wines!
Table of Contents
Red Wine Sweetness Chart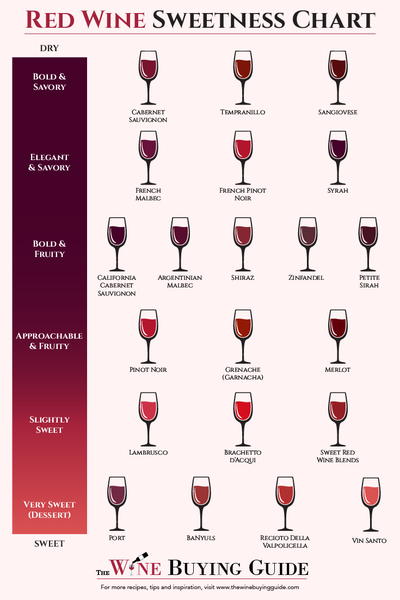 We've organized this wine chart from dry to sweet. You'll notice that most of these red wines are dry, with a few sweet selections appearing at the bottom.

Here is an overview of how different dry red wines taste, so you can pick the ones that most closely align with your preferences.

Dry Red Wine Flavors

Bold, savory red wines will taste the least sweet of all. They have less fruit flavor and strong tannins, which have a bitter flavor.

Elegant, savory wines have less bitter tannin. However, they are still not very fruity and will tend more toward earthy, peppery, or vegetable flavors (not very sweet!).

Bold and fruity red wines may contain almost no sugar, but their aromas of cherries, raspberries, plums, and more may seem slightly more sweet than other dry red wines.

Finally, we have approachable and fruity red wines. Although they are still dry, they may taste the most approachable and fruity. You may have asked yourself, "Is Pinot Noir sweet?" The answer is, "no," but it is lighter and fruitier than many other dry red wines. If you love fruity red wines, also try Grenache!

Click here to download the Red Wine Sweetness Chart!
Sweet Red Wines
Now that you know all about the flavors in dry red wine, we can talk about sweet red wines.

Slightly Sweet Red Wine Flavors

Slightly Sweet red wines are often red wine blends, such as Apothic Red, Cupcake Vineyards Red Velvet, and others. These are affordable red wine blends, usually from California, and they have some residual sweetness in them.

Lambrusco and Brachetto d'Acqui are Italian sweet red wines, and they often have more nuance and character than the sweet red wine blends. 

Here are some recommendations for both types of slightly sweet red wines - 

Sweet Red Wine Recommendations
Ménage à Trois Red Blend 2014
Ménage à Trois Silk Red Blend 2014
Cupcake Vineyards Red Velvet 2014
Apothic Red

If you're looking for a sweet red wine that's more sophisticated, you have some other options. If you love complex, thought-provoking wines (that may be a little more difficult to find), try one of these:

Monte delle Vigne Lambrusco 2016
Cleto Chiarli Lambrusco Grasparossa Amabile NV
Dessert Wine Recommendations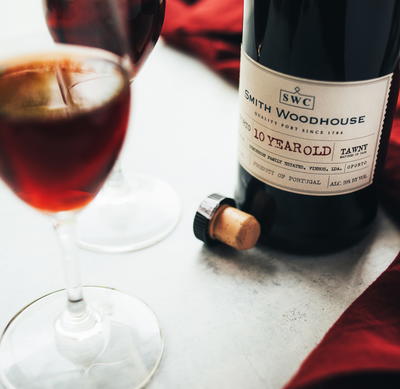 Wine Sweetness
Wine sweetness is determined by whether there is any sugar in the finished wine. But do you know why some wines have sugar in them still, while others don't?

Wine is made from fermented grape juice, and during fermentation the sugar in the grape juice converts into alcohol. If all of the sugar is allowed to convert into alcohol, then there is no sugar left in the wine. The wine is dry.

If the fermentation process is stopped with some sugar remaining, then the wine stays a little bit sweet. This is the reason why many sweet white wines have a lower alcohol content than dry red wines. The sugar doesn't become alcohol!

Even though most wines are dry, some can seem a little sweet when you are tasting them. Very fruity or aromatic wines may give you the impression of being sweet because they smell like fruit or fresh flowers. That's why we recommend dry red wines that are fruity if you are a fan of sweet red wines. It can make trying dry wine easier!
What sweet red wines do you recommend? Let us know in the comments below!
RECENTLY VIEWED
Free wine recommendations, giveaways, exclusive partner offers, and more straight to your inbox!