What to Eat with Red Wine: 8 Delicious Red Wine Pairings
Discover the best food that goes with red wine.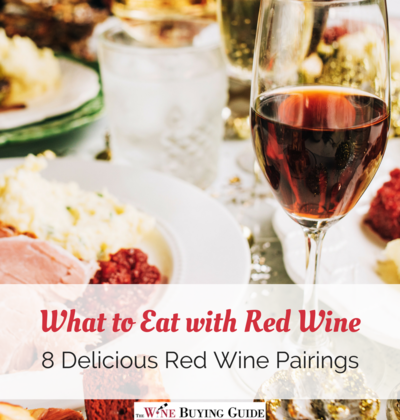 What to Eat with Red Wine
Red wine is popular for many reasons. It tastes great, it's a classic order, and it may have a variety of health benefits. Most red wines are also food-friendly. If you pick a wine that you like and a dinner you like, then you're probably going to have a great experience. We're not going to tell anyone not to enjoy Petite Sirah and shrimp scampi. You can even enjoy Petite Sirah and ice cream, if you really want to. Although, either of those pairings might negate any health benefits of the wine.

On the other hand, there is a lot to be said for choosing a great red wine pairing. While red wine might taste fine with a variety of foods, a great wine pairing can make your food and your wine taste truly amazing. A well-known example of one of these pairings is California Cabernet Sauvignon and a great steak. Once you enjoy a combination like this, you will be inclined to find more fabulous food and wine pairings.

With that in mind, we have some suggestions for red wine food pairings that are sublime. These suggestions will bring out the best in your favorite red wine and will make your carefully prepared (or carefully ordered) meal one to remember. Once you know what to eat with red wine, you might be inclined to pair something a little better with that Petite Sirah, like roasted pork or spicy barbecue.
The Best Red Wine and Food Pairings
Cabernet Sauvignon Food Pairings
Cabernet Sauvignon pairs well with rich red meat like beef steaks or grilled burgers.

The wine's full-bodied texture, strong tannins, and long finish make it an ideal match for savory dishes with a good amount of fat.

Braised beef short ribs, grilled steak and arugula salad, roast leg of lamb, and even rich portobello mushroom dishes are all great choices.

Having a party and need snacks to pair with Cabernet Sauvignon? Try sharp, full-flavored cheeses like Cheddar, Asiago, and Gouda. More robust dishes like prosciutto ham or mini meatballs are also good matches.
Pinot Noir Food Pairings
Pinot Noir is one of the most versatile food-pairing wines, and it is a great match for lean meats such as pork, duck, or even dark meat chicken. The wine's medium-bodied texture and soft tannins make it better for foods with less fat in them.

Pinot Noir has earthy and fruity flavors, which are great for gamy dishes or earthy vegetables. Pair Pinot Noir with venison, mushroom risotto, braised duck breast, roasted pork with a cherry sauce, butternut squash ravioli, or even salmon in an apricot glaze. If you love seafood and prefer red wine to white wine, then Pinot Noir is a great option for a wine pairing with tuna steak or salmon.

As for Pinot Noir and cheese pairings, try Havarti, Gruyère, Taleggio, or Brie.
Sangiovese Food Pairings
Sangiovese pairs well with rustic, Italian-style dishes like lasagna and veal Parmesan. It also matches well with most hearty tomato-based dishes, including vegetarian options.

The wine's high acidity is a great complement to tomatoes, and its savory flavors find their natural home in Italian cuisine. It can be difficult to find a wine for pizza, but it's actually a natural Sangiovese food pairing!
Pair Beaujolais with Butternut Squash, Sweet Potatoes, or Roasted Chicken
Beaujolais is a fruity red wine that is a perfect match for sweeter vegetarian dishes, like butternut squash or sweet potatoes. It is also a versatile food pairing wine that pairs well with dishes like roasted chicken, grilled pork, or other lean meat dishes.
Pair Merlot with Roast Beef and Caramelized Vegetables
Merlot is a very food-friendly wine. Merlot is usually medium-bodied, with medium tannins, making it a great match for foods of various levels of richness. Roast beef, or even meatloaf, is an easy pairing with Merlot. Caramelized vegetables are a great side.
Pair Malbec with Barbecued Pork
Barbecued pork is a great Malbec wine pairing, because it brings out the smoky flavors of the wine. Malbec is also delicious with any lean, spicy, or super flavorful dishes that you enjoy. Try it with spicy grilled pork, sausage-stuffed mushrooms, or burgers with blue cheese. Malbec is also a great lamb wine pairing.
Appetizers That Go with Red Wine
So you're throwing a party, and your guests love red wine. What appetizers do you bring out?

These cheeses pair well with red wine: Cheddar, Asiago, Pecorino, Manchego, and aged Gouda. For lighter reds, like Pinot Nor or Gamay, try Fontina, Jarlsberg, Brie, Mongerey Jack, or Camembert.

These appetizers pair well with red wine: Parmesan crostini, beef sliders, bacon-wrapped dates, cocktail meatballs, and smoked sausage or salami. Rich, hearty dishes are your friends when pairing appetizers with red wine!
Red Wine Pairings with Takeout Food
There's something special about enjoying your favorite takeout food with a sip of your favorite wine. And if you've ever wondered what food goes with red wine, we have you covered!

Try these takeout foods with red wine: burgers, buffalo wings, tacos or burritos, pizza, or barbecue.

Cabernet Sauvignon and Malbec are fantastic with cheeseburgers. Malbec and Zinfandel are great with tacos, burritos, and barbecue. Keep in mind that you will generally pair more robust wines with more robust dishes. The perfect wine for pizza? A wine that's hearty, but still acidic enough to balance out the tomatoes. Try Barbera, Sangiovese, or Agiorgitiko.
What is your favorite red wine to pair with food?
RECENTLY VIEWED
Free wine recommendations, giveaways, exclusive partner offers, and more straight to your inbox!