10 Delicious Salmon Wine Pairing Ideas
Discover the best white wine with salmon, plus delicious red wine and rose pairings.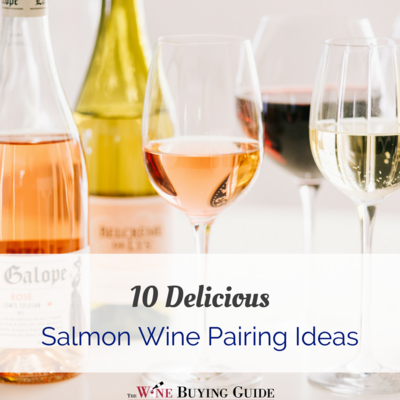 10 Delicious Salmon Wine Pairing Ideas
Salmon is one of the great elegant dishes. Rich, flaky, and full of flavor, it's not difficult to see why chefs and diners alike love this fish.

Whether you enjoy it poached, grilled, smoked, raw, or all of the above, salmon is a delicious food that deserves a great wine.

What wine goes with salmon? Full-bodied Chardonnay is always a great choice. However, many different wine pairings with salmon are excellent, because salmon can be prepared many different ways.

Simple baked salmon is wonderful with oak-aged California Chardonnay. Salmon in cream sauce is also great with rich Chardonnay. On the other hand, spicy salmon is delicious with Viognier. You'll be thrilled if you pair salmon with herbs and citrus and a vivacious Sauvignon Blanc.

You may be wondering about red wine with salmon, and there are some great choices to be had there as well. The key is to find a red wine that is low in tannin. Pinot Noir with salmon is an excellent choice, especially if the fish is grilled. Gamay, also known as Beaujolais, is also great.
Great Ideas for Wine Pairing with Salmon
Best White Wine with Salmon
White wine with salmon is a classic pairing. Although salmon is on the rich side, it is still light enough to be delicious with Chardonnay, Chablis, and even Sauvignon Blanc.

The best white wine with salmon depends on how the fish is prepared. Rich roasted salmon or salmon in a cream or butter sauce will be best with a richer white wine. On the other hand, salmon prepared with citrus or smoked salmon will require different white wine pairings.
Best Red Wine with Salmon
Salmon is one of those versatile dishes that is delicious with both red and white wine. Red wine with salmon is delicious! As mentioned above, you will want to look for a red that is fruity and lighter, with mild tannins. Pinot Noir is a classic wine pairing with salmon, and other fruity reds like Gamay, Grenache, and fruity red wine blends will all contribute to a delicious dinner.
Pinot Noir is a terrific wine with grilled salmon. Try a fruity, light-bodied wine like this one. Gamay, also known as Beaujolais, would also be a great choice. Try either of these as a wine pairing with cedar plank salmon, as well.

Penner-Ash Willamette Valley Pinot Noir

Salmon with a sweet and flavorful glaze, like salmon teriyaki, is also excellent with Pinot Noir. Try a fruity version of the red wine, like this Phillips Hill Pinot for a delicious salmon wine pairing.

Phillips Hill Valenti Pinot Noir
Best Rosé Wine with Salmon
You might not think of rosé wine at first, when you think of salmon wine pairings. However, it's actually a great option! Rosé is crisp and light, with fruity flavors that pair very well with many different types of salmon dishes. It can balance out a crispy, rich salmon dish, or it can complement a light smoked salmon dish.
Rosé wine with salmon is a delicious combination. Smoked salmon and teriyaki salmon both pair well with bold rosé wines. Try pairing either dish with this energetic wine.

A. Mano Rosato

Crispy skin salmon and grilled salmon are also delicious with rosé wine. Even a sparkling rosé would be excellent with crispy skin salmon, as the effervescence balances the fatty layers of fish and the light pan frying.

Abacela Grenache Rosé
No matter what takeout food you love, we have a great wine pairing to go with it. Find great suggestions for everything, from pizza to Pad Thai. 9 Takeout Food and Wine Pairings
What is your favorite wine to drink with salmon? Let us know in the comments below!
RECENTLY VIEWED
Free wine recommendations, giveaways, exclusive partner offers, and more straight to your inbox!