Wine Pairings for Pasta
From cannelloni to fettuccine alfredo, this guide has a pasta wine pairing for your most mouthwatering Italian fare.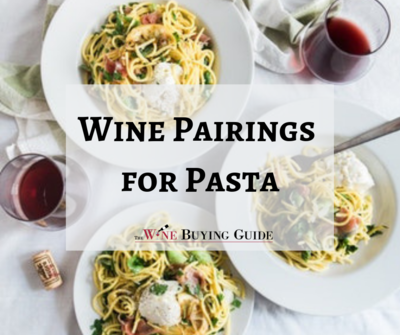 Wine Pairings for Pasta
Imagine being served a steaming plate of rich pasta smothered in your favorite sauce, from tangy marinara to creamy alfredo. It couldn't possibly get more heavenly than that, right? Add a glass of wine, crafted to highlight the key flavors of your ideal pasta dish, and there's no denying you're in paradise!

However, selecting the perfect bottle to complement your Italian cuisine may seem like an impossible task. With such a delectable diversity of dishes to choose from and an even more savory selection of wines, how can you be sure what wine pairs with pasta?

Worry no more with this sommelier-approved guide to pasta wine pairings! In it, you'll discover what kinds of wines work for each type of pasta sauce, like red, white, seafood, cheese, and more. You won't only know the general guidelines for irresistible wine pairings, though. You'll also find dish-by-dish recommendations that would have food critics licking their lips.

Whether you're cooking penne in a bolognese sauce or fettuccini alfredo, every pasta you make will have people begging for seconds when paired with the right wine.
You know how to pair delectable Italian pasta with the perfect wine, but what about your everyday fare? Learn how to pair any takeout dish, from Chinese food to tacos, with these 9 Takeout Food and Wine Pairings
RECENTLY VIEWED
Free wine recommendations, giveaways, exclusive partner offers, and more straight to your inbox!