Food Pairings with Sauvignon Blanc: 31 Delectable Dishes
Find a match made in heaven with any of these Sauvignon Blanc food pairings.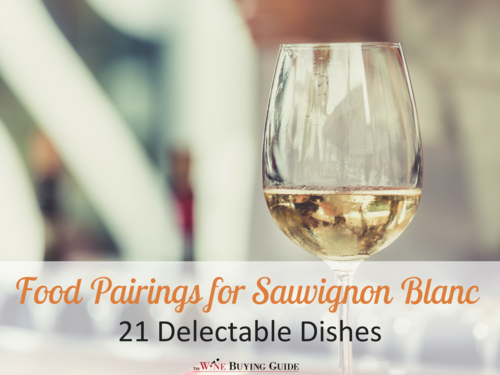 Outshined by Chardonnay, Sauvignon Blanc is one of the most underappreciated dry white wines in regards to food pairings. We all know how to pair food with Chardonnay, but you might be missing out on something more exciting with Sauvignon Blanc. 

As a medium bodied wine with aromatic flavors, Sauvignon Blanc is the ideal white wine for your wine-food pairings. The wine's distinct green vegetal and herbaceous taste is similar to the flavors in your foods, and its tartness lightens the weight of your dishes while enhancing the flavors at the same time. 

Sauvignon Blanc complements so many delicious dishes, including ones that you might find hard to pair! So, we've compiled a list of the best foods to pair with a glass (or two!) of Sauvignon Blanc.

Whether you're looking for a Sauvignon Blanc cheese, appetizer, or dessert pairing, you'll truly appreciate this wine after trying one of these delectable combinations. With this Sauvignon Blanc food pairing guide, you'll never choose to drink Chardonnay with your meals again. 

Sauvignon Blanc Cheese Pairings
Wine and cheese? Nothing could ever beat this combination.

When you're choosing a cheese to pair with your Sauvignon Blanc, you should typically pick a softer cheese that's more briny and sour. So, the next time you pour yourself a glass of Sauvignon Blanc, bring these cheeses along with you: 
Goat cheese
Brie
Gouda
Swiss
Gruyère
Alpine
Cheddar
Due to Sauvignon Blanc's acidity, tropical flavors, and herbaceous aromas, we highly recommend choosing goat cheese, and if you'd like a match made in heaven, buy Crottin de Chavignol! 

Sauvignon Blanc Appetizer Pairings
Before you bring out the main dish, you need to satisfy your guests with the appetizers!

If you'd like to serve an appetizer that'll pair perfectly with Sauvignon Blanc, you'll definitely want to try one of these ideas:
Prosciutto-wrapped breadsticks
Cured olives
Green salads with vinaigrette dressing
Zucchini quiche
Artichoke dip
Green hummus
Crab cakes

Main Dish Sauvignon Blanc Food Pairings
Whether you're hosting a wine tasting party or you're enjoying a meal at home, you should choose a dish that'll create a perfect match for your wine. If you're looking for what to eat with Sauvignon Blanc, try one of these delectable food pairing recipes:
Grilled or roasted lamb
Ravioli with herbed tomato sauce
Sushi
Grilled or roasted chicken with white wine butter sauce
Grilled fish with a squeeze of lemon
Oysters on the half shell with herbal sauces
Sauteed vegetables such as asparagus and zucchini
Smoked seafood
Pasta with pesto sauce
In general, a glass of Sauvignon Blanc should be paired with vegetable-heavy dishes. Since this wine is known for its green flavors, it's a great match for these types of dishes. 
Moreover, you should always serve Sauvignon Blanc if you're eating white meat or fish covered in a herbal or buttery sauce. 

Sauvignon Blanc Dessert Pairings
And we've saved the best for last: dessert!

Contrary to popular belief, you can pair dry white wine with desserts. I mean, why wouldn't you? Wine tastes good with anything! 

If you enjoy tart or tangy desserts, then a glass of Sauvignon Blanc will hit the spot. Try any of these Sauvignon Blanc dessert pairings to satisfy your post-dinner sweet tooth:
Fruit tarts
Sweet potato pie
Passionfruit or mango pavlova
Cheese Danish
Macarons
Have you tried any of these food pairings for Sauvignon Blanc? Do you have any delicious food pairings that aren't on this list? Let us know in the comments below!
What are your favorite Sauvignon Blanc food pairings?
RECENTLY VIEWED
Free wine recommendations, giveaways, exclusive partner offers, and more straight to your inbox!