Cabernet Sauvignon Food Pairing: 9 Delectable Dishes for Dry Wine
Find the best food pairing with Cabernet Sauvignon, and you'll be hosting 5-star meals from your own kitchen!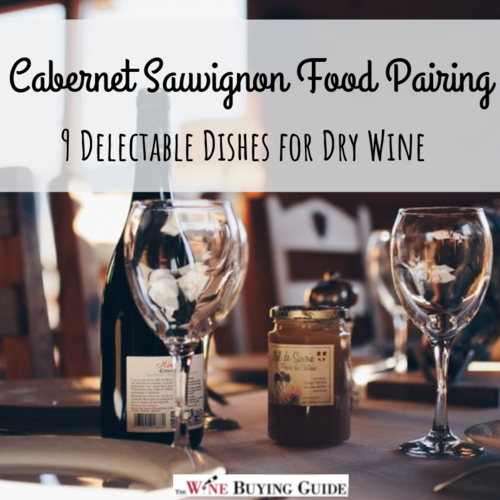 Since its beginnings in 1600s France, Cabernet Sauvignon has become one of the most popular red wines in America, and it's no wonder why. This oak-aged drink has one of the boldest tastes of red wines. Full-bodied, dry, and colored a deep, sensual red, this wine is a go-to for any dinner party hostess worth her salt!

However, with such a powerful taste, Cabernet Sauvignon can make finding the perfect food pairing seem difficult. After all, what dishes can hold their own against one of the driest and most distinctive wines out there?

Never fear! Finding the ideal food pairing for this classic wine is easier than you think. As most robust reds do, Cabernet Sauvignon makes a mouthwatering pair with hearty, meaty, dishes. Think of Cabernet Sauvignon's stiff taste as a strength. You'll never have to worry about a bold, rich dish overpowering your drink ever again. Instead, the bold flavors can match anything from blue cheese to lamb shanks!

Never restrict yourself to only delicate fare when you have this handy list of food pairings at your disposal. Peruse this delectable list of Cabernet Sauvignon food pairings, and you'll be sure to wow your dinner guests with your tantalizing sommelier skill.
Roasted Lamb Shank with Garlic and Rosemary
Lamb shank, with its dry, gamey flavor and rich notes, is a natural pair with Cabernet Sauvignon. The full-body of the wine clarifies the nuanced flavors of the lamb. Though the piney, minty, and woody taste of rosemary is known to overpower some wines, this bold red holds its ground. Every bite of this complex array will have you licking your lips, guaranteed!
Boeuf Bourguignon
Why not select a French dish to go with your French wine? Braised beef marinated in a red wine sauce, stewed with carrots, onions, and mushrooms, could not be a better match! Cabernet Sauvignon cuts through the full, comfort food-taste of boeuf bourguignon for a thrilling opposites-attracting pair. The clear bite of the Cabernet will bring out the understated flavors of dish and upgrade this homey meal into a 5-star dining experience.
Are you in love with the bold, sexy color of red wines but don't know where to start? Discover mouthwatering reds from Merlot to Port with this one-stop guide, Types of Red Wine
Blue Cheese Burgers
While other wines may get lost behind the bold, funky blue cheese taste of this dish, Cabernet Sauvignon balances the flavor perfectly. The almost sour notes of the cheese, meaty patty, and acidic wine mix for an indescribable flavor experience. Looking for other pungent cheeses to pair with Cabernet Sauvignon? Gorgonzola, gouda, and goat cheeses are a match made in heaven for this full-bodied drink!
Moussaka
Looking for more ways to love lamb and Cabernet Sauvignon? This Greek casserole dish has all of the gamey, tangy, and bitter ingredients that your red wine needs to shine: lamb, eggplant, tomatoes, cheese, and/or bechamel sauce. The acidic bite of your dry red will complement the hearty undertones of this rich dish. Greek food and French wine? There's never been a more savory duo.
Pan-Seared Ribeye
There's a reason why fatty steaks and the high-tannin Cabernet Sauvignon make such an iconic pair. The tannins of the red wine clear the palate after each rich bite, giving each taste an irresistible clarity. No need to worry about your mouth getting too dry from your acidic wine; one succulent, moist bite of ribeye will whet your whistle after each sip.
Goat Cheese-Stuffed Portobello Mushrooms
You don't need a plank of red meat to satisfy your cultivated taste. Even vegetarian dishes can pair with your favorite Cabernet Sauvignon! Thick, juicy, and meaty, Portobello mushrooms are a great flavor substitute for any red meat. Also, the tart tang of goat cheese will bring a new dynamism into each sip of your dry Cabernet.
Thyme and Garlic Braised Short Ribs
Nothing brings out the complex yet comforting flavors of this cooking method than the biting acidity of your new favorite red wine! Each bite of this melt-in-your-mouth meat dish is infused with flavors of minty thyme, sweet carrots, and fresh tomatoes. Add the full body of Cabernet Sauvignon to this kitchen staple, and you won't be able to resist going for seconds.
Goat Cheese and Olive Bruschetta
Everyone loves the garden-fresh taste of bruschetta. Now you can give this classic dish an edge with the salty, tangy, and complex flavors of goat cheese and olives. This dish isn't just a delectable appetizer. It's also the perfect pair for a dry, full-bodied Cabernet Sauvignon! The tannins of the wine give this earthy bruschetta recipe new coherence. You can't go wrong when you treat dinner guests to this upscale pair.
Porcini Mushroom Goat Cheese Risotto
Nothing complements earthy porcini, rich butter, and tart goat cheese like a glass of Cabernet Sauvignon! Risotto is usually known for being a comfort food dish since it's rice-based and has a creamy texture. However, the dry tannin taste of this red wine will transform this homey dish into a complex culinary experience.
You have your Cabernet Sauvignon readied in the cellar and your burgers on the grill. Now all that's left is to brush up on your wine etiquette before your guests arrive! Learn all you need about opening, decanting, and serving wine with The Complete Guide to Serving Wine
What are your favorite foods to pair with Cabernet Sauvignon? Let us know below in the comments!
Free wine recommendations, giveaways, exclusive partner offers, and more straight to your inbox!