How to Host a Wine Tasting Party
These party tips will ensure that your wine tasting is a success.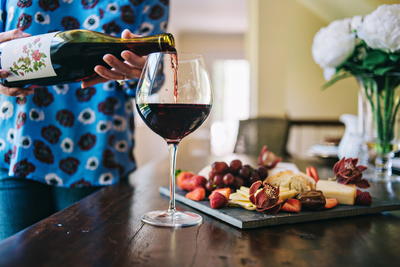 How to Host a Wine Tasting Party
Wine tasting parties are fun, elegant, and trendy. They are a great way to mingle with friends and taste some delicious wines. As with any party, organization is the key to making sure that everyone has a great time, including the host or hostess (you!).
 
Your wine tasting party can be casual or on the fancy side. Choose your style based on your taste and the preferences of the group you're inviting. For a get-together that's more casual, don't feel pressured to provide ultra-fancy wine glasses or deliver perfectly paired snacks. Simple stemware will be fine, although you should still avoid plastic cups. The wine will taste better out of wine glasses.
 
You can also dress up your wine tasting party. Choose pretty table settings, your favorite special glasses and serving trays for snacks, and suggest cocktail attire for your guests. If you have some special wine in your cellar, maybe something you bought on a fun vacation, this could be the perfect way to share it with your friends!
 
No matter your style, use these fun and worry-free tips for a great wine party. You and your guests are sure to have a fun time.

And don't forget to download these printable wine tasting notes worksheets! They're a fun way for you and your guests to write down what you taste in the wines.
Learning how to taste wine will help you develop your wine palate and savor the wines you drink. The steps to wine tasting are simple, so learn how to start enjoying your wine more today! Wine Tasting 101: How to Taste Wine
The Guests
Plan for no more than 10 guests. This keeps the party intimate, encourages discussion, and makes serving everyone manageable. Let everyone know what kind of food you will serve so that no one shows up expecting more food than will be available. If you feel comfortable, it is also a good idea to remind guests to avoid wearing strong perfumes or lotions. These could interfere with the aromas of the wine during the wine tasting.
The Wine
Plan to purchase about 5 different wines for your wine tasting. Select a theme for the wines you will serve. For example, you might choose all wines from one region, a lineup of old world vs new world wine, a set of rich bold reds, all dessert wines, all local wines, or all Spanish red wines.
 
For a party of 8-10, plan to buy 2 bottles of each wine. A tasting serving is about 2-3 ounces, so you can pour approximately 10 samples from one bottle. The second is for anyone who wants a second taste, or to just drink afterward.
The Supplies
You will need the following for each guest:
1-2 wine glasses (Provide 2 if you want the option for a side-by-side taste comparison.)

Palate cleanser (water crackers or bread)

Personal spittoon (an opaque plastic cup will work fine)

You will also need a wine opener, a dump bucket, and one or more decanters. Be sure to also have information on hand about each of the wines, such as the vintage, tasting notes, structure notes, etc. You can find this information by searching for your wines on TheWineBuyingGuide.com or on the winemaker's website. Guests will want to know about the wines they are tasting.
The Snacks
Wine-friendly snacks and appetizers can be a delicious addition to a wine tasting. Bruschetta, cheese straws, breadsticks, mixed olives, chocolate, cheese, and mixed nuts are all excellent choices. If you're feeling up to it, also consider serving some small plates that will pair well with the wines that you serve.

Note: Professional wine tastings rarely serve food beyond water crackers as palate cleansers. However, most guests will love these fun snacks (we know we would).
The Tasting
Before your guests arrive, set a place for each of them at the table. Lay out the empty wine glasses, a water glass, a spittoon, napkin, and note-taking materials. Also set out the palate cleansers so everyone can easily access them. Avoid decorating with scented candles or aromatic flowers.
 
Keep white wines, sparkling wines, and rosés in the refrigerator until it's time to serve them. Allow enough time to decant any bold red wines.
 
If desired, prepare a simple aperitif to hand to your guests as they arrive and settle in for the tasting. You may also want to select some crowd-pleasing background music.
 
Serve the wines one at a time, starting with the lightest wine and finishing with the darkest and heaviest wine. As a rule of thumb, serve the wines in this order: sparkling, white, rosé, red, dessert. Staggering the sampling to one pour every 15 minutes will encourage guests to take more time in analyzing the wines.
 
Talk about the wines. Explain what you see, what you smell, what you taste, and what you like. This is where the information about each wine will come in very handy. You and your guests can enjoy the rest of the wine party talking about the delicious wines!
Consider serving these wines at your wine tasting!
What wines would you like to try at a wine tasting party? Let us know in the comments below!
RECENTLY VIEWED
Free wine recommendations, giveaways, exclusive partner offers, and more straight to your inbox!