White Wine Sweetness Chart
Learn about the sweetness of white wines and find tasty wine recommendations.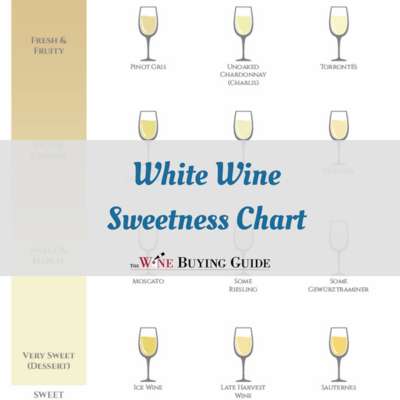 If you're new to wine, then one of the first things you may want to know about is the sweetness of white wines.

Sweetness is a big taste factor, and it can be annoying to wonder whether different types of wine are dry or sweet.

Is Chardonnay Sweet? Is Pinot Grigio sweet? It's common to wonder about these two popular white wines. It turns out that they are both dry (not sweet). However, you might still be surprised to find that you enjoy the fruity flavors in these wines (even if they're not as sugary as you'd prefer).

With our white wine sweetness chart, it's easy to tell which dry and sweet wines you might like.

Read on to learn all about the different flavors in white wine. From sweet and fruity Moscato to rich and creamy Chardonnay, it's easy to see which new wines you might like to try.
Table of Contents
White Wine Sweetness Chart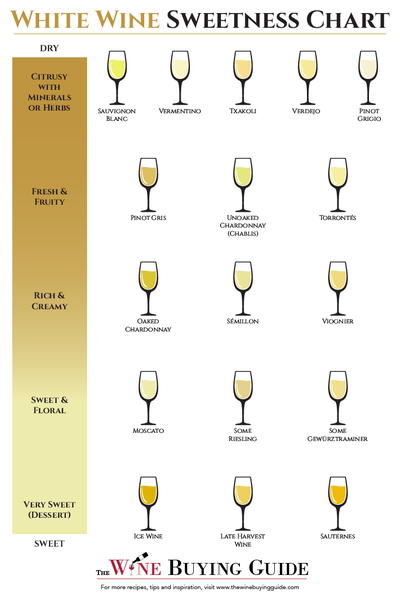 We've organized the white wines here on a scale from dry to sweet. You'll find that there are more dry wines than sweet wines. In fact, most of the white wines that you're probably familiar with are dry white wines. Pinot Grigio and Chardonnay are both dry, as is Sauvignon Blanc.

The dry white wines have been organized into groups by tasting notes. Even though these white wines aren't sweet, they still have a lot of variation in flavor! For example, Sauvignon Blanc is dry and acidic, with citrus and herbal flavors. On the other hand, oaked Chardonnay is rich and creamy, with apple pie and pineapple flavors.

If you're a person who likes sweet white wine, but you're looking to branch out a little bit, you can learn which dry white wines to try based on the flavors in this chart. A rich Chardonnay, with its dessert-like flavors, may be a good place for you to start.

The chart also shows sweet wines, from Moscato and Riesling to dessert wines. You can learn more about those types of sweet white wine (and get some delicious recommendations) below.

Click here to download the white wine sweetness chart PDF!
Best Sweet White Wine to Try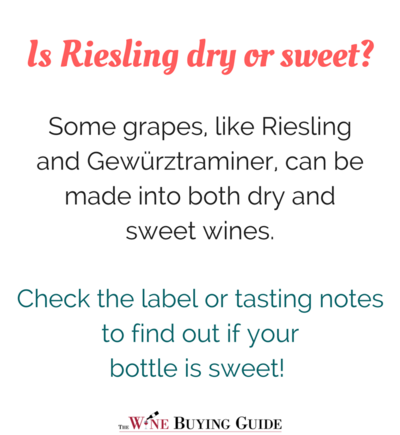 Let's talk more about white wines that are actually sweet.

Our sweet white wine list includes: Moscato, Gewurztraminer, and Riesling. Very sweet (or dessert) white wines include: Sauternes, ice wine, and late harvest wine.

What's the difference between slightly sweet white wines and dessert wines?

Sweet wines like Moscato are still light and crisp, while dessert wines like Sauternes are rich and dense. Think of it like the difference between a soda and hot chocolate. Soda is sweet, but it's still light enough to enjoy with a meal. Hot chocolate is rich and very sweet, and you probably drink it for dessert.

Moscato and Riesling are two of the most common types of sweet white wine. We recommend these as great starting points if you want to try something new and a little sweet.

Here's a list of some of our favorite Moscato and Riesling wines:
Dry White Wine List for People Who Like Sweet Wine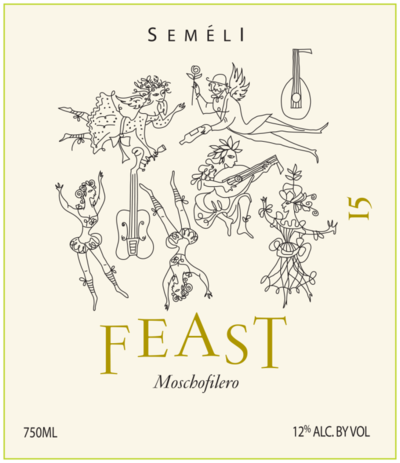 Maybe you love sweet white wine, but you're looking to branch out a little bit. It can be good to acclimate your palate to things that are less sweet, because it opens you up to many new types of wine and flavor experiences.

Or maybe you'd prefer to have some beverage options that have less sugar overall. If you're trying to cut down on sweet things, you don't want to undermine your efforts with one too many glasses of sweet white wine.

With this in mind, here is a dry white wine list of fruity, delicious white wines that even someone with a big sweet tooth will adore.

Dry, aromatic white wines like dry Riesling, dry Gewurztraminer, or the Greek wine Moschofilero (the wine shown here is a delicious, affordable option!) are great choices if you're looking for dry white wines that seem a little bit sweet. You may also enjoy rich Chardonnay, with its creamy or dessert flavors.
What do you think is the best sweet white wine? Let us know in the comments below!
RECENTLY VIEWED
Free wine recommendations, giveaways, exclusive partner offers, and more straight to your inbox!