How to Read a Wine Label
Decode any bottle, and even learn how to read a French wine label.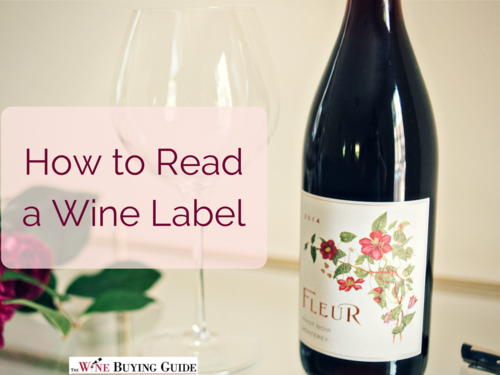 Have you ever picked up a bottle of wine, looked at the label, and still had no idea what type of wine was in the bottle? Most of us have been there. Wine labels come in all shapes and sizes, and they come with a variety of information printed on them. Some will have the wine brand and grape variety, others have the appellation and the appellation classification (AOC, DOC, etc.). Without some idea of what this all means, it can be difficult to figure out what type of wine you're buying.

Luckily, we're here to help. With a few simple tips, you can learn How to Read a Wine Label like a pro. We'll teach you how to recognize each piece of information on a wine label, and we'll let you know what's important on different types of wines. With this easy guide to reading wine labels, you'll be browsing the wine aisle with confidence in no time.
How to Read Wine Labels by Grape Name (Varietal)
One thing that makes reading wine labels tricky is the difference between Old World vs New World wine naming conventions.

New World wines (American, South American, Australian, and others.) are usually labelled by grape name. The label will tell you whether you're buying a Chardonnay, Chenin Blanc, Cabernet Sauvignon, and so on.

Old World wines, on the other hand, are usually labelled by appellation. That means that the label probably won't tell you what kind of grape the wine is made from. It will only tell you where the wine was made.

If your wine has the grape name on the label, then reading the wine label becomes easy. If it says Chardonnay, then you've got a Chardonnay. Check for the name of the winery or wine producer, if that interests you. It might or might not, depending on how familiar you are with how wines from different producers taste. You can also look for the appellation, which will tell you where the wine was made. This may give you some clues as to how the wine tastes, if you are familiar with wine regions.

The image below shows key parts of a wine label, including: winemaker or winery; vintage year (year the grapes were grown); appellation; grape name (varietal); and appellation classification.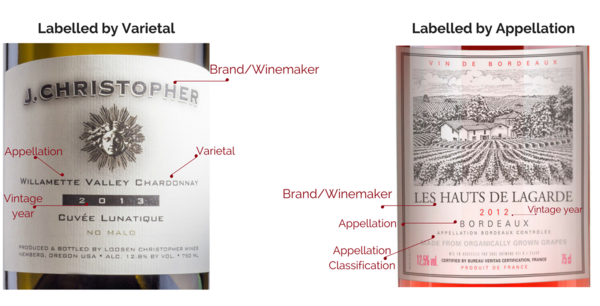 How to Read Wine Labels by Appellation (or How to Read French Wine Labels)
If you're an English speaker and primarily buy wine in the United States, then your experience with Old World, or European, wines may be limited. The thing to know is that wine regions in Europe usually only produce one or two types of wine (sometimes a red, a white, and a rosé).

So, if you know where a wine was made, you have a great idea of what type of wine you're getting. The trick is to know a few European wine appellations for the wines that you really like. Here are some common Old World wine regions and the types of wine that they produce.

Bordeaux: Red Blend (Cabernet Sauvignon, Cabernet Franc, Merlot), White Blend, Rosé
Burgundy: Pinot Noir, Chardonnay
Sancerre: Sauvignon Blanc

Chianti: Sangiovese

Rioja: Tempranillo
Rías Baixas: Albariño

As you might expect, there are many exceptions to these rules. In the example below, there are actually two appellations indicated on the label. This is because "Langhe Nebbiolo" is the name of the appellation classification (DOC). What the label is saying is that this wine is made from Nebbiolo grapes, grown in Langhe, Italy, and that it meets certain quality requirements. Neive, Italy, listed on the bottom of the label, is an even more specific location in Italy.

It's also possible for wines to include both the grape name and the appellation, as in the Langhe Nebbiolo. In that case, it's just great to have both pieces of information!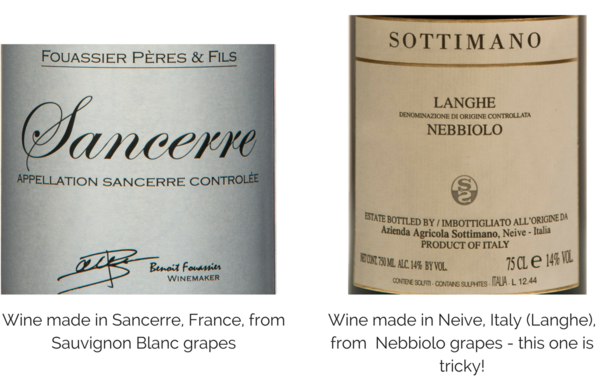 Other Things You'll See When Reading a Wine Label
The winemaker, appellation, and varietal are the most useful pieces of information on a wine label. These will help you figure out what kind of wine you're buying and if you might like it.

However, other pieces of information on the wine label might be interesting to you. Here is a list of terms you might see when reading a wine label and what they mean.

Variations of Appellation D'Origine Contrôlée, like AOC, DOC, DOCG, and IGT
All of these are appellation classification, and they are found on many European wines. You might also see the appellation named specifically, such as Appellation Sancerre Controlée. All of these mean that the wine has been certified as being made in a certain area and having a certain quality. Wines with these designations will typically be higher quality.

Cuvée
This indicates a batch of wine and is sometimes used to distinguish among different wines from the same producer. Premiere Cuvée or Cuvée Speciale might indicate a higher quality wine than that producer's "regular" wine.

ABV and Volume
The label will often include the alcohol by volume and the volume of the wine bottle.

Grand Cru, Premiere Cru
This indicates a group of vineyards recognized for their quality. Seeing one of these terms on a wine label usually indicates a good quality wine.

Domaine, Château
These terms are used in the names of many French wineries, such as Château La Nerthe. If you see these words, they're usually part of the winemaker name.

Enjoy browsing for wine with your new knowledge! If you have any questions, please let us know in the comments below.
What questions do you have about reading a wine label?
RECENTLY VIEWED
Free wine recommendations, giveaways, exclusive partner offers, and more straight to your inbox!