Pinot Grigio Taste and Buying Guide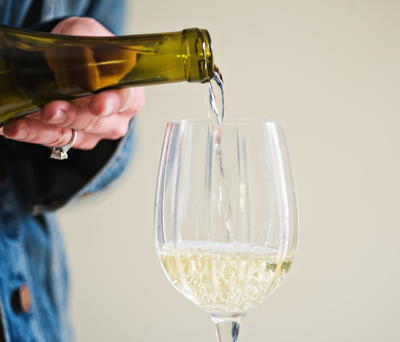 Pinot Grigio Taste and Buying Guide
Pinot Grigio is like that friend you love to invite to your party. They're going to be fun, pleasant, and keep the mood light. They have the magical ability to pick music that won't upset anyone else at the party. Pinot Grigio is completely unobjectionable, except to a few critics who wish that Pinot had a little more personality.

As a wine, Pinot Grigio is light, delicious, and the favorite order for many white wine lovers. While sometimes critized for lacking character, looking for Pinot Grigio with some flair can turn into a very worthwhile tasting experience.

Quick, what is Pinot Grigio?
Pinot Grigio is a crisp, dry, light-bodied white wine. It can have aromas and flavors of green apple, citrus, honey, honeysuckle, and pear. Pinot Grigio is one of the most popular types of white wine and is produced all over the world.
Where does Pinot Grigio come from?
Pinot Grigio is made from the pinot gris grape, which originated in France. The gray grape (gris means "gray" in French) made its way to Northern Italy over time, where the plant flourished. The wine made from those grapes in Italy was, and still is, called Pinot Grigio. As you might have guessed, grigio means "gray" in Italian. Today, Italy is the largest producer of Pinot Grigio wine in the world, and Italian imports of Pinot Grigio wine to the United States are very popular.

Pinot Grigio is also produced in many other regions, including Austria, Slovenia, Australia, California, and Oregon.

Pinot Grigio vs. Pinot Gris: What's the difference?

They are the same. They are made from the same grape, and the varietals are interchangeable. You'll notice that most wine websites, including TheWineBuyingGuide.com, categorize these two wines together.

Pinot Gris is the style of wine made in France, and Pinot Grigio is the style from Italy. Pinot Gris is usually more fruit-forward and rich, while Pinot Grigio's taste is often more citrusy and may have mineral components. If you enjoy one of these types of white wine, then you can feel confident that you will like the other.
What does Pinot Grigio taste like?
Pinot Grigio is a very approachable white wine. It has a mild, citrusy flavor and is dry (not sweet). As mentioned above, it usually shows flavors of green apple, citrus, and minerals. Depending on where the wine comes from, it may also have a slightly salty flavor. Most people enjoy it, especially if you prefer a light and simple flavor profile in your wine. If you prefer a wine that is full-bodied, herbal, or sweet, then you may not enjoy Pinot Grigio as much as you would enjoy other types of white wine.

Some wine enthusiasts dislike Pinot Grigio because it is perceived as lacking complexity of flavor. While this is sometimes true, quality batches of Pinot Grigio offer an array of diverse and intriguing flavors.

Pinot Grigio: Sweet or Dry?
This is an interesting question. Pinot Grigio is usually dry (not sweet). Lower quality bottles may leave some residual sugar in their wine (because some people like it that way). But if you buy a good quality Pinot Grigio, it should be quite dry.

However, some styles of Pinot Gris from Alsace are sweet! These quality wines are carefully crafted to have sweet flavors of honeycomb and sweet lemon candy. If you get the chance to try some of these wines, definitely do so! There was a session offered on these wines at the Wine Bloggers Conference 2017, and you can read more about them on The Grape Geeks.
Pinot Grigio Buying Guide
Because of Pinot Grigio's popularity, the market is full of inexpensive bottles of the wine that may not taste the best. Avoid these by doing some research and reading wine reviews before buying. As far as Pinot Grigio price goes, you can expect to pay $12-$15 per bottle for a good value bottle. Of course, prices can go up as you look at even higher quality wines.

Here are a few recommendations from our wine catalog. They're affordable, highly rated, and you should give them a try!
Do you like white wine that is light-bodied and crisp, like Pinot Grigio?
RECENTLY VIEWED
Free wine recommendations, giveaways, exclusive partner offers, and more straight to your inbox!