What is Moscato? Learn Why We're Sweet on this White Wine
Get familiar with this sweet white wine, from Moscato grape varieties to ideal food pairings.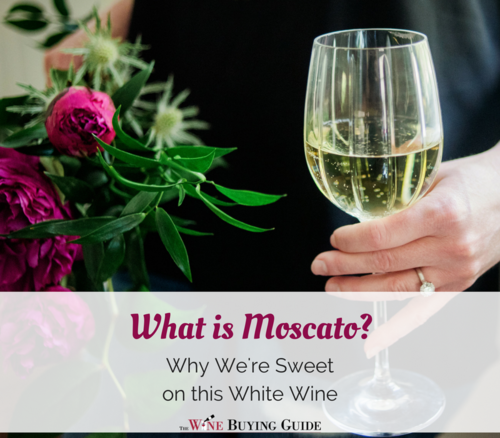 Imagine sticking your nose into a bowl of fresh pink and white flowers, ripe peaches, and citrus slices. Smells pretty great, right? That's what it's like to taste good Moscato wine. Sweet and ultra-refreshing, this white wine is a treat to have in your glass. It is also an off-the-charts match for Chinese food, which makes it an automatic winner in our books.

Quick! What is Moscato wine?

Moscato is a fruity and sweet white wine.

It is often slightly fizzy, or frizzante, and has aromas and flavors of peach, orange, nectarine, and honeysuckle. It's best served chilled and can be an aperitif.
What is pink Moscato?
There are a few different types of Moscato, including pink Moscato and orange Moscato, and you might be wondering what the deal is with those.

Pink Moscato is a sweet pink wine that can be made either using black Muscat grapes or a blend of Moscato and a little red wine. Like other types of Moscato, pink Moscato tastes fresh and fruity.

The orange Moscato flavor profile is also similar, but it is made with Orange Muscat grapes.
Where is Moscato wine from?
Moscato is a white wine from Italy, originally produced in the Piedmont region of the country. Many delicious bottles are still produced there, but production has also spread around the world. You can easily find bottles of Moscato from areas as diverse as Australia, South America, California, and Washington.

Did you know that most children would recognize the Moscato grape? No, not just the kids of sommeliers! The Muscat grape is the green grape that we all buy at the grocery store as a healthy snack. Kids might also recognize it from the packaging on a classic lunchbox staple: raisins! Most raisins are made from Muscat grapes.

The high sugar content of the grapes makes them tasty to snack on. It also gives Moscato its signature sweet flavor. So, the next time you wonder, "What is Moscato?" you can think of those sweet grapes and know exactly where the wine comes from!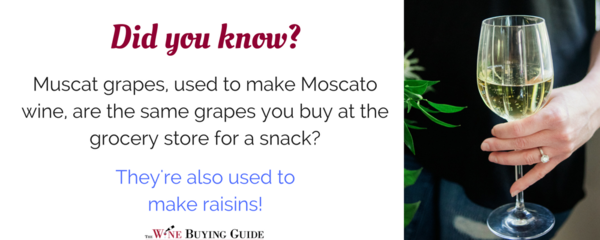 What does Moscato taste like?
Moscato is a sweet, fizzy, floral burst of flavor. It's like walking into a flower shop that also sells fresh fruit. Flavors of nectarine, orange, peach, and other citrus fruits are abundant. If you love sweet white wines, then you should love Moscato.

Serve the wine chilled, and expect it to be slightly fizzy. Moscato should taste very refreshing, crisp, and cool.
What foods pair well with Moscato?
What is Moscato wine's food soul mate? Chinese food. It is also great with other spicy Asian cuisines, like Thai, Szechuan, and Korean foods. The sweetness of the wine balances the heat of the meal. Plus, the fragrant spices are a great match for the aromatic wine. Try it with this Chinese Noodle Bowl recipe.

Desserts, like fruit cobblers or meringue pies, are also great with Moscato. If you're looking for a wine to serve with dessert, Moscato is a great option.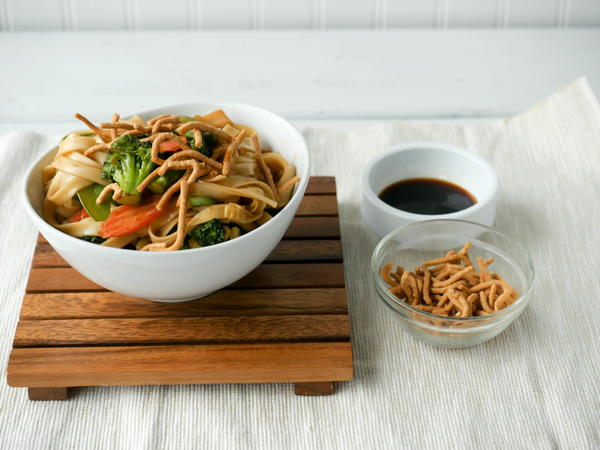 How do I buy Moscato wine?
You can find good value Moscato wines for around $8-$12 per bottle. Most Moscato wines should be enjoyed young, so look for wines that have a recent vintage year (or are nonvintage). Italy produces many fine Moscato wines, which will be labelled, "Moscato d'Asti." Great Moscato is also produced in other areas around the world, including Australia, California, Washington, and South America.

Here are some great Moscato wines to get you started.

14 Hands Moscato
Cavit Moscato
Cupcake Vineyards Moscato d'Asti
Bartenura Moscato
Twisted Wines Moscato
Which Moscato wine brands are your favorite? Let us know in the comments below!
RECENTLY VIEWED
Free wine recommendations, giveaways, exclusive partner offers, and more straight to your inbox!