What is Port Wine?
Learn all about this delicious drink, including whether or not Port wine tastes like dessert.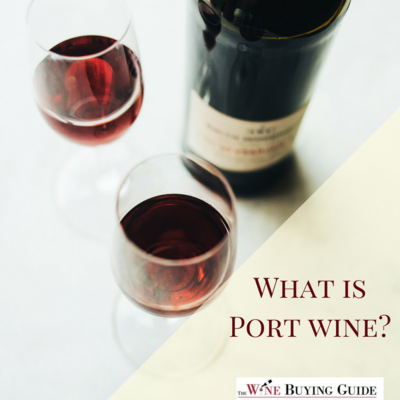 What is Port Wine
"No dessert, please. I'd like a glass of Port."

Maybe you've heard this at a restaurant and been a little confused. What is Port wine? Why does someone think it's a good substitute for dessert? Can it really compare with, say, a slice of flourless chocolate cake with a black cherry sauce?

While diehard dessert lovers will say, "no," Port does have many of the qualities that we prize in a great dessert. Rich, sweet, and full of flavors like berry, chocolate, and caramel, Port wine is a delectable way to end a good meal.

Plus, Port is a great wine to pair with chocolate dessert. In other words, enjoying this famous dessert wine allows you to have your cake and eat it too.

Port is available in a variety of styles and at a variety of price points. We will cover the basics of Port wine, including what it tastes like and how to serve it. We'll also provide great Port recommendations and tips for buying your own bottle!
What is Port Wine?
Port wine is a sweet dessert wine that is made in Portugal. Typically made from red grapes, Port wine is often a dark red in color. It is also rich, viscous, and high in alcohol (often around 20% ABV). Varieties such as Tawny Port or White Port may differ in color, but they will still be sweet, viscous, and dessert-like.
What does Port wine taste like?
For a wine to be a good replacement for dessert, it must taste pretty great, right? Port does taste delicious, with its rich and sweet flavors. Ruby Port and Vintage Port are deep red in color, slightly less sweet, and have flavors of blackberry, raspberry, and chocolate. Tawny Port is slightly sweeter, amber in color (as its name would suggest!), and has flavors of caramel, hazelnut, and fig.
How is Port wine made?
Port wine goes through the same winemaking process as other wines, with one key difference. Shortly after the wine starts to ferment, brandy is added to "fortify" the wine. This stops the fermentation process, which in dry wines would continue until all of the grape sugars had converted to alcohol. The brandy keeps Port sweet, while giving it a high alcohol content.
What are the types of Port?
Ruby Port is a young, affordable style of Port. It's red in color, not too sweet, and shows fruity aromas and flavors. Ruby Port is considered to be an approachable and wallet-friendly "starter" Port, and it is great with a variety of food. Pair it with blue cheese, rich berry desserts, or even serve it iced with sweet-and-smoky barbecue.

Vintage Port is like Ruby Port, but it's meant to age. Vintage Port is best after two decades or more in the bottle, and it can age for up to 100 years! It is full of the same berry flavors as Ruby Port, but with more richness and intriguing nuance. Serve Vintage Port on its own as a dessert wine at just below room temperature, or pair it with a rich chocolate dessert.

Tawny Port is amber in color, on the sweeter side, and age-worthy. Tawny Port is labelled according to how many years it has aged (e.g. "20 Year Tawny Port"), with the wine becoming more delicious and expensive with age. Expect flavors of caramel, toasted nuts, and cinnamon. Tawny Port can be served as an aperitif or with foods like hard, nutty cheese, apple pie, or orange tart. Serve it slightly chilled!
What is the best Port for cooking?
Affordable Ruby Port (around $10 per bottle) is fine for cooking in most recipes. Don't try to substitute Port wine for another type of wine, because the recipe will not taste the same. The good news is that an open bottle of Port will last for up to a month if preserved carefully in your refrigerator!
What Port should I buy?
Here are some recommendations for delicious Port wines at every price point. Enjoy!
Do you enjoy Port wine with dessert? Give us your best recommendations in the comments below!
RECENTLY VIEWED
Free wine recommendations, giveaways, exclusive partner offers, and more straight to your inbox!