What is Pinot Noir?
The basics of this popular wine are easy to master.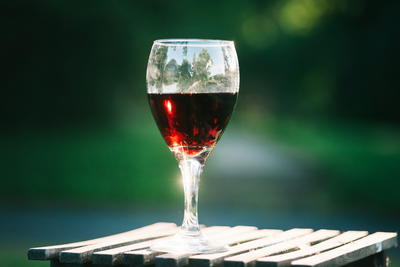 What is Pinot Noir
Pinot Noir is one of the most well-known types of red wine. You have probably seen this light-bodied red on wine lists, or you may even have enjoyed it with dinner. But while you may have a passing acquaintance with Pinot Noir, there are many interesting facts about this wine that will improve your enjoyment of it. It won't take any time at all to learn how to better enjoy and purchase this wine, with our quick guide to Pinot Noir.

Quick, what is Pinot Noir?

Pinot Noir is a light-bodied red wine that has fruity and sometimes earthy flavors. France produces exceptional Pinot Noir, and high quality wines are also made in California, Oregon, and Washington. Pinot Noir can be very expensive, because production can be tricky and good vintages have complex flavors that are highly prized.
Where does Pinot Noir come from?
Pinot Noir originated in the Burgundy region of France, where it is still a preeminent product of the region today.

Pinot Noir wines produced in Burgundy, France, are called Burgundy, instead of Pinot Noir. The legendary Burgundy wine can be highly sought after and expensive, as it is among the most famous and highest quality red wines produced in the world.

California, Oregon, Australia, Germany, and other areas around the world now produce quality Pinot Noir wines. Pinot Noir wines from outside of France tend to be more fruity in flavor.
What does Pinot Noir taste like?
Pinot Noir is a light-bodied red wine, and it often shows aromas and flavors of cherry, berry, and forest floor. The wine has low tannins and high acidity. This wine is not a bold and overpowering red. It is more subtle and delicate in flavor.

Pinot Noir taste does vary depending on where the wine was produced. French Burgundy is usually light and earthy, with some hints of florals. California Pinot Noir, by contrast, is bolder in flavor and shows more rich fruits. Oregon Pinot Noir may be earthier than California Pinot Noir, with flavors of cranberry and cherry.

Pinot Noir is a great wine to pair with food. It is a natural match for duck, dishes with mushrooms, grilled fish, roasted vegetables, and creamy pasta dishes. However, it will pair well with almost any food. If you are at a restaurant and want to order a bottle of wine for the table, Pinot Noir is a great choice in most cases.
How do I buy Pinot Noir wine?
The sky is the limit for how much you can spend on Pinot Noir. Grand Cru Burgundy wines can fetch hundreds, or even thousands, of dollars per bottle. However, you can find Pinot Noir wines to fit your budget. Value Burgundy wines can be purchased for $25 per bottle and up.

You may find better deals on Pinot Noir wines from other parts of the world. Pinot Noir wines from California and Oregon may be less expensive, and real values can be found in wines from places like New Zealand or Tasmania. Expect to pay $15-$20 per bottle and up for value Pinot Noir wines from these areas. Of course, spending more than this will likely buy you a higher quality, more complex bottle.

The best way to buy Pinot Noir wine is to check in with our wine catalog first. Here are some great Pinot Noir recommendations to get you started on this red wine.
If you love red wine (and your guests love red wine), then chances are that you'll eventually have a spill to clean. Outsmart those stains with these foolproof tips for cleaning up red wine. How to Remove Red Wine Stains
Have you tried Pinot Noir wine? Let us know in the comments below!
RECENTLY VIEWED
Free wine recommendations, giveaways, exclusive partner offers, and more straight to your inbox!