6 Classic Lamb Wine Pairing Ideas
Find a great wine pairing with lamb chops and more, with these elegant ideas.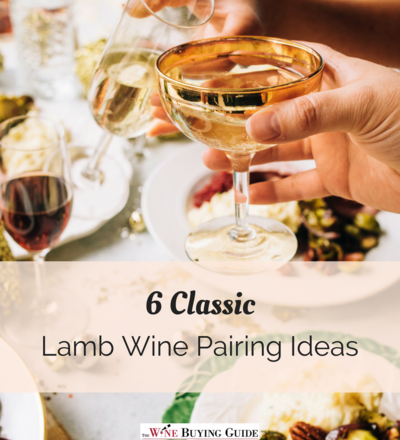 Classic Lamb Wine Pairings
Lamb is a great dinner choice for special evenings and holidays. With its delicate flavor and texture, it's a great alternative to robust beef or pork. Braised lamb shank or roasted rack of lamb can be a showstopper dish for any holiday table. Or, perhaps you enjoy lamb on a regular basis. It is comforting and easy to cook in dishes like kibbeh, lamb kebobs, Haleem, or grilled lamb chops with rosemary.

No matter how you decide to enjoy lamb, you will want a delicious wine to pair with it. We have some great suggestions for wine pairings with lamb that will highlight its unique flavors.

Lamb is a delicate meat, and so it usually pairs well with a lighter red wine. Beaujolais, Pinot Noir, Côtes du Rhône, and young Rioja are all great choices.

However, different lamb dishes can call for different wines. Cuts of lamb with more fat can handle a red wine with more tannins. Lamb also readily absorbs the spices and sauces that it's cooked in. So, spicy sauces call for a fruity wine like Zinfandel or even a refreshing Rosé wine.

Here are some great ideas for food and lamb wine pairings for every palate. Whether you prefer bold flavors or classic dishes, we have great ideas for your next lamb dinner.
Learn what type of wine to cook with, how much to spend on a cooking wine, and more in
What are your favorite lamb wine pairings? Leave a comment and let us know!
RECENTLY VIEWED
Free wine recommendations, giveaways, exclusive partner offers, and more straight to your inbox!