Malbec Wine Pairings: 21 Ideas for Appetizers and More
We have Malbec food pairing ideas for every meal and occasion.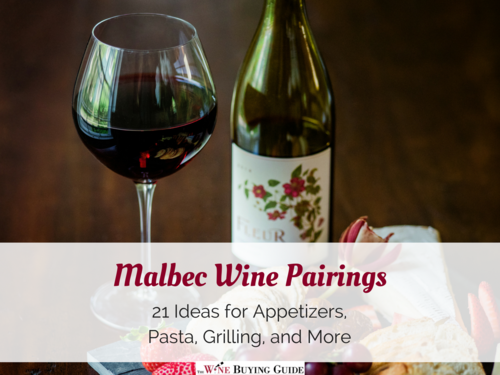 Many people first encounter Malbec when it's being poured beside their steak dinner. This smoky, fruity, full-bodied red wine naturally complements grilled meats. It's hard to think of a more classic match for Malbec.

But this expressive red wine is more versatile than you might think.

Malbec's bold flavor pairs with a variety of rich dishes, but its shorter finish allows it to adapt to leaner meals as well.

If you're looking for some quick and easy Malbec wine pairings, try: charcuterie, Manchego cheese, Taleggio cheese, veal lasagna, spaghetti with meatballs, roast pork, rack of lamb, or spicy grilled duck breast. Of course, grilled steak or grilled hamburgers are also excellent choices.

This diverse array of foods will make satisfying matches for almost any Malbec wine. However, the pairing can be enhanced by tailoring it to where the Malbec was produced. You can also see why Malbec is such a versatile wine by discovering different styles from around the world. 

French Malbec is usually lighter in body, with lower alcohol and more savory tasting notes. New world Malbec, from Argentina, Chile, or the United States, is typically big, bold, and fruity. These two styles can complement different Malbec food pairings.

We have many more ideas for pairing Malbec and food. We even have some ideas for pairing Malbec with dessert. After all, what's dinner without dessert?
Malbec Appetizer Pairing
There are many outstanding appetizer pairings for Malbec. Think spicy, full-flavored, and on the rich side. A charcuterie platter with salami, Ibérico ham, Taleggio cheese, Manchego cheese, farmhouse Cheddar, and more is a great Malbec appetizer pairing. You could also indulge in mini beef empanadas, chipotle beef sliders, stuffed jalapeños, or beef-and-vegetable kabobs.
Malbec Cheese Pairing
In addition to the options listed above, these are some delicious Malbec cheese pairings: Manchego, Taleggio, aged Cheddar, blue cheeses such as Stilton, and sharp artisan cheeses that include herbs. Avoid pairings with very mellow cheeses, such as Mozzarella or chèvre.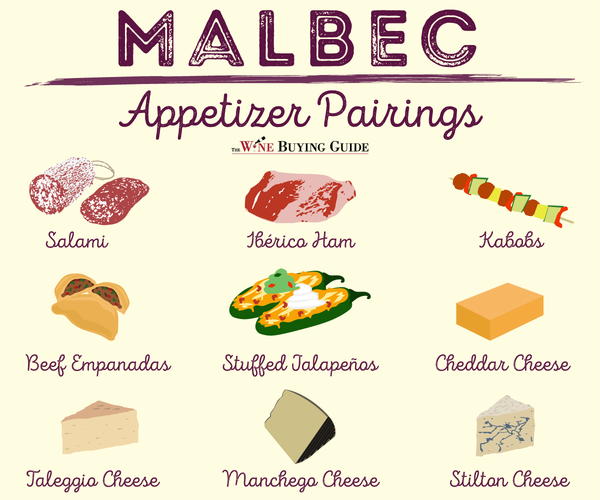 Malbec and Pasta Pairing
Malbec and pasta can play very well together. Be sure to pick a pasta that is rich and savory. Meaty pastas like spaghetti bolognese, baked ziti with sausage, and pastas with mushrooms and onions (in a red sauce) are all excellent choices. You can also pair with an artisan-style white Cheddar macaroni and cheese.
Malbec Pairings with Meat
This classic Malbec wine pairing never goes out of style. This wine is a perfect match with beef, lamb, pork, and more. It's essentially made for foods you can grill.

Pair Malbec with a juicy grilled beef steak, your favorite hamburger, roasted leg of lamb, pork roast, grilled pork, and even dark meat poultry like duck. Malbec has enough body to stand up to these rich foods, but its tannins and finish are slightly more mellow than a Cabernet Sauvignon. So, Malbec is a hit with leaner cuts of meat.
Malbec Vegetarian Food Pairing
Despite its reputation for pairing with beef, Malbec can also be an attention-grabbing match for vegetarian cuisine. Try it with rich mushroom or funky cheese dishes. Ideas include: grilled mushroom caps, spicy bean burgers with white Cheddar cheese, spicy pasta with mushrooms, or crispy cheese crostini.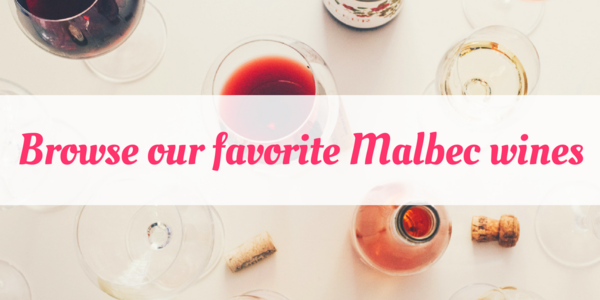 Malbec Dessert Pairing
Dessert is tricky for Malbec, but the very determined can make it happen.

It's difficult to pair dry red wines, like Malbec, with dessert because sweet foods usually taste best with sweet wine. Dry wines taste too sour and bitter beside a sugary dessert.

However, you can diminish this effect by choosing a dessert that has some starch and fat. Chocolate cake or cheesecake are both good bets for dessert pairings with Malbec.
Food Pairings for French Malbec
French Malbecs are usually lighter in body, with aromas and flavors of green fruits, leather, and spice. As such, wines from this region can be paired with leaner meats and dishes with more herbal notes. Try rosemary-crusted roast pork or grilled chicken thighs with a garlic and herb sauce. Roast pheasant or duck confit would also work well.

The Malbec wine pairings we've already covered will work well for most Argentinian Malbecs. Think bold flavors, fruit, spice, and a little bit of smoke. Enjoy!
What are some of your favorite Malbec wine pairings? Let us know in the comments below!
RECENTLY VIEWED
Free wine recommendations, giveaways, exclusive partner offers, and more straight to your inbox!