Chardonnay Food Pairing Ideas: 50 Delicious Combinations
Find white wine pairings for elegant entertaining, casual dinners, movie night, and everything in between.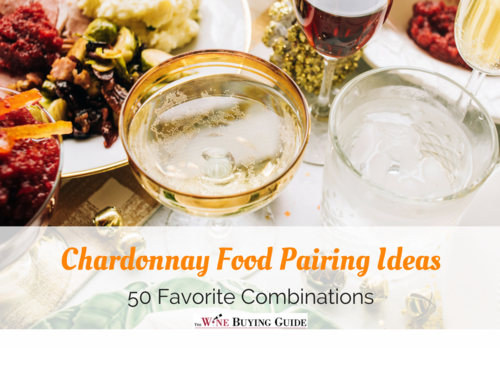 You've been enjoying Chardonnay for years, with and without food. You know that you're going to be pretty happy with any meal if you have a glass of your favorite white wine in hand. However, a great Chardonnay food pairing is a thing of beauty, and it can take your meal experience from "pretty happy" to "telling all your friends to come try this combination immediately."

So, we have a list of what to eat with Chardonnay that will have you calling up all of your friends for an impromptu party. Grab an extra bottle, give your pals a heads up (or don't – we love a quiet evening at home around here), and start trying some of these delicious ideas.

Whether you're looking for Chardonnay cheese pairings, easy appetizers for Chardonnay, elegant dinner ideas, or even dessert pairings (yes, they exist!), we have 50 fantastic suggestions that you'll want to share.

Easy Appetizers for Chardonnay
Appetizers are fantastic with Chardonnay. Your options are almost limitless!

Try these easy ideas:
Crab cakes
Grilled shrimp skewers
Smoked salmon crostini
Seared scallops
Broiled garlic clams
Cheese straws
Blue cheese-stuffed olives
Mini zucchini and goat cheese tarts
Also go for dishes that have small bites of rich seafood, like crab salad. Sweet-and-savory snacks like these
Mini Apricot Brie Bites
are another a fantastic option (and they're so easy to make).
One more thing:
 Find out if your favorite Chardonnay is oaked or unoaked. Unoaked Chardonnay is lighter and crisper. Oaked Chardonnay, because it was aged in barrels, is richer, toasty, creamy, or buttery.
Why does this matter?
 Oaked Chardonnay will pair better with slightly richer foods. For unoaked Chardonnay, consider something lighter, like grilled sea bass or poached scallops in a lemon-herb sauce. 
If you have an unoaked Chardonnay with appetizers, it will pair better with lighter seafood options. Also try it with goat cheese!

Chardonnay Cheese Pairings
Cheese and wine is one of those combinations that is simply magical.

Whether you're looking for an elegant cheese plate for a party, or a simple snack for a quiet evening, these are the Chardonnay cheese pairings you'll want to tell everyone about:
Cheddar
Jarlsberg
Camembert
Gruyère
Havarti
Brie
Fontina D'Aosta

Main Dish Chardonnay Food Pairings
It's time for the main event.

These simple ideas for what to eat with Chardonnay area easy enough for a weeknight meal but are also sophisticated enough for an event with family and friends.

Try one of these delicious Chardonnay food pairing recipes:
Roast chicken
Chicken pot pie
Chicken in mustard sauce
Chicken in a white wine butter sauce
Pecan chicken salad
Roast turkey
Lemon roasted pork
Pork loin with apricot glaze
Poached salmon
Grilled trout
White fish in a butter sauce
Shrimp scampi
Pasta with white wine cream sauce
Crab cakes
Grilled shrimp or other shellfish
Seafood chowder
Creamy vegetable soups
Butternut squash ravioli
Roasted vegetables like asparagus or zucchini
In general, pair Chardonnay with foods that are light and a little rich. Think white meat in a seafood or buttery sauce.
Pairing with unoaked Chardonnay? Try the fish and shellfish options, or even choose a spring salad with chicken or shrimp and fruit.

Snacks with Chardonnay
Your afternoon snack break is about to get a serious upgrade. Sit back, relax, and enjoy one of these delicious options (Do you love sweet or salty snacks? You'll find both here!).

Try one of these snacks with Chardonnay:
Teddy Grahams
Pecan Sandies
Caramel corn
Popcorn
Mac 'n' cheese
Grilled cheese sandwich
Kettle-cooked potato chips

Chardonnay Dessert Pairings
Chardonnay with dessert? Why not?

Conventional wisdom is that dry wines like Chardonnay should not be paired with dessert. However, many people enjoy the way toast, vanilla, and even crème brûlée flavors in Chardonnay pair with desserts like, well, crème brûlée.

Try one of these Chardonnay dessert pairings:
Crème brûlée
Vanilla pudding
Pumpkin pie
Apricot tart
Plain or lemon cheesecake
Vanilla shortbread
Oatmeal chocolate chunk cookies
Have you tried any of these Chardonnay food pairings? Or do you have your own go-to combinations to suggest? We'd love to hear from you in the comments below!
Let us know what your favorite Chardonnay food pairings are!
RECENTLY VIEWED
Free wine recommendations, giveaways, exclusive partner offers, and more straight to your inbox!