Pinot Grigio Pairings: 24 Tasty Combinations
Select from these choice Pinot Grigio pairings for any occasion!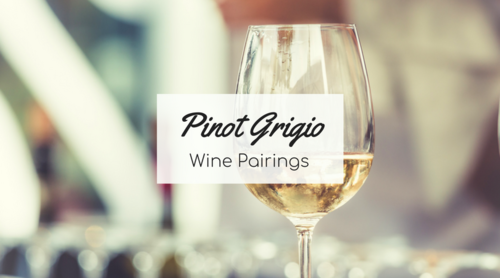 Pinot Grigio is a wine for lighthearted times. A great starter wine before a meal, Pinot Grigio is similar to a "light beer" in that it is considered to be relatively neutral. This is the perfect wine for preparing you to dine!

Pinot Grigio is like a sister to Pinot Gris, because the wine grapes in both wines are the same. In fact, Gris and Grigio both mean the same thing: "gray." However, Pinot Grigio is much lighter-bodied, especially in its Italian styles.

Because Pinot Grigio is a delicate, neutral wine, in general the best Pinot Grigio pairings are light, fresh meals, such as salads and seafood. As a rule of thumb, you want to forgo heavy sauces in favor of creams and vinaigrettes. Its pleasant flavor makes it perfect for gatherings with your friends and family.

So, exactly what does Pinot Grigio pair with? We have collected our favorite food pairings with Pinot Grigio, snacks to pair with Pinot Grigio, and Pinot Grigio cheese pairings. Learn how to enjoy this delightful wine to its fullest!
Pinot Grigio Cheese Pairings
A cheese plate is always a great way to start or end a meal or a wine tasting. However, when it comes to cheese pairings with Pinot Grigio, say goodbye to sharp Cheddars and pungent Stiltons. You want to look for sweet, soft, and mild cheeses that are made from cow's milk or sheep's milk. These cheeses will bring out the sweet, mellow notes in your Pinot Grigio.

Here's some ideas to get started:
Brie
 
Gruyere
 
Mozzarella
 
Parmigiano Reggiano
Snacks to Pair with Pinot Grigio
Although you'll want to avoid sugar bombs like Oreos or overpowering saltiness like in salt and vinegar chips, there are plenty of great snacks to pair with Pinot Grigio. Try these on for size:
Crudité
 
Hummus
 
Chips and mild salsa (or fruit salsa, like mango salsa!)
 
Fruit plate
 
Macaroni and cheese
Food Pairings with Pinot Grigio
Food pairings with Pinot Grigio should remain light, fresh, and mild. Because Pinot Grigio has a delicate flavor, it tends to bring out similarly delicate tastes in other food for a flavor explosion you wouldn't expect from such mild choices.

Seafood is an excellent first choice for Pinot Grigio pairings. When matched with delicate white wines, such as a classic Pinot Grigio from Italy, light seafood dishes actually take on more flavor. You want to avoid anything too heavy, as well as the "fishier" options. Shellfish and scallops are excellent, and anything with a soft and crisp consistency is also a good bet.

Salads are also perfect for Pinot Grigio because of its neutral characteristics. Earthy garden salads or summer vegetable salads are ideal.

Lastly, chicken is an excellent fallback for pairing with Pinot Grigio. Its soft texture and its mild white meat, especially when marinated in lemon or white wine, is superb with Pinot Grigio.
Seafood tostada bites
 
Crab salad
 
Grapefruit salad
 
Salmon
 
Grilled halibut
 
White pizza
 
Seared scallops
 
Pork tenderloin
 
Sushi
 
Prosciutto
 
Antipasto
 
Calamari
 
Fish and chips
 
Ham
 
Hot Dogs
Still in doubt? Refer to this Pinot Grigio pairing chart: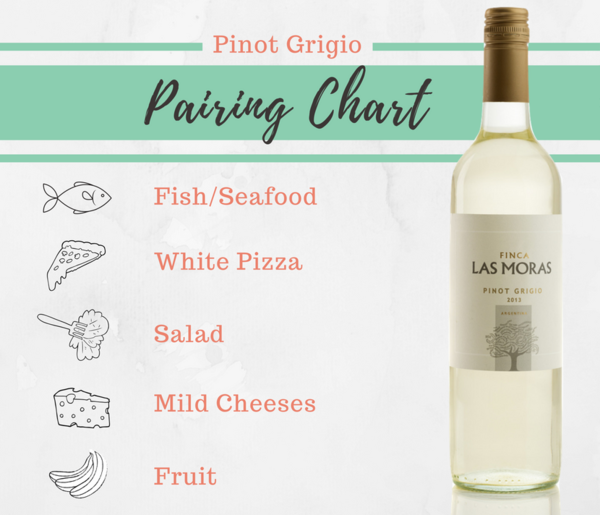 What is your favorite pairing for Pinot Grigio? Tell us about it in the comments!
RECENTLY VIEWED
Free wine recommendations, giveaways, exclusive partner offers, and more straight to your inbox!