Types of Wine: Sparkling Wine and Champagne
Learn all about Champagne, Prosecco, and other sparkling wines.
By: Kristin Anderson, Editor, TheWineBuyingGuide.com

Updated May 19, 2017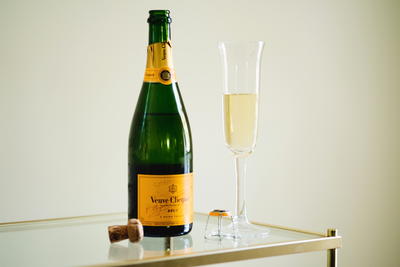 Types of Sparkling Wine and Champagne
Sparkling wine is any wine that's bubbly. It can be white wine, red wine, or rosé, and it is made all over the world.

Sparkling wine is perfect for celebrating. It's practically a necessity at weddings, the holidays, and other festive events. During these celebrations you may be having too much fun to focus on the sparkling wine, but there is actually a lot to learn about this fizzy beverage.

Champagne, Prosecco, Cava, and other sparkling wines all have different flavors and are made in different ways. They also come from different parts of the world, which can help you match sparkling wine with food. For example, did you know that Cava is a sparkling wine from Spain? It's sublime with tapas and as an ingredient in sangria!

When you go to the store to pick up a bottle of sparkling wine, you will see a wide range of labels and price points. To get started, here's some information on what labels may mean.
This quick and simple guide to Cava wine will take the mystery out of this Spanish sparkler. With this guide you can quickly learn the basics of Cava: what it tastes like, how to serve it, and how much you should pay for it.
  What is Cava?
Types of Sparkling Wine
Champagne
Champagne is sparkling wine that is made in the Champagne region of France. Although many people colloquially call any sparkling wine Champagne, that's not always correct. Champagne is the most famous type of sparkling wine, and usually the price reflect that (i.e. it is often expensive).

Prosecco
Prosecco is sparkling wine from Italy, made using the Charmat (tank) method of fermentation. We have more information on the Charmat method below!

Metodo Classico
Metodo Classico is sparkling wine from Italy, made using the classic method of fermentation.

Sekt
Sekt is German or Austrian sparkling wine that is fermented in the classic method.

Espumante
Espumante is Portuguese or Argentinian sparkling wine that is fermented in the classic method.

Crémant
Crémant is French sparkling wine that is made outside of Champagne.
What's the difference between the classic and Charmant (tank) method of fermentation?
Sparkling wine made in the classic method essentially involves doing a second fermentation inside each 750ml bottle of wine. Yeast and sugar are added to the base wine, and then the sealed bottle has to be rotated and shaken over a period of weeks or months. Then the residual clump of yeast has to be removed and the bottle resealed. This time-intensive method is often reflected in the price point of sparkling wines produced using the classic method.

The tank or Charmant method also uses a second fermentation, but the wine is still in a large tank instead of individual bottles. This makes the agitation and bottling processes much more efficient and cost-effective.

Which of these methods is better? Sparkling wine makers tend to swear by one or the other – the difference is likely unimportant for the average consumer. However, if you are looking for a sparkling wine experience that most closely resembles drinking Champagne, look for wines made using the classic method.

The dryness of your sparkling wine is likely to be more noticeable to you. Here are some terms to look for on sparkling wine labels.
Brut or Extra Brut
This is a very dry sparkling wine. Expect "Extra Brut" to be dryer than "Brut," but on the whole both of these will have little sweetness and high acidity. Brut pairs well with food because of its dryness.

Extra Dry
Surprisingly, Extra Dry sparkling wine is less dry (i.e. sweeter) than Brut. It has just a touch of sweetness, but isn't too sweet.

Sec
Sec is sweeter than Extra Dry.

Demi-Sec
Demi-Sec is a sweet sparkling wine. It is often served with dessert.
If you keep all of this in mind for your next bottle of bubbly, you'll be able to pick out the perfect sparkling wine for your next special occasion. Have fun!
Great Sparkling Wines, Champagne, and Prosecco from our Wine Catalog
It's time to celebrate! Toast the new year (or any special occasion) with these great sparkling wines. Break out the bubbly and enjoy yourself at any budget with these wines. 19 Sparkling Wines for New Year's Eve
What are your favorite types of sparkling wine, champagne, or prosecco? Comment below with your recommendations!
Tags / Related Topics
RECENTLY VIEWED