5 Greek Wine Names You Want to Know
Discover some incredible varietals, plus a Greek wine list to get you started.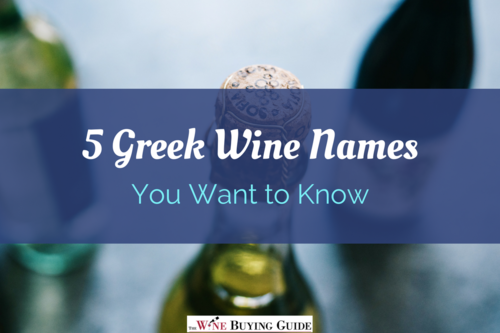 Wine has a long history in Greece, as most of us who studied any kind of Greek literature will recall. Who can forget Dionysus, the Greek god of wine? Or the stories of Greek symposia, where wine was consumed to stimulate discussions of philosophy?

Greek wine of the past may be the stuff of legend, but the Greek wine of the present is also making a name for itself.

Aris Soultanos of Eklektikon Wines, explains:

"Today, the Greek wine legacy is rich and still greatly unexplored, with over 200 indigenous grapes and numerous winemaking traditions that are being revived and rediscovered by passionate and knowledgeable winemakers.

Greece is like a sleeping oenological giant that is waiting to be explored by wine drinkers around the world."

It's worth any wine enthusiast's time to get to know these top Greek wine names. Even though you may be less familiar with Assyrtiko than you are with Albariño, you don't want to miss out on the new wines that are coming out of Greece. They're inviting, lively, complex, and perfect for pairing with food. They're also typically a great value for the quality, which you definitely don't want to pass up.

Here are 5 Greek Wine Names You Want to Know.
Assyrtiko [Ah-SEER-tee-koe]
Assyrtiko may be one of the better known Greek wines. This crisp, clean white wine is becoming admired for its lively acidity and rich expression of terroir. The Greek island of Santorini is Assyrtiko's home, but it grows well in other part of Greece as well. The finished wines reflect the varied locations, with focused tones of fruit, herbs, minerals, and salt.

Many Greek wine types pair well with food, and Assyrtiko is no exception. It is incredible with fresh seafood, lemony salads, and briny appetizers. In short, it pairs well with the food that's favored where it is grown.
Agiorgitiko [Ah-yor-YEE-te-koe]
This Greek wine name is difficult to pronounce, so we recommend just taking a sip. Agiorgitiko finds its home in Nemea, although it is also grown elsewhere now. To return to Greek myth for a moment, this wine is sometimes called "the blood of Hercules." The story goes that Hercules drank Agiorgitiko after slaying the lion of Nemea.

As for the wine itself, it can be made in a range of styles, from light to rich. The most common style is an intense, age-worthy red wine that will remind you of Cabernet Sauvignon. The wine has strong tannins and flavors of dark fruit.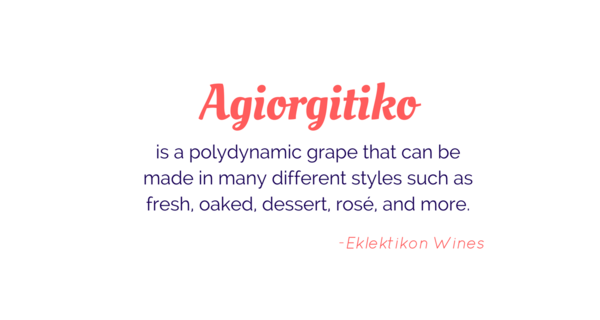 Moschofilero [Mo-sko-FEE-leh-ro]
This unique Greek white wine is recognizable by its fresh, floral aromas and flavors. Its highly aromatic qualities might remind you of Moscato. Like Moscato, it can also be made into sparkling or dessert wines. However, Moschofilero wine is typically dry and crisp.

The tasting notes in this wine are luxurious and can include rose petals, violets, and hints of spice.
Xinomavro [Xsee-NO-ma-vro]
If you like the Italian wine Nebbiolo, then you'll want to try Xinomavro. Even if you haven't, you should still try this expressive red wine!

Xinomavro has strong tannins and high acidity, with elegant tasting notes that can include dark cherry fruit, olive, herbs, and spice. The wine is very age-worthy. If you're looking for an intense and thought-provoking red wine, find a bottle of Xinomavro.
Malagousia [Mah-lah-GOO-zya]
Malagousia is an interesting Greek wine because it nearly went extinct. Revived by Professor of Oenology Vassilis Logothetis, this is now one of the Greek wine names known around the world.

Like Moschofilero, Malagousia is a highly aromatic white wine. Its nose can show lively aromas of flowers, basil, mango, and lime. The style of the wine can range from light and crisp to medium-bodied and partially barrel-fermented. The wine is typically dry, but Malagousia can also be used to make delicious sweet wines.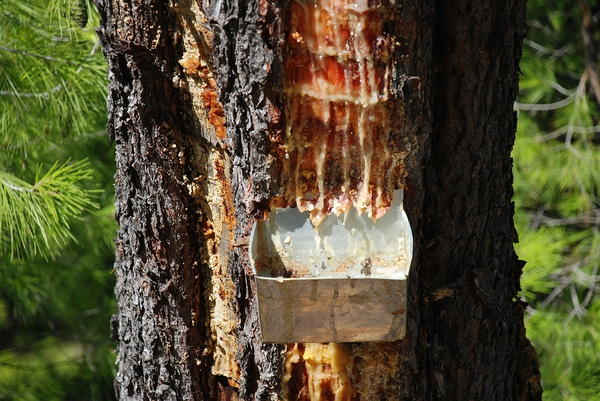 Retsina [Reht-seen-nha]
Bonus wine! There's one more mythic Greek wine figure to discuss. Retsina is rather famous and is known as the "Greek wine that tastes like pine." Sound appetizing? The wine is fermented with pine resin to produce this distinctive flavor. The image above shows the harvest of pine sap for Retsina.

The intensity of the pine flavor has varied over the years. Today's Retsina wines are typically crisp and herbal, with aromas of the signature pine scent. Some are made to age, and they have slightly sweet and more complex aromas.

Retsina is experiencing a resurgence in popularity, and you should try this wine if you get the chance!
How to Find Greek Wine
You may be wondering how to find and buy Greek wine!

Greek wine is becoming more widely available as it becomes more popular. You can probably find several varietals at your local wine shop or large beverage store.

Alpha Estate, Skouras, Gaia Wines, and Lyrarakis are some good Greek wine brands that should be easy to find in most areas. Additionally, don't be afraid to try other brands that may be sold on a smaller scale in your area, like Bairaktaris or Papagiannakos. 

You can also visit a Greek restaurant to try Greek wine. Mediterranean cuisine is a natural match for Greek wine, and it would be worth your time to enjoy a great meal and get the advice of a sommelier who is familiar with Greek wine.
Have you ever tried Greek wine? Let us know what you liked in the comments!
RECENTLY VIEWED
Free wine recommendations, giveaways, exclusive partner offers, and more straight to your inbox!