All About Canary Islands Wine
Explore the diverse wines of this region, from Listan Blanco to Malvasia.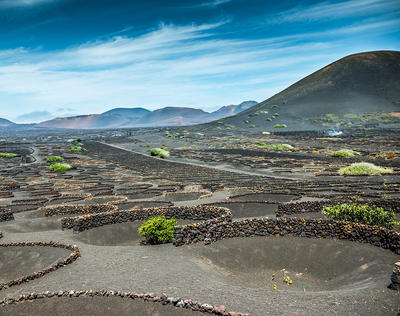 All About Canary Islands Wine
Canary Islands wine is having a moment. Whether it's the unusual vistas of the archipelago – fields of black volcanic soil, vines growing in hollows to protect them from the wind – or the unique expressions and types of grapes, this region is enjoying well-deserved attention.

The Canary Islands are part of Spain, located off of the western coast of Morocco. Like another wine-producing island, Madeira, the Canary Islands were historically famous for their wine. Canary Islands wine shows up in the plays of William Shakespeare, from The Twelfth Night to Henry VI. Characters call for "a cup of canary" and warn against the dangers of overindulging in the enchanting wine.

Despite this historic popularity, wine from the Canary Islands went through a relative decline before realizing success again in the past few years. The islands are now a popular tourist destination, with 225 vineyards in total. Although the islands were always loved for their tropical locale and breathtaking beauty, wine lovers and food enthusiasts now make the islands a destination for their unique culinary offerings.

You can get a taste of the Canary Islands, too. Whether you're planning a wine trip soon, or simply want to learn All About Canary Islands Wine, you can enjoy the cool flavors of this dynamic region. Enjoy an overview of the different regions on the islands (there are a whopping ten appellations in this small space), and find some recommendations for great Canary Islands wines to try.
Canary Islands Wine Regions
The Canary Islands archipelago has seven islands, and five of them have their own wine appellation. Gran Canaria and Lanzarote are perhaps the most well-known. Gran Canaria is the home of the winery (bodega) Fronton de Oro, and Lanzarote is home to high profile Canary Islands wineries Los Bermejos and El Grifo.

Tenerife, the largest island, has five distinct appellations to bring the islands up to their ten total. The naming conventions for these become a bit of a mouthful, such as Valle de la Orotava and Ycoden Daute Isora.

All of these regions produce distinctive wines from a variety of grapes.
Canary Islands Grapes
The grapes that are grown on the Canary Islands are another unique aspect of this region. You can hardly find a Chardonnay or a Cabernet Sauvignon vine. Instead, varietals like Malvasia, Listán Blanco, Listán Negro, Gual, and Tintilla, among many others, are cultivated.

Their flavors vary, but all boast a streak of minerality or salinity, courtesy of the volcanic soils where the grapes are grown. Even if you recognize the grape variety, the unique terroir of the Canary Islands may bring out a slightly different – and often quite interesting – expression of the wine.
Canary Islands Wine
Look out for Canary Islands wine on wine lists and at your local wine shop. The exports of this area are relatively small, kept so by the restrictions of the island terrain. However, there are still some great Canary Islands wines to be found outside of Spain. Here are some of our picks. Enjoy this little taste of the islands.
If you like Canary Islands wine, consider learning more about another island that makes incredible wine. Cannonau wine comes from the Italian island of Sardinia and has been linked with longer lives for the people who live there. Learn more in Cannonau Wine: Raise a Glass to Your Health
Have you ever tried Canary Islands wine?
RECENTLY VIEWED
Free wine recommendations, giveaways, exclusive partner offers, and more straight to your inbox!