Discover Rías Baixas Wine
This lush region is home to world class white wines.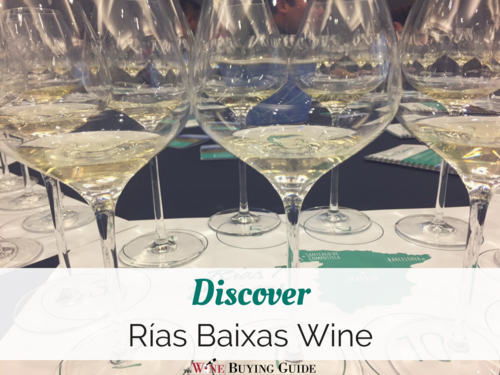 In the northwest corner of Spain, there's a region that might be at odds with your assumptions about Spanish wine. Here you'll find no arid landscapes or grape vines growing from red clay soil. You won't find age-worthy reds alongside Ibérico ham.

Ninety-nine percent of the wine produced here is white, and you should really try the seafood instead.

This region is Rías Baixas, and it's located in Galicia, an area sometimes known as Green Spain. One look at the landscape will explain where this name comes from. The rolling green hills of this region are enough to enchant anyone, and that's even before you start trying the wine.

Lyn Farmer presented on the wines of Rías Baixas at the 2017 Wine Bloggers Conference in Santa Rosa, California. We tasted ten (yes, ten!) wines from the region and were treated to an overview of the terroir, grapes, and winemaking methods of the area. The session highlighted the beauty of the land and the quality of the wines, with an eye toward all that makes this region unique.
The Region of Rías Baixas
Galicia's northern, seaside location gifts it with a stunning landscape and climate. Regular rainfall creates vistas that are lush and verdant, and the nearby water ensures cooler temperatures. The region is home to some Celtic tradition, and the countryside is dotted with granite castles and manor houses. 

The climate is ideal for Albariño, and the hillsides are also home to many vineyards where the thick-skinned white grape grows. The soil in Rías Baixas boasts unique characteristics. The mineral-rich alluvial topsoil sits on a mother rock of granite, and the level of organic matter in the soil is low. These traits contribute to the quality of the white wines from this region.
All About Albariño
Albariño is the flagship wine of this region. In fact, it makes up 90% of the wine produced here. The climate is perfect for the grape, and Albariño is also indegenous to the area, making its success all the more fitting.

The grape vines are typically trained using a pergola system in order to keep air moving between the grapes. Since rainfall is high in the region, keeping the grapes off of the ground is important to reducing the risk of rot. Some vineyards are beginning to try other methods that also achieve this, such as the European double cordon system.

The grapes are hand-harvested in small plastic bins, and then they are transported to the winery for fermentation in stainless steel. A variety of microclimates and winemaking techniques in Rías Baixas produce many different flavors in the finished wine. Albariño is always crisp, fresh, and food-friendly. However, it can be tart and racy, with flavors of green apple or melon. It can also show more mellow tones of peach and apricot. The wines are very dry, with mineral notes and moderate alcohol. They are typically consumed young, but some may have the potential to age.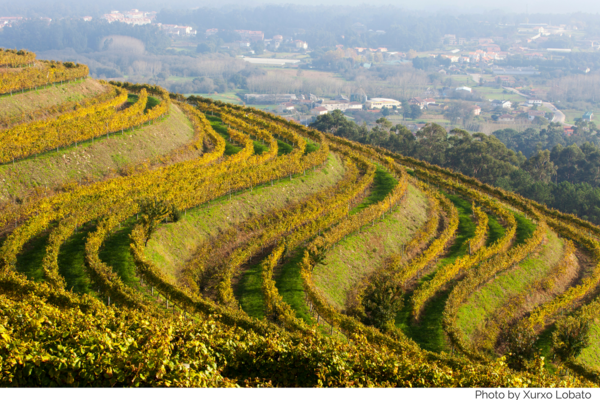 Wines to Try
At the Wine Bloggers Conference session, we tasted ten wines from Rías Baixas. They ranged from tongue-tingling with green apple to crisp and mellow with notes of cream. Here are my notes on some of my favorites, with a complete list below for your perusal (and you should peruse!).

Martín Códax 2016
This wine is 100% Albariño, and it is vibrant and tart. I tasted notes of gooseberry and green apple, with a racy acidity. The SRP for this wine is $15.99.

Valmiñor 2016
This wine is also 100% Albariño, and it's alive with acidity and flavors of citrus fruit. This wine retails for $14, and it was named one of Wine Enthusiast's 2017 Best Buys, with a 90 point score.

Santiago Ruiz 2016
More mellow and full-bodied than other wines from this region, Santiago Ruiz still has plenty of crisp fruit flavor. This wine is very food-friendly, and you could pair it with chicken, seafood, or many other meals. The wine is a white blend of 69% Albariño, with other white grape varieties, and it retails for $20.

Terras Gauda O Rosal 2016
This was my favorite wine of the bunch. Three months of aging on lees gives this wine a slight creaminess that complements its crisp fruit flavor. It's a blend of 70% Albariño, with 18% Caiño Blanco, and 12% Loureiro. It retails for $19.99.

Pazo de Señorans 2016
At the end of the tasting session, this was one of the group favorites. This wine has a nice weight and character, with a few savory notes mixed in with the fruit. It is 100% Albariño and retails for $15.

Lagar de Condesa 2016
This wine was the other group favorite. It shows a nice combination of ripe pear and citrus, and the wine has a great texture. It's rich, but still light and vibrant. It is 100% Albariño and retails for $17.99.

We also enjoyed Bodegas Laxas 2016, Condes de Albarei 2016, Fillaboa 2016, and Pablo Padín Segrel Ambar 2015.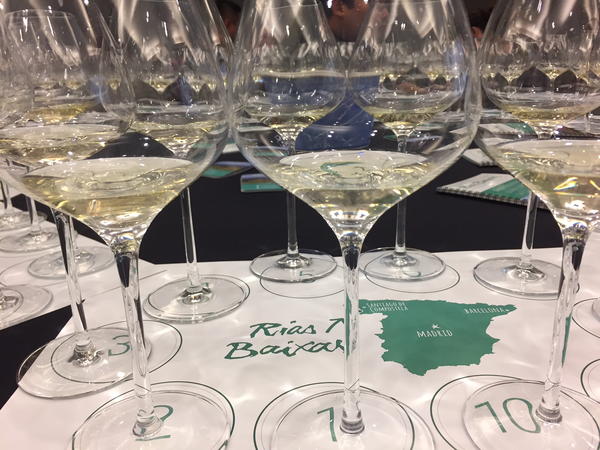 The session provided a generous sampling of all that this region has to offer. In addition to terrific wines and views, we were left a sense of the character of the region. It has a personality that says, "Sit back, relax, and enjoy great wine and food." We all should.

Thank you to Rías Baixas Wines for providing photos.
RECENTLY VIEWED
Free wine recommendations, giveaways, exclusive partner offers, and more straight to your inbox!