Attention-Getting California Zinfandel
It's old. It's tough. It tastes fantastic.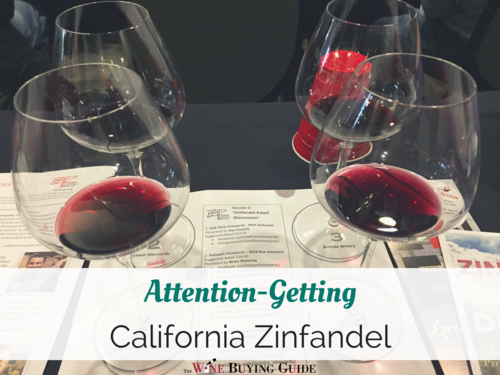 At the 2017 Wine Bloggers Conference in Santa Rosa, California, the Zinfandel Advocates and Producers hosted a panel discussion among four California Zinfandel producers. The panelists included Dan Panella from Oak Farm Vineyards, Brian Maloney from DeLoach Vineyards, Brandon Lapides from Armida Winery, and Ned Horton from Quivira.

Over the course of an hour they discussed how Zinfandel fits into the California wine scene, what it tastes like, and how it's grown. And, although this wasn't necessarily the point of the panel, they explained why it's worthy of more attention than it often gets from mainstream wine consumers.

What makes Zinfandel so special? After hearing from the panel and Zinfandel Advocates and Producers, it's easy to say these things:

It's old.

It's tough.

It tastes fantastic.

It's sustainable.

Did that get your attention? It got mine.
It's Old: Zinfandel's Origins in California
Zinfandel is one of the oldest grapes in the world that we are still turning into wine. Its origins are thought to date back almost 6,000 years in Europe before it made its way to the United States in the early nineteenth century. The vines were then brought to California, where it thrived during the Gold Rush years. Unlike other grape vines, Zinfandel was hardy enough to withstand the lean times. The head trained vines required no expensive equipment, which was hard to come by, to cultivate.
It's Tough: Zinfandel - 1 Phylloxera - 0
This stalwart constitution also helped Zinfandel vines survive phylloxera plagues later in the century. When winemakers whose crops had been wiped out by phylloxera began to replant, many planted Zinfandel because of its fortitude. This allowed the grape to expand to more locations in California, where it is still widely grown today.
It Tastes Great: 4 Wines from 4 California Producers
Each of the winemakers presented a Zinfandel from their winery, and each was fantastic.

Oak Farm Vineyards Zinfandel 2015
I enjoyed this wine a lot. It is full-bodied and rich, with aromas and flavors of dark red and black fruits. Dan Panella recommends pairing this and other Zinfandel wines with pork belly.

DeLoach Riebli Valley Zinfandel 2014
This wine was selected to showcase what sustainable winemaking really is. The grapes for the wine are dry farmed with no sprays, and the end result is fabulous. The wine is bold and rich, with enticing aromas of dark berry.

Armida Maple Vineyard Zinfandel 2015
This wine is also dry farmed, and it has a great personality. It's fruity and lively, with aromas of cherry liqueur. I would drink this paired with roasted pork loin and be very happy.

Quivira Katz Vineyard Zinfandel 2015
This is a club wine from Quivira, and the wine is produced from organically and biodynamically farmed grapes. It is also a terrific wine, with fruity and inviting aromas and flavors. In keeping with the other portion of Quivira's business, this wine would also pair well with pork.

Zinfandel is great with food, and a few additional food pairings for Zinfandel were discussed: roast lamb, turkey, moussaka, grilled mushrooms, vegetarian Indian food, and polenta.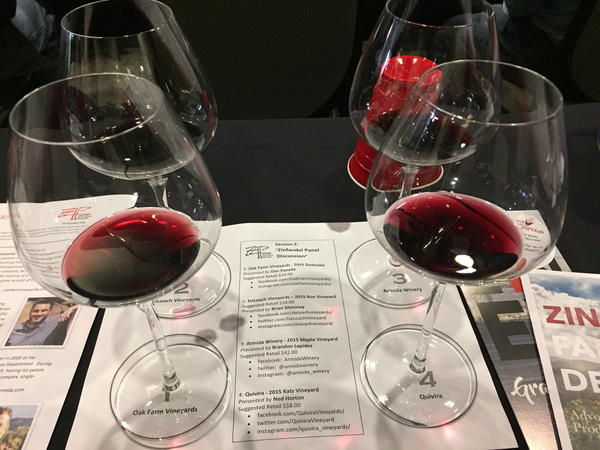 It's Sustainable: Why dry farming is great for Zinfandel
Sustainability was the highlight of the panel discussion, and it's a topic that's on everyone's mind, especially in California. Zinfandel is uniquely suited to sustainable farming in the state.

Zinfandel vines are typically dry farmed and head trained, which is good for the wine and good for the land. Because Zinfandel vines have a tendency to overproduce, these techniques force the vines to grow lower yields of higher quality fruit. In addition, DeLoach and Quivira are both certified organic wine producers, furthering their commitment to sustainable wine production.

When you find a wine that is at its best when it's made sustainably, you've found something special, something attention-getting. California Zinfandel is worthy of your attention.

And the good news is that you can show that attention by drinking some of the wine. What an enjoyable way to show your support!
RECENTLY VIEWED
Free wine recommendations, giveaways, exclusive partner offers, and more straight to your inbox!