Red Wine Brownies, 4 Ways, from TheWineDaily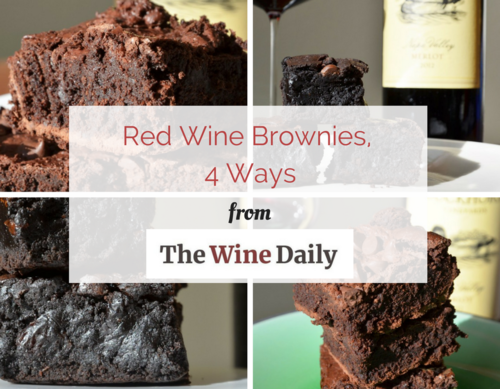 This article originally appears on TheWineDaily, a great resource for wine trends and news. They made our red wine brownies 4 ways (because you can't have too much of a good thing) and have some great ideas for making the recipe even more fun. Read on for their tips and to discover the secret ingredient they loved adding to these brownies. Hint: it involves even more wine.
Watch out, fudge brownies: there's a new recipe on the block. Ahead of Valentine's Day, it's red wine brownies that are trending. Our friends over at The Wine Buying Guide recommended this recipe, and we had to try it. The verdict: love at first bite.

Just a quarter cup of red wine adds an element of complexity to your otherwise standard brownie recipe. You won't actually taste red wine inside the brownie. Instead, you'll get a depth of flavor that makes regular brownies pale by comparison. Rather than just chocolate and sweet, you get little more bite and hint of berry flavor from the wine and its tannins.

Honestly, we might just make all of our future brownie batches wine-infused. The recipe is surprisingly easy, and has so much more to it than the one-dimensional chocolate flavor of a regular brownie.

Since you should always cook with a wine you would drink, all brownies were made (and consumed alongside) one of our favorites, Duckhorn Merlot. The Duckhorn Merlot has a more fruit-forward flavor on the palate, with hints of milk chocolate and raspberry, making it the perfect companion to chocolate.

We tested a few variations on The Wine Buying Guide's recipe to find out which one brought out the best in our wine and brownies: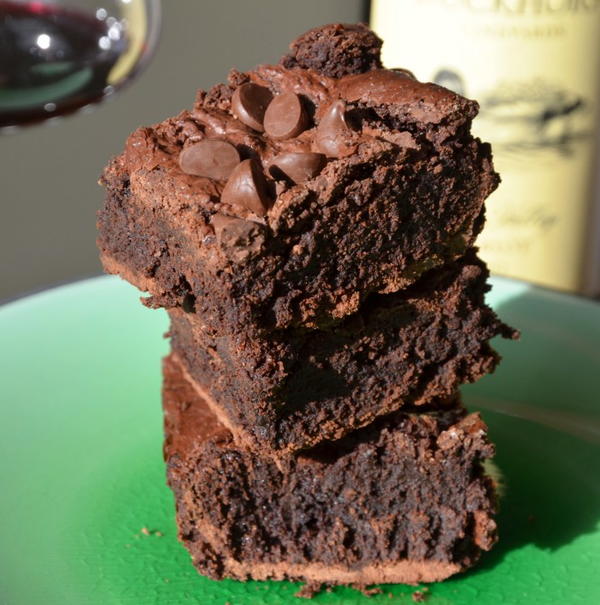 Regular cocoa powder
If you prefer a milder, creamier chocolate flavor to the more bitter strength of dark chocolate, this is the recipe for you. Any readily available Hershey's or Nestle cocoa powder will yield a brownie that's lighter in color and flavor.
Extra dark chocolate cocoa powder
For the intense dark chocolate lover, dark chocolate cocoa powder is a must. We used Hershey's special dark cocoa powder, which is available in many grocery stores. This simple swap made for an incredibly rich, fudgy brownie.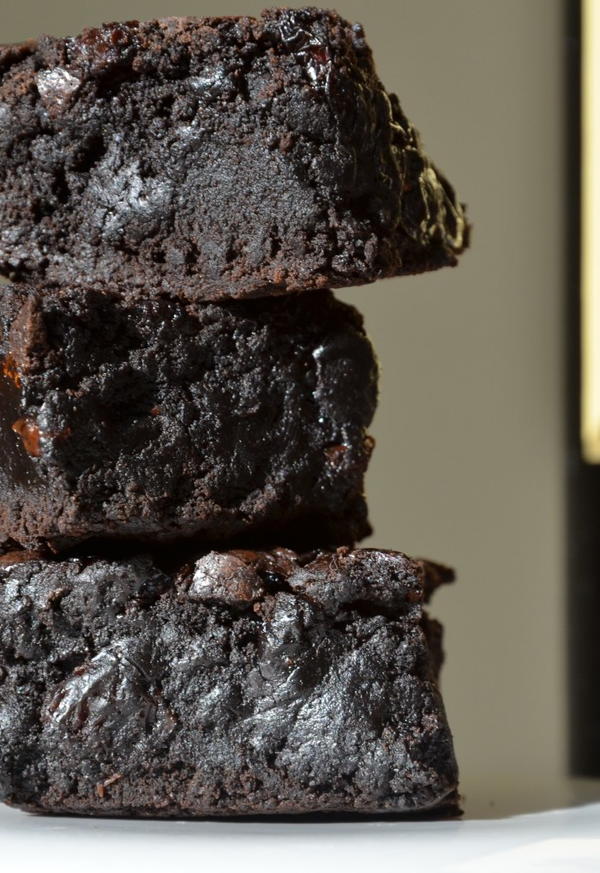 Wine-soaked cranberries or cherries
To play up the wine flavor, you can soak dried cherries or cranberries in the wine for about an hour or until softened, and then add them to the brownies. This adds a more tart flavor that contrasts nicely with the sweetness of the brownies. We made ours with dark chocolate cocoa powder to match the intensity of the flavors.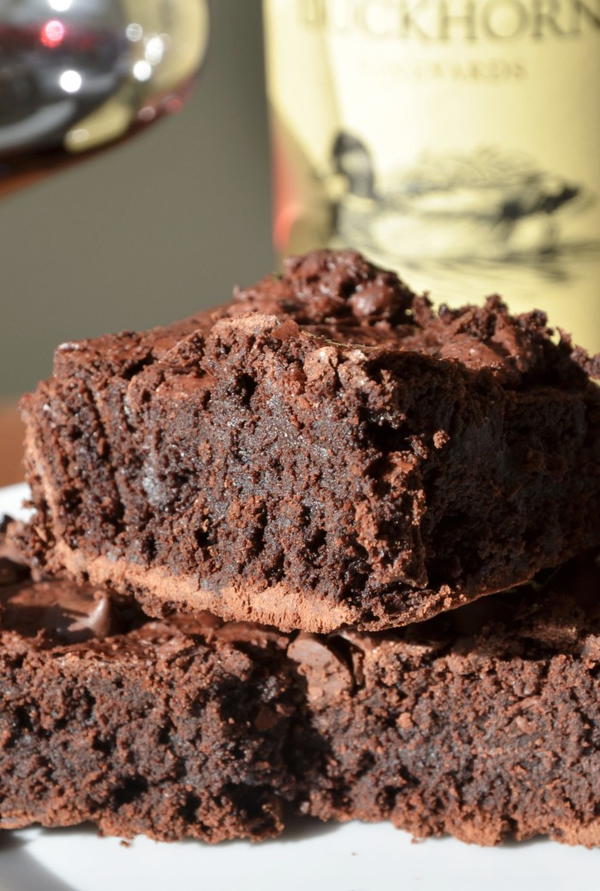 Mulled wine reduction
Here's a truth. Wine-infused brownies are naturally a bit more fudgy, because they have slightly more liquid. If you prefer a drier, lighter brownie, you can attain the same complexity from the wine with less moisture by reducing the wine. With this final variation, we simply doubled the amount of wine to a half cup, and then simmered it until it was reduced to less than a quarter cup. Voila. Less fudgy mess.

The winner? For us, dark chocolate brownies with wine-soaked cranberries was the best variation. The combination of sweet and tart, fudgy and fruity, was simply sublime. Also, the wine flavor was a bit more subtle in some of the other recipes. As wine lovers, we can never get enough wine, and wine-soaked cranberries definitely bring on more of a kick.
Here's our take on the recipe, or find the original here.

Yields 9 squares
Preparation Time: 15 min
Cooking Time: 35 min

Ingredients
1 1/2 stick unsalted butter
1 cup dark chocolate chips
1/2 cup cocoa powder
1 teaspoon espresso powder
1/4 teaspoon kosher salt
3 eggs
1 cup sugar
1/2 cup dark brown sugar
1 tablespoon vanilla
3/4 cup flour
1/4 teaspoon baking powder
1/4 cup red wine

Directions
Heat oven to 350 degrees.
Lightly butter or grease an 8×8 inch baking pan.
In a saucepan on medium-low heat, melt the butter. Once melted, add in chocolate chips and stir until melted. Remove from heat.
Mix in the sugar. Once combined, whisk the eggs, vanilla, cocoa, flour, salt, and espresso powder until well combined.
Mix in any other extras: wine-soaked fruit, extra chocolate chips, nuts, etc., along with the red wine.
Spread the batter into the baking pan. Bake for 35-40 minutes or until a toothpick inserted comes out somewhat cleanly (it will still have chocolate, but should not be entirely wet).
Let cool at room temp and cut into squares.
RECENTLY VIEWED
Free wine recommendations, giveaways, exclusive partner offers, and more straight to your inbox!