Fudgy Red Wine Brownies
Say hello to one of the best wine dessert recipes ever.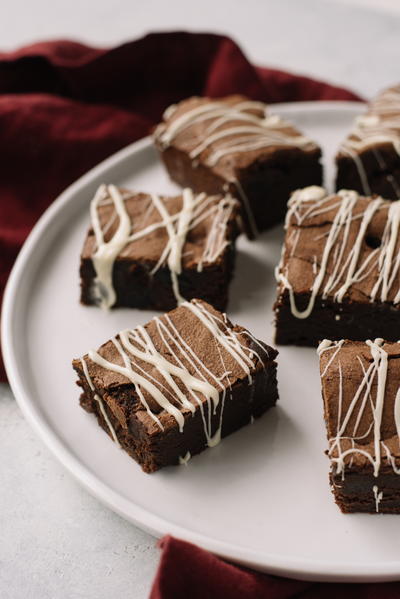 Fudgy Red Wine Brownies
Red wine and brownies are two of the best flavors ever… so it only makes sense to combine them in one dish! These Fudgy Red Wine Brownies are absolutely bursting with rich flavor, and the texture is sure to appeal to those who love a good fudgy brownie. The red wine flavor just adds extra nuance and richness to the brownies (they don't taste strongly of wine, so don't worry about it being overwhelming), while the chocolate chips and dried cherries add tons of sweet-and-tart flavor. This isn't just one of our favorite red wine brownie recipes… it's one of our favorite brownie recipes!

You can enjoy one of these brownies with a glass of the same red wine you used to make it. Or, you can enjoy with a sweeter red wine like Port. Interested in more wine and dessert pairings? Check out our article on 6 Wine Pairings for Dessert, and satisfy your wine and sweet tooth!


Yields9 squares
Ingredients
1 1/2 stick unsalted butter
1 cup dark chocolate chips
1/2 cup cocoa powder
1 teaspoon espresso powder
1/4 teaspoon kosher salt
3 eggs
1 cup sugar
1/2 cup dark brown sugar
1 tablespoon vanilla
3/4 cup flour
1/4 teaspoon baking powder
1/2 cup dried cherries
1/4 cup red wine
Melted white chocolate for drizzling over brownies (optional)
Directions
Heat oven to 350 degrees.

Lightly spray an 8x8 inch baking pan with cooking spray. Line the pan with parchment paper leaving an overhang like a sling. Spray the parchment paper.

In a medium microwave safe bowl place the butter, chocolate chips, cocoa and espresso powders and salt. Place in the microwave and on a medium power level melt the ingredients for 30 seconds. Stir and continue to melt and stir every 15 seconds until melted. Let cool for 5 minutes.

In a large bowl whisk the eggs, sugars and vanilla until well combined.

Whisk in the melted chocolate mixture into the eggs/sugar mixture.

Gradually mix in the flour, baking powder and cherries.

Spread the batter into the baking pan. Bake for 35-40 minutes until the top is set and the middle is still a bit soft.

Let cool at room temp then chill in the fridge for 8 hours or overnight.

Using the parchment as handles remove from the baking pan and cut into squares.

Drizzle with melted white chocolate (optional).
Red wine can add great richness and depth of flavor to many recipes. Learn how to cook with red wine using these simple tips! Best Dry Red Wine for Cooking
RECENTLY VIEWED
Free wine recommendations, giveaways, exclusive partner offers, and more straight to your inbox!