The 20 Best Chardonnays Under $20
Discover the best value Chardonnays for $20, $15, and even $10 per bottle or less.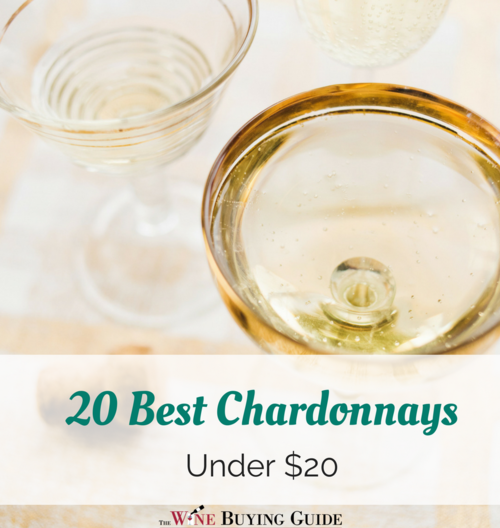 It's easy to see why Chardonnay is one of the most popular white wines. It's crisp and fruity, yet full-bodied and rich. It pairs well with many different types of food and is also enjoyable as an aperitif.

The popularity of this white wine is both bad and good for its price to consumers. On one hand, the high demand for the wine drives up the price. On the other hand, the wine's popularity means that a lot of winemakers produce Chardonnay. This means that there are many Chardonnays to choose from, and some of them are a great value for your money.

Of course, not all cheap Chardonnays taste good. That's where we come in, with the Best Chardonnays Under $20. These wines will make your palate and your wallet very happy. With a variety of aromas and flavors, from citrusy and floral to creamy and rich, we have a great and affordable Chardonnay for every taste. Enjoy browsing these best cheap Chardonnay wines!
Best Chardonnay Under $20
You'll want to bookmark this list of Chardonnays, because they are all a great value and absolutely delicious. Why bother with best Chardonnays under $30 when there are so many great options under $20? These wines are perfect for enjoying any night of the week, and they are great to bring to a dinner party. Everyone will be pleased by how great the wine tastes, and you'll be thrilled that you got the wine for a great price.

Columbia Crest H3 Chardonnay 2013, $15.00
Columbia Crest Winery consistently produces quality bottles of wine at great prices. This Chardonnay is no exception. It's lightly oaked, producing inviting notes of cream and toast, mingling with aromas of sliced apples and spice. At $15 per bottle, it's great value.

Kendall-Jackson Vintner's Reserve Chardonnay 2014, $17.00
If you're a fan of Chardonnays with some oak toast, then you're going to enjoy this offering from Kendall-Jackson. Tropical fruit flavors of papaya and mango complement rich notes of vanilla, honey, hints of toasted oak and butter.

Rodney Strong Chalk Hill Chardonnay 2014, $19.99
We're creeping up in price a little bit, but this wine comes with a distinctive flavor that's hard to pass up. Crisp Meyer lemon and golden delicious apples are the primary notes. An appealing touch of minerality, a signature of this appellation, sets this wine apart. At just under $20 per bottle, it's a great value.

Meiomi Chardonnay 2014, $19.99
This is another brand that we consistently recommend - you should try their Pinot Noir, too - for great value wines. The Chardonnay is luxurious, with notes of sweet tropical fruit, honey, and butterscotch. It's a perfect wine to pour for your guests.

DeLoach Russian River Valley Chardonnay 2013, $16.00
Yet another winning producer with a quality bottle of inexpensive Chardonnay. You should be able to find this bottle in a variety of areas, which is a plus. Featuring a crisp palate, with flavors of ripe melon, vanilla, and spice, this wine is a deal.

Ritual Chardonnay 2015, $20.00
This might be one of our favorite Chardonnay deals. With a 93-point rating from James Suckling, the price is very generous. With complex flavors of quince, apple, and hazelnut, this wine is rounded out by hints of cream and vanilla.

Mount Eden Vineyards Edna Valley Chardonnay 2013, $19.99
For yet another side of Chardonnay, try this wine from Mount Eden Vineyards. Showing mouthwatering notes of lime zest, fresh florals, and guava, you might think that you've stepped into a tropical paradise with this wine.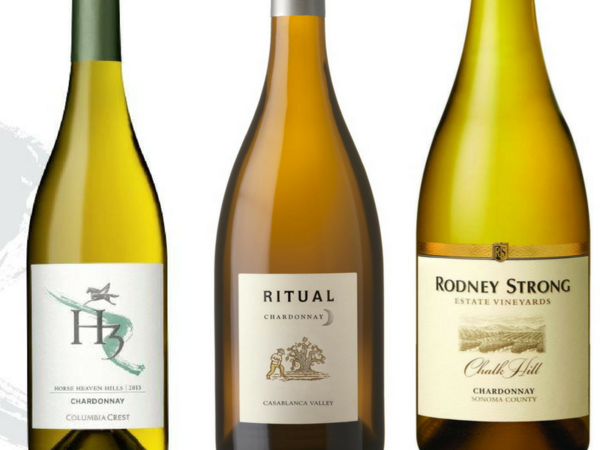 Best Chardonnays Under $15
For many of us, $15 and under is a great price for an affordable weeknight wine. As such, these Chardonnay wines should really come home with you one night this week. These fantastic wines are a bargain at less than $15 per bottle. They show a wide variety of flavors and pair well with many different meals.

14 Hands Chardonnay 2013, $12.00
This wine is easy to find in almost any grocery store, and it's a great value at $12 per bottle. This wine is bright and lively, with crisp fruit flavors and subtle notes of vanilla and caramel. It's a great wine to pair with weeknight dinners like baked chicken or pasta with cream sauce.

A to Z Wineworks Chardonnay 2014, $14.00
This wine is one of the best unoaked Chardonnays under $20, with its bright fruit flavors. The palate shows juicy citrus and floral flavors, and the bouquet is full of green apple and lime leaves. If you're a fan of crisp, cool climate Chardonnay, then this one from Oregon is not to be missed.

Josh Cellars Chardonnay 2014, $11.99
This wine is yet another option - at an even better price - for those who love a classic warm climate Chardonnay, with just a hint of oak. Tropical fruit aromas introduce a palate of yellow and stone fruits, with just a hint of oak.

Charles Smith Eve Chardonnay 2013, $12.00
Charles Smith has become a household name, and the quality of the wine proves that this is no accident. For only $12 per bottle, this Chardonnay is brimming with notes of fresh apple, pear, and lemon cream. It would be at home on any weeknight dinner table (or weekend table, for that matter).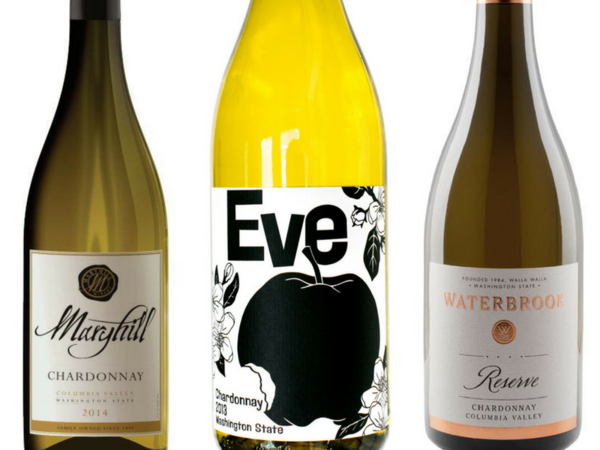 Milbrandt Vineyards Traditions Chardonnay 2014, $11.99
Twelve dollars seems to be the price point for affordable, tasty Chardonnay wines. We're not complaining! This selection from Milbrandt Vineyards shows aromas of vanilla, ripe pear, and crème brulee. It is a crowd pleaser.

Wente Morning Fog Chardonnay 2015, $15.00
For fans of Chardonnay with very light oak, this is one of the best Chardonnays under $20. It's aged in stainless steel and neutral oak, for just a subtle hint of toast. The fruit flavors and vibrant and crisp, with notes of grapefruit, green apple, and pear.

Waterbrook Reserve Chardonnay 2014, $12.00
This tasty Chardonnay is another terrific option at a great price. Scrumptious flavors of green apple and key lime mingle with notes of dried apple and vanilla. If you're looking to grill some chicken or salmon, this wine is a great choice.

Maryhill Chardonnay 2014, $16.00
This is another quality Chardonnay offering from Washington state. You'll notice that a lot of these Chardonnay recommendations have been from Oregon or Washington. The grape grows extremely well there, and the cool climate gives the finished wine flavors that are reminiscent of French Chardonnay. You'll see notes of green apple, citrus, and pear, instead of the tropical fruit flavors of California Chardonnay.

At any rate, this bottle from Maryhill is another excellent choice, with crisp flavors of apricot, lemon zest, and pear.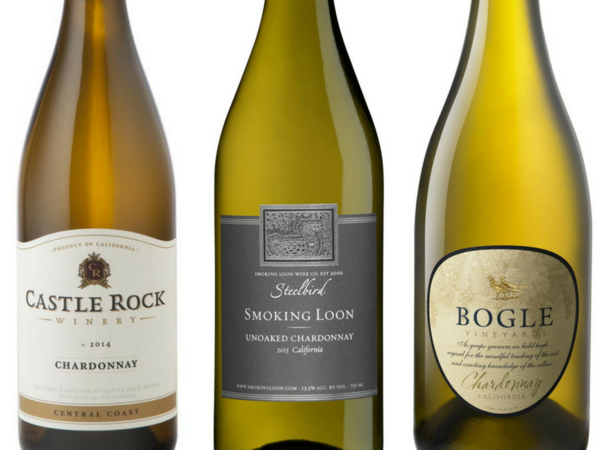 Best Chardonnay Under $10
Cheap Chardonnay doesn't have to be bad Chardonnay, as we're proving with a few great selections under $10. These wines are great choices if you're on a budget. They're also great if you are hosting a party and you need to buy a lot of wine without breaking the bank.

Bogle Chardonnay 2014, $9.99
Bogle is a brand that we come back to again and again. They're easy to find in almost any grocery store, and they always deliver solid wines for a great price. This Chardonnay shows flavors of apple and pear galette, mingling with baking spice and vanilla. It's a terrific choice.

Castle Rock Central Coast Chardonnay 2014, $7.99
Coming in at under $8 per bottle, this inexpensive Chardonnay really can't be beat. Pick it up at the supermarket along with the rest of your groceries, and you have a great weeknight wine to enjoy with chicken, pastas, creamy soups, and more. It shows tasty flavors of pear, melon, and vanilla.

Smoking Loon Steelbird Unoaked Chardonnay 2015, $9.00
The name of this winery always makes us chuckle a bit, but there's no denying that they've got affordable wine figured out. This is a great unoaked Chardonnay under $20, and it shows vibrant fruit flavors of pineapple, melon, and golden delicious apples. Serve it with salad or fish.

McManis Chardonnay 2014, $7.99
This toasty Chardonnay has a lot of personality. Flavors of pear and ripe peach mingle with notes of buttered popcorn, toasted hazelnuts, and vanilla. At under $8 per bottle, the price is hard to beat.

Pepperwood Grove Chardonnay, $8.99
Our final option comes from the Valle Central, Chile, and it shows a cornucopia of fresh aromas and flavors. Citrus, green apple, and poached pear combine with just a touch of honey for a rich, satisfying cheap Chardonnay option.
What's your favorite cheap Chardonnay?
RECENTLY VIEWED
Free wine recommendations, giveaways, exclusive partner offers, and more straight to your inbox!